Why you should be growing beautyberry shrubs, aka Callicarpa americana. A gorgeous native that produces brilliant purple berries in the fall.
Callicarpa, commonly known as Beautyberry, is a favorite shrub grown for its bright almost neon purple berries. What's even more wonderful is the fact that these gorgeous berries show up in late summer when everything else is dying back.
Growing Beautyberry Shrubs
There are over 140 species of the Callicarpa. The American beautyberry, C. americana is native to the southeastern part of the United States.
The plant I have in my garden is C. dichotoma 'Early Amethyst," a Korean cultivar that fruits a little earlier has an overall slightly smaller shape and is hardy to zone 5. It's very easy to grow in full sun or partial shade. It tolerates drought well and has few pest or disease issues.
In the spring I cut this shrub back to 12-18 inches high. By late mid-summer, it grows back to its full stature of around five feet tall by eight feet wide. This early pruning helps promote more prolific berries in the summer.
Interestingly, this native plant is was used by Native Americans for rheumatism, fevers, and malaria, stomach aches and colic.
Today many people make beautyberry jelly and an insect repellent from the leaves.
See this article from mother earth news about how the active ingredients from the beautyberry are compared to DEET.
As a bonus, it is not unusual to find a seedling or two, though the beautyberry is far from invasive.
You may be able to purchase one for yourself at your local nursery. Around here they almost always have current bloomers for sale. If not, you can certainly find one through a mail-order catalog online.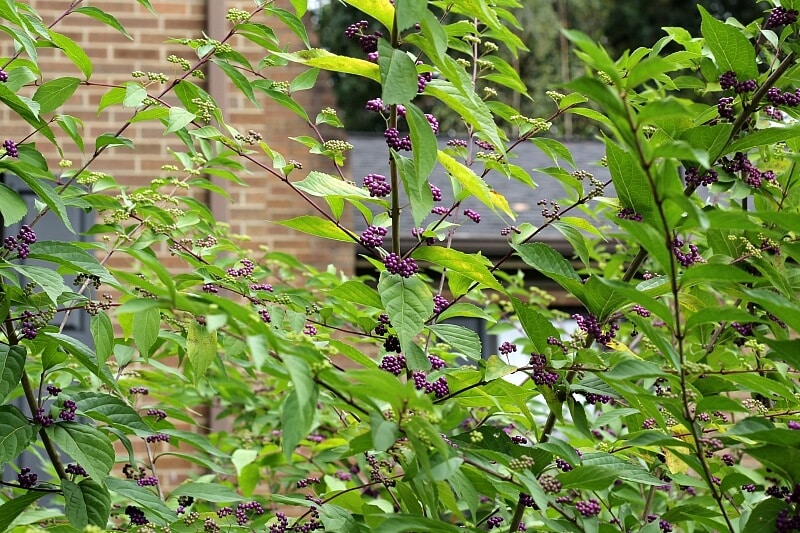 Add it to your wish list. Great color, easy to grow, and low maintenance makes the beautyberry shrub a must have for any garden.
Check out my article on 5 Must Have Shrubs for Your Garden to learn a little more about Callicarpa and a few of my other favorite shrubs.