Learn about plants with fall color that you can buy for your garden including trees, shrubs, and perennials that display beautiful fall color.
Plants With Fall Color
I'm so fortunate to live in an area where the roadside if full of beautiful changing leaves during autumn. However, as an ornamental gardener, I like my garden to look good as long as possible, so I often purchase plants with fall color, or those that I know will either bloom, produce fruit, or change color in the fall.
Trees Fall Foliage Favorites
Sugar Maple -
Acer saccharum

The sugar maple, which is common around here, is gorgeous but can grow to over 50 feet tall and wide. However, I thoroughly enjoy the many sugar maples in Pennsylvania come fall. They are truly beautiful in October.
Dogwood - Cornus florida
If you are in the market for a more manageable tree, you might like a dogwood tree. They typically reach 15 feet. They come in many varieties and have beautiful blooms in the spring and berries in the late fall in addition to pretty warm fall foliage.
Crabapple - Malus
Or a crab-apple tree like this one, called Indian Magic. Of course, both the dogwood and the crabapple produce beautiful spring blossoms too.
Other Trees with Fall Color
Honey Locust
Ginko
Japanese Maples
Sweetgum
Sumac
Pretty Shrubs in the Fall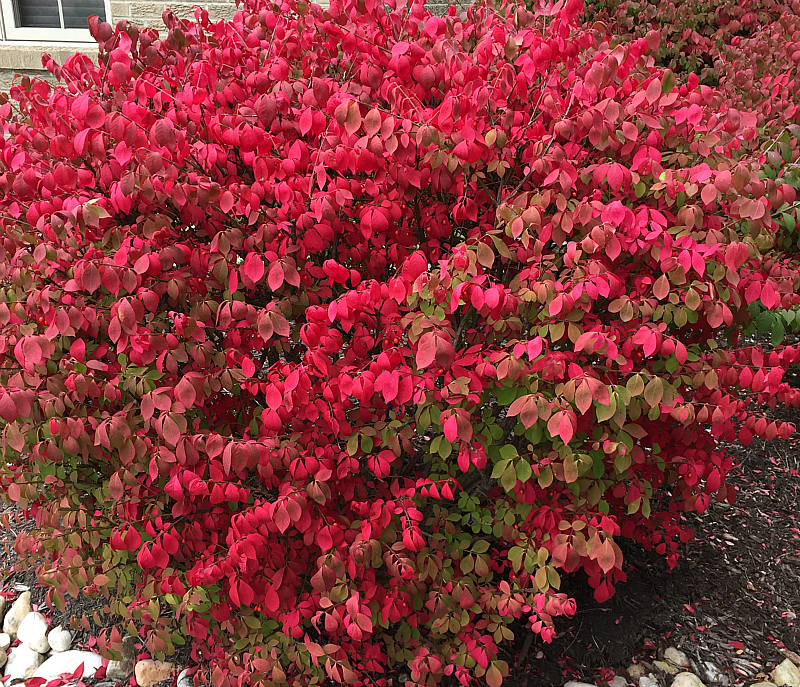 Burning Bush - Euonymus alatus
You may know Burning Bush. This easy to grow shrub can be found in many suburban landscapes and will last for years. Today it is considered invasive and should not be planted. However, some suggest substituting Euonymus atropurpureus, or Eastern Wahoo a native non-invasive plant.
Witch Alder - Fothergilla major
In addition to fall color, this one also has interesting early spring flowers, that look great in arrangements. This is one of my Must Have Shrubs in your garden for its multi-season interest and easy maintenance.
Oakleaf Hydrangea - Hydrangea quercifolia
Many hydrangea turn colors in the fall, like this pretty Oakleaf Hydrangea. It also has pretty flowers that dry on the shrub. Though somewhat delicate they will last for a long time.
Virginia Sweetspire - Itea Henry's Garnet
Here's another frequently planted shrub in the landscape, with beautiful color and spring blooms. This one only grows to about 3-5 feet tall so you can easily find a place for it in the garden.
American Beautyberry - Callicarpa dichotoma
For unusual striking purple color in the fall, try this native beautyberry shrub. This particular variety is called 'Early Amethyst.' I even made a gorgeous magenta beautyberry jelly with the berries.
Other Shrubs with Fall Color
Witch Hazel
Viburnum
Chokeberry
Spirea
Blueberry
Perennial Plants with Great Autumn Color
Beardtongue - Penstemon 'Husker Red'
Named Perennial of the year in 1996. This mid-size perennial has beautiful dark foliage, stems, and interesting seedpods in the fall.
Cranesbill - Geranium sanguineum.
Many hardy geraniums have pretty fall foliage. They might just be my very favorite perennial in the garden. They have a sweet cottage rambling nature and bloom a long time.
Barrenwort - Epimedium
I love the really dark eggplant purple foliage of this epimedium. Small yellow flowers come out in the spring but the foliage is always pretty and especially in the fall. Another great shade lover. This was given to me by a friend but I think it might be the variety 'Thunderbolt.' However, many epimedium varieties have pretty fall color.
Other Perennials with Fall Color
Hosta
Ferns
Plumbago
Grasses
Sedem
These are just a few of the many plants with fall colors to choose from. I hope that I have inspired you to think of fall, the next time you purchase a plant for your garden.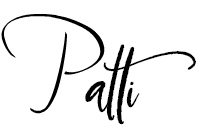 ---
P.S. You may also enjoy this Fall Gardening Dos and Don'ts article, or this Fun Fall Planter Ideas. Both can be found with lots of other planting ideas on my Gardening Page.
Click Here to Save to Pinterest!