Simple syrup recipes are easy to create and make a wonderful gift for any time of year. Perfect for cocktails or natural flavored sodas, toppings for dessert and more.
How pretty is this cranberry simple syrup?
I've just made three simple syrup recipes to share with you today, and plan on taking them to a couple of parties we are attending, as well as having a couple left for us to use at home. This cranberry syrup would be great in a cocktail with vodka, seltzer, and fresh lime.
It's just as good sans alcohol for those who don't like to drink. How about adding a touch to Prosecco or Champagne for added color and a tart flavor.
This post contains some affiliate links (that means if you make a purchase after clicking a link, there's no additional cost to you, but I will earn a very small commission. ) Click here to read my full disclosure policy.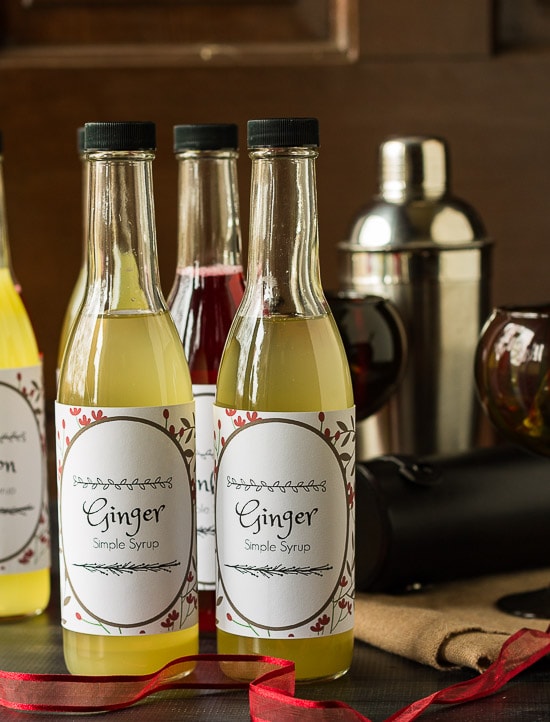 The recent popularity of Moscow Mules requires ginger beer as one of the key ingredients. This used to be hard to buy around here, but I found that making a simple syrup with fresh ginger and seltzer is a good substitution. In fact, I wrote about it in my Skinny Moscow Mule Recipe.
Since I was creating a pretty label for my bottles
I uploaded the pdf above for your convenience. The red color may seem a little holiday, but I think you could get away with this one all year. Better yet, print it in greyscale for a more neutral style.
Simple Syrup Recipes
The third recipe is lemon. Lemon simple syrup is so refreshing and delicious. You can use it to make lemonade, sweeten iced tea, or just as a cocktail mixer. It would also be great on pound cake, pancakes, and sliced melon for dessert.
Lastly, the only problem with these fresh yummy syrups is that they don't last long. There are no preservatives so I suggest that you use them or give them away quickly. They should last for about one month if kept refrigerated. Make sure that you use glass bottles that you've sterilized to help prevent any bacteria growth.
Simple Syrup Recipes
Ingredients
Cranberry Syrup
2 cups fresh cranberries
1.5 cups water
1 cup sugar
Ginger Syrup
1 cup fresh ginger peeled & sliced (4 oz)
1.5 cups water
1 cup sugar
Lemon Syrup
1 cup fresh lemon juice
2 tablespoons lemon zest
1.5 cups water
1 cup sugar
Instructions
For each syrup bring the ingredients to a boil. 
Reduce heat and simmer for 15 - 20 minutes.
Let cool slightly then strain. You can use a coffee filter to obtain a clear syrup.
Pour into 12 oz. sterilized bottles.
Refrigerate up to 1 month.