Learn about simple mason jar flowers as bouquets. A few simple ideas make this type of flower arrangement a cinch to put together.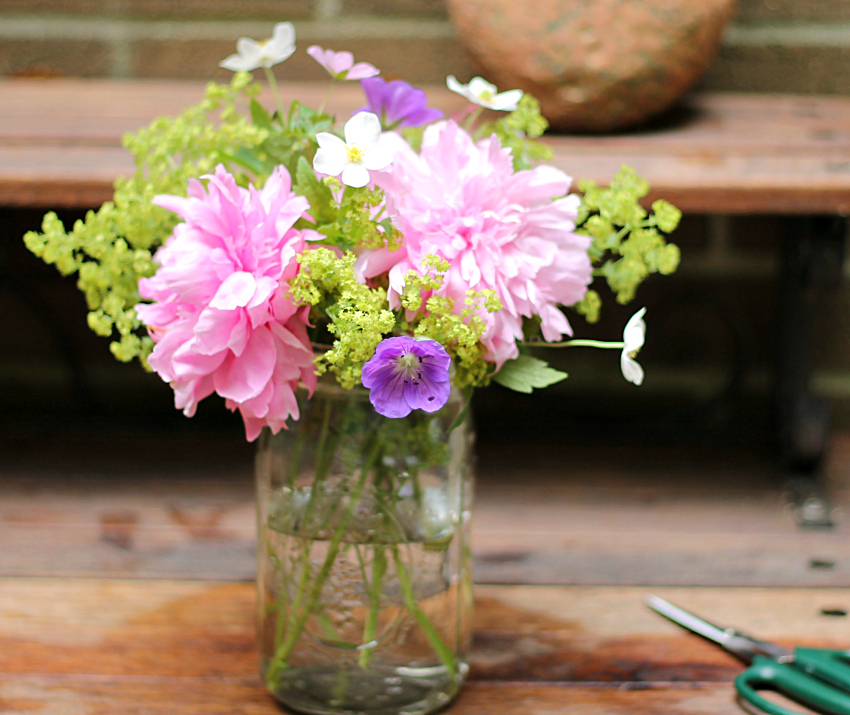 Mason Jar Flower Arrangements
I love growing flowers in my yard and often cut them for arrangements in my home. I'll put one in the kitchen or on my work desk.
Sometimes I even put some in the powder room, especially if we are having company. Mason jar flower arrangements are some of the best because they are pretty, easy, and fit in a number of areas.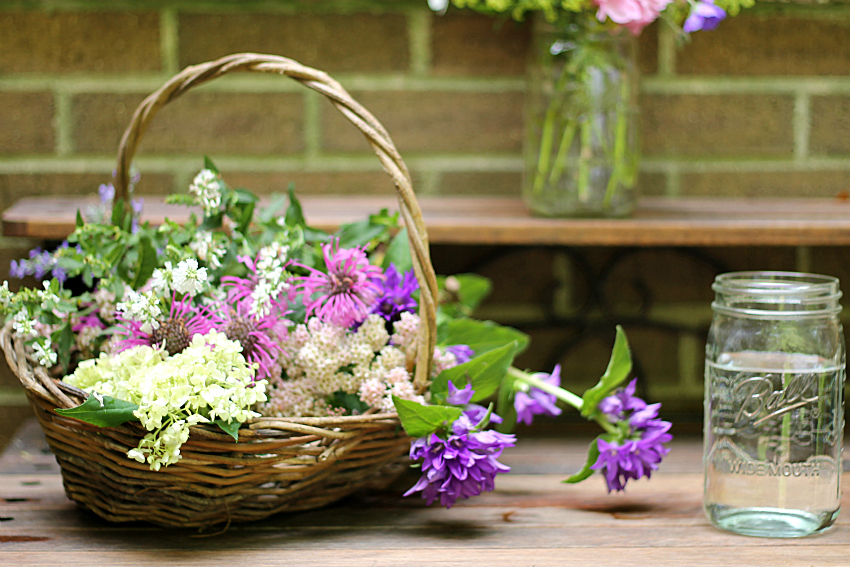 I also like to take some to a party. Often I'll bring a side dish or appetizer but when the garden is in full force I really enjoy sharing the bounty with my family and friends.
The easiest way to do this is to grab a mason jar, or really any glass jar will do. Things like pasta jars and pickle jars work well. The key here is that your host can keep the flowers until they are spent, and either reuse or recycle the container.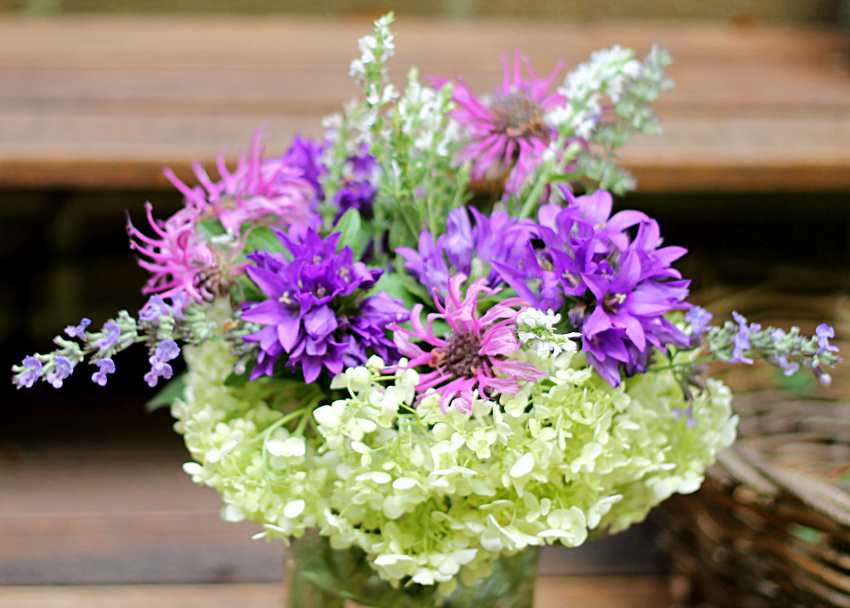 For this simple mason jar flower arrangement you want to think: Star, Supporting Actors and Extras.
Stars - Large flowers like peonies or hydrangea. Special pieces to be the focal point of the arrangement. You only need a couple of these.
Supporting Actors - Filler pieces like spirea, statice, even herbs or other greenery. Anything with some bulk to help fill in and add support.
Extras - These can be smaller accents like perennial geraniums, salvias, anything that is small and more delicate, or something that has an interesting texture. Use as few or as many as you think looks right.
The Process
Fill the container about 1/2 - 2/3 full.
Start with your stars, removing leaves and cutting the bottom before placing in the water.
Turn the vase around as you add your supporters. Finish with the extras.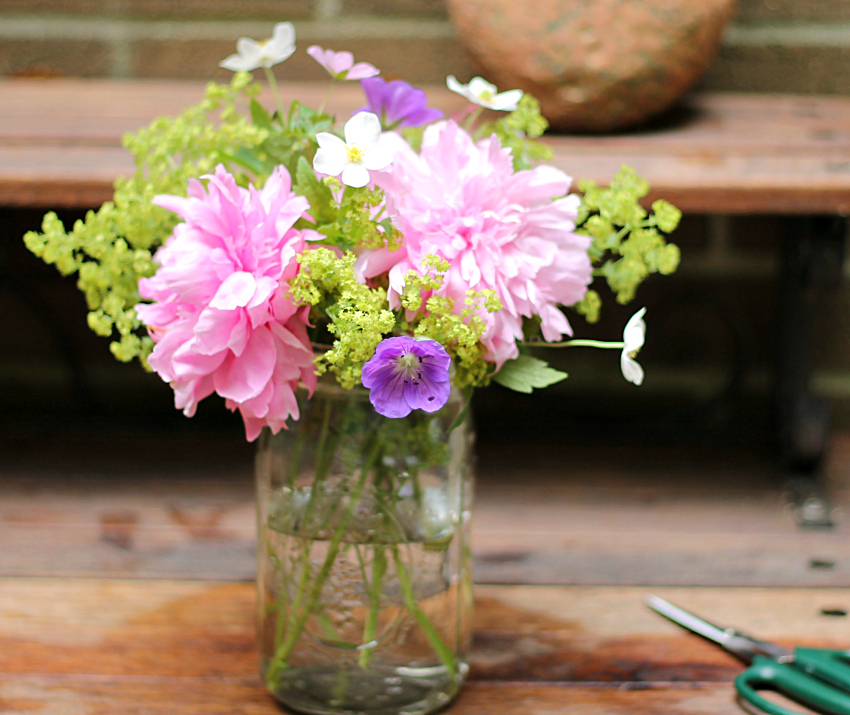 In the arrangement above the peonies are the stars with Lady's Mantle flowers as the supporting actors and a mix of geranium and wood anemone as extras.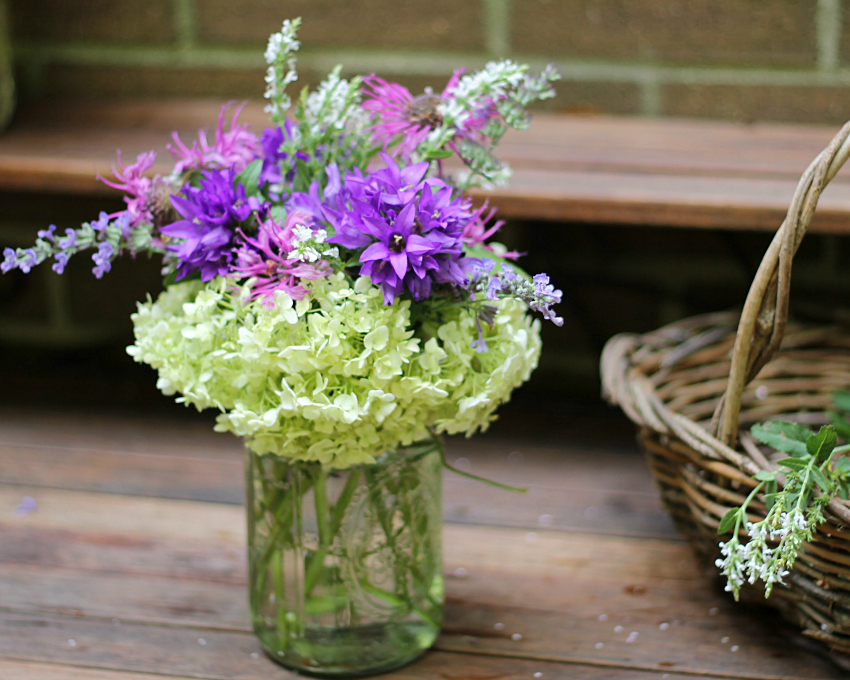 On this one, I originally thought the hydrangea would be my stars but decide to make them the supporters, with globe bellflower as the star. Ornamental sage, catmint, and beebalm are the accent pieces or extras.
It doesn't take much to fill a quart mason jar. If you don't have many flowers in bloom you might consider adding some wildflowers. I see so many wild daisies and Queen Anne's lace all over the place. They would make a great arrangement.
If you are not going to the destination right away and have space, place the flowers in the refrigerator. If you don't have room find a cool shady spot.
Leave the container 1/2 - 2/3 full. This way it will not splash out all over the car. Add more water when you get to the final destination.
Other Options

If you have the time and/or the inclination you can decorate the mason jar.
Wrap a bow around the middle of the neck.
Cover it with a pretty paper or cloth napkin secured at the neck with a rubber band.
Add a little food coloring to the water.
I personally like to leave these mason jar flowers as is and let the flowers steal the show.