See how easy it is to make a simple weaving loom from a canvas or cardboard, to create wall hangings and other fun projects.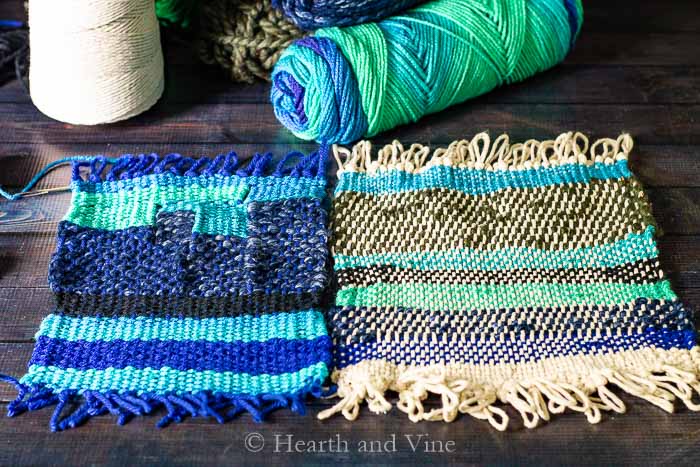 I've often wanted to try my hand at weaving. I've tried knitting and crochet, but never really stuck with either craft. I do remember making potholders with those little plastic looms and loops as a kid. They were so fun.
This post contains some affiliate links (that means if you make a purchase after clicking a link, there's no additional cost to you, but I will earn a very small commission.) Click here to read my full disclosure policy.
Recently, I came across another post with a decorative weaving project. After reading several articles I came across this great set of videos by Annabel Wrigley on YouTube which show you how to create weaving on a canvas frame. I have several unused stretched canvas
pieces lying around so I tried it. She gives you step by step instructions that you can easily follow.
I also found several posts showing you how to make a weaving loom from a piece of cardboard. Even easier, especially if you don't have a canvas, and you save yourself the cost and hassle of hammering in all those little nails. The Weaving Loom website is the site I first visited to make my cardboard loom, but there are several places on the web with great information.
I played around with different types and thickness of yarns on this one. I'm sure I broke some rules, but I did have fun, and this was an easy and relaxing project to do at night while watching TV. It has the added bonus of keeping me busy, so I don't wonder into the kitchen looking for a snack.
Here's the one I made with the canvas frame. The cream color is actually butcher's twine which looked very pretty, but it was a little stiff.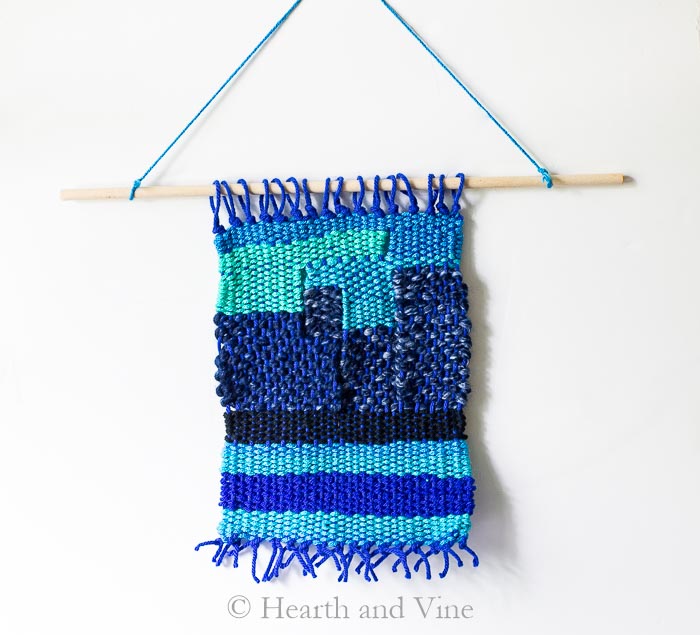 This one from the cardboard loom started with acrylic yarn was a little easier to weave.
Other Weaving Loom Ideas
What else can you do with the weavings besides using them as art pieces? I was reminded of these pretty washcloths and face pad my friend crocheted for me. She used a nice premium cotton which work best for bathing, but I thought you could probably make them on the loom too.
You could also revive the old pot holder ideas. However, they would be much nice than the ones you made as a kid.
Have you worked with a weaving loom? What kind of projects have you made?