Learn how to make a simple wooden box centerpiece that you can use to adorn your table for all your special events.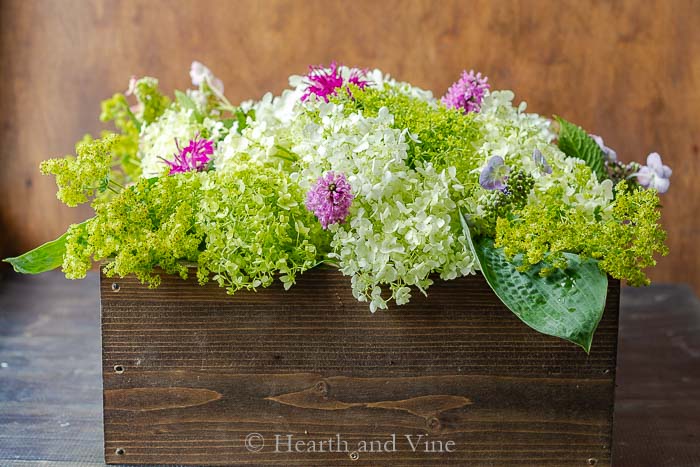 I've seen long gray wooden boxes on Pinterest many times. They have a cool Farmhouse style, which I really like, but my home is more of an eclectic mix of casual country and traditional feel.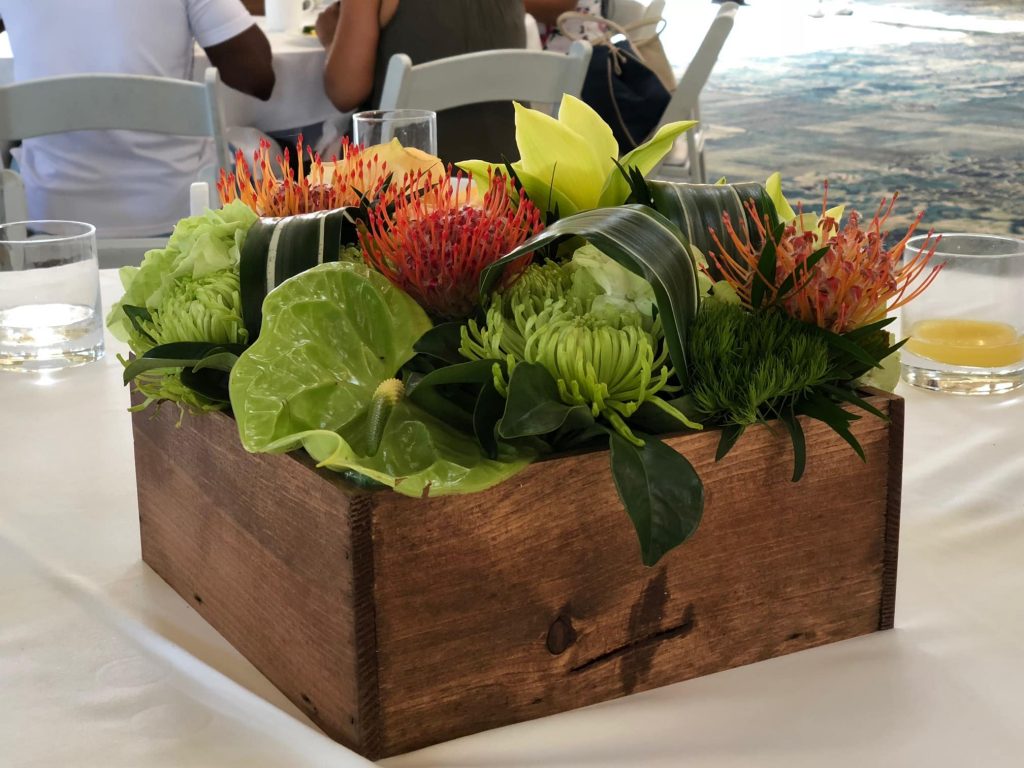 However, when I saw this beauty on vacation I thought it may work well in my home so when we got home I put together this square box for use as a table centerpiece container.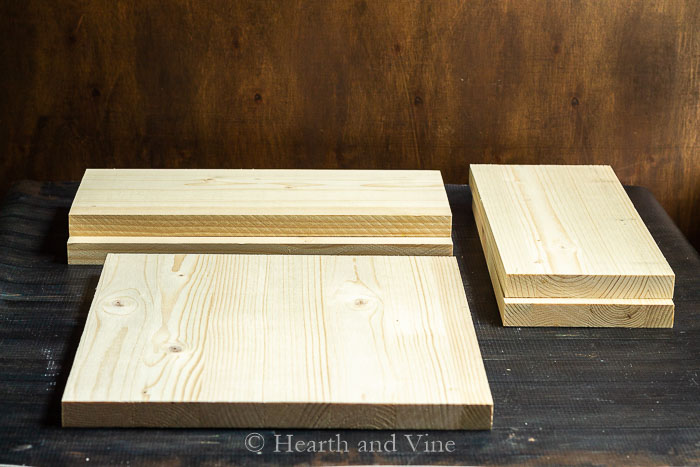 I already had a long piece of pine from another project. It was 12 inches by about 3 feet, and 3/4 inches thick.
So my husband helped me cut one piece about 11 inches square for the base.
Then he cut 2 - 6 x 12.5 inch pieces and 2 - 6 by 11 inch pieces.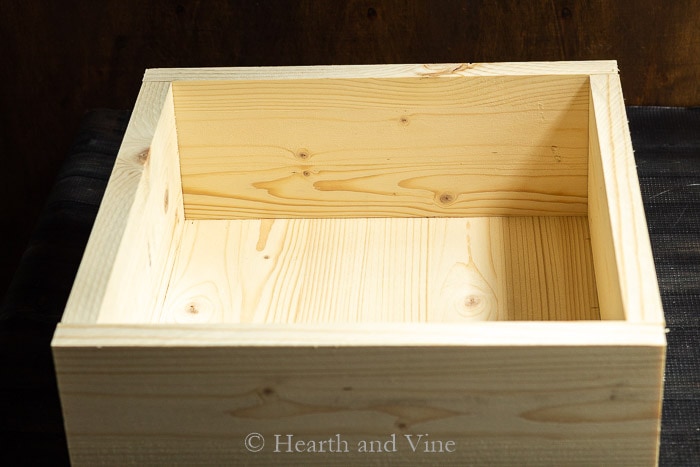 How to Make a Wooden Box Centerpiece
I'm not much of a carpenter but if I can do this, then you can too. Here's how I constructed the box.
Started with one of the two short pieces. Hold it up flush to the base and drill a pilot in the middle, that matched the size (length) of the finishing nails I was going to use. (make sure the nails are long enough to penetrate through the board, and the base) Hammer the nail into place.
Next drill a nail the other short side in the middle on the bottom.
Then hold one of the longer pieces up to the sides. Drill and nail the bottom corners first to help secure the box.
Follow up with the middle of the long base, and add two more nails on the sides. One in the middle and one at the top corner.
Repeat with the other long side.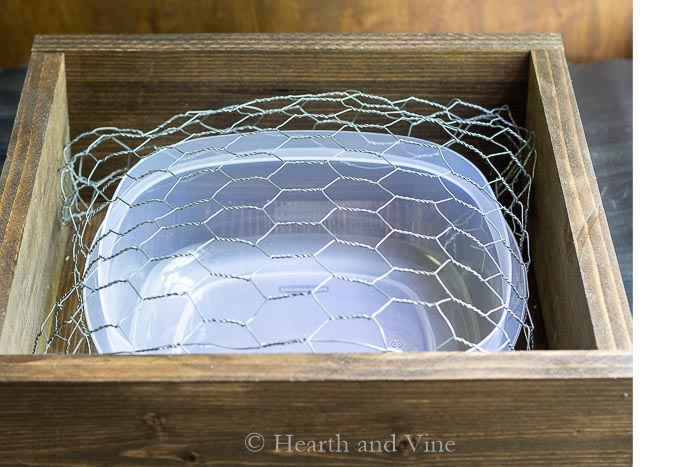 I stained the box with a walnut stain. This is purely for aesthetics. You can leave it bare, or stain or paint it a different color.
Then I found a large plastic bowl to hold the water for the flowers, and placed a piece of chicken wire on top, to give the flowers some support.
To create your arrangement, start with the largest flowers first. I have some pretty hydrangeas that are just coming into bloom. I love the bright great color they start out, and then turn into a pretty white.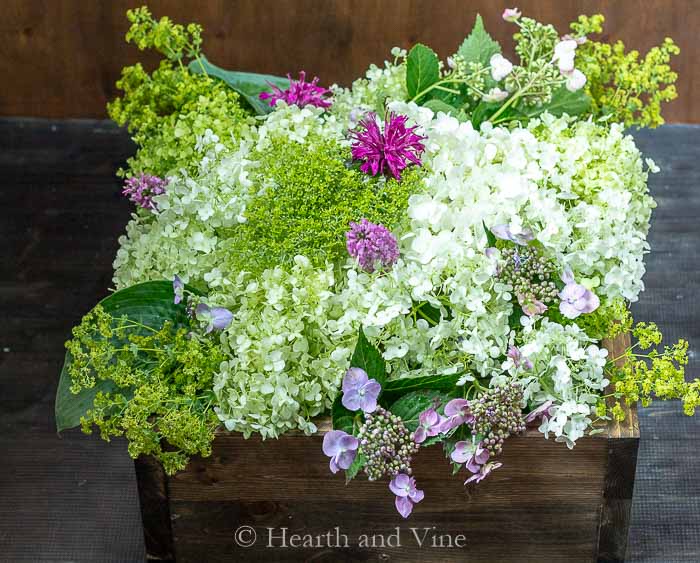 Next I added some Lady's Mantle sprigs for filler. Another lovely bright green, and a couple of blue hosta leaves tucked in the sides. The final touch was adding a little extra color with beebalm, lace blue hydrangea, and betony.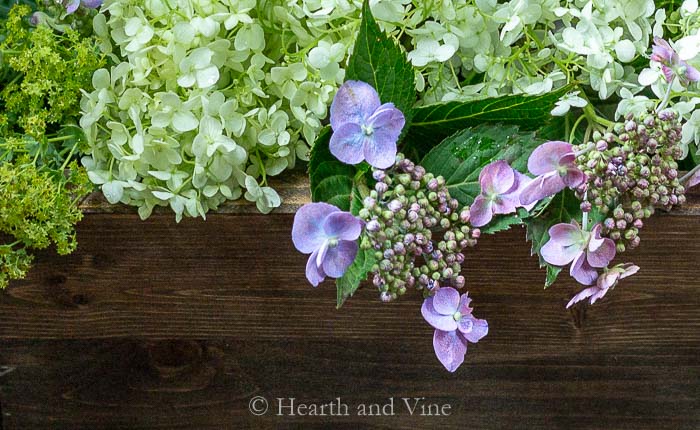 I plan on using this wooden box centerpiece over and over.
It's the perfect size for my dining table, and I think it would look good any time of year.
You May Also Like:
Dried Hydrangea & Seeded Eucalyptus Centerpiece
Foraged Centerpiece with Spring Blossoms and Plants
Wood, Candle, Cranberry and Fresh Evergreen Centerpiece
How to Create a Wood Crate Flower Centerpiece