Learn three different ways to create a beautiful wood crate flower centerpiece for your home using wood stain, chalk, and craft paints.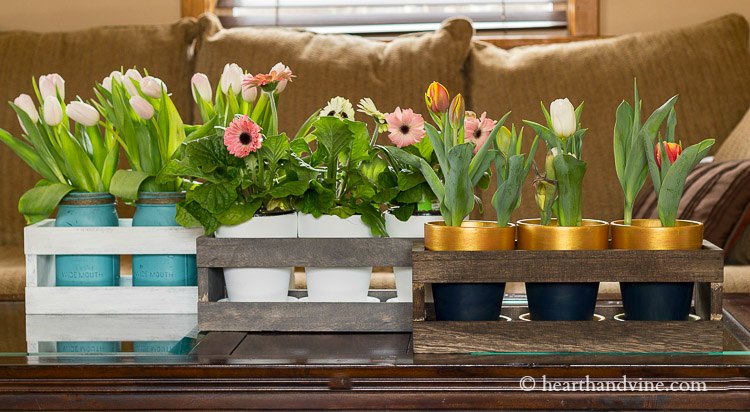 We had so much fun creating a wood crate flower centerpiece at our girls' getaway weekend. Each year myself and two long time friends go away for the weekend and stay at my friend's sister's farmhouse in the mountains.
Most of the time we talk, shop, and eat. However, in the last couple of years, we started adding creative activity for us to enjoy, which is then shared on the blog.
This post contains some affiliate links (that means if you make a purchase after clicking a link, there's no additional cost to you, but I will earn a very small commission. ) i.e. as an Amazon Associate, I earn from qualifying purchases. Click here to read my full disclosure policy.
Wood Crate Flower Centerpiece
Materials
Wood Crate (15 in.)
4 1/2 " Clay Pots (3)
4 " clay saucers (3)
Chalk Paint

Dark Walnut Stain

Gray Stain
For this project, you first need to decide how you want to decorate your crate. Here we used three different options.
One was stained with a gray stain. The other two with dark walnut wood stain. One was left dark, and the other was whitewashed with white chalk paint.
I had my friends decorate three clay pots and saucers to go into the crates. Here my friend painted her pots blue and gold, as a tribute to West Virginia Mountaineers, where her boys go to school. She chose the dark walnut stained crate to hold her pots.
My other friend decided to use white chalk paint to cover the entire pot and saucer, and the gray stained crate. After the pots dried, she used a little sandpaper to slightly distress the edges.
The third crate is a thank you gift from me to the homeowner. Here I painted three mason jars instead of clay pots, as a low maintenance option.
The mason jars can be used as vases to hold cut flowers, cutlery, or other items. They were painted with blue chalk paint and then sanded for a distressed look. Then I added a little twine with glue at the top for texture.
Here's the Mountaineer tribute complete with potted tulips. We left the plants in their nursery pots so that you could remove them for watering, or to easily switch out them out with something new.
Gerbera daisies went into this pretty gray stained crate with white pots.
Lastly, the mason jars in the whitewashed crate. Doesn't it look great with these blush tulips?
This is a great project to make with others. Easy, quick, inexpensive, creative, and something you can use all year long.
Now I need to make one for my home.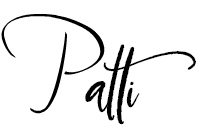 Click Here to Save to Pinterest!