This garden hacks post is sponsored by Lava®Soap and 3-IN-ONE® Multi-Purpose Oil
This list of simple garden hacks will help save you time in the garden and give you easy ideas to implement that will make your garden thrive.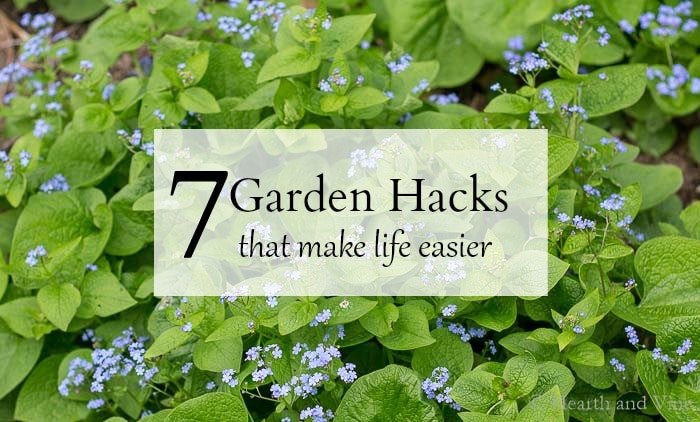 Gardening has been a passion of mine for as long as I can remember. Every spring I'm eager to get out and see what's growing, clean up all the winter debris, and plan what I want to buy and grow for the coming season. Over the years I have picked up a few tricks of the trade, or garden hacks, that help me in the garden, and today I'm sharing seven easy ideas with you.
7 Garden Hacks
1. Keep Your Nails Clean with Lava Soap
Do you wear gloves? I do, but so often I find my hands in the dirt without gloves, and sometimes the dirt almost stains my skin. Lava® Soap is known for its powerful volcanic pumice, which makes it easy to remove dirt and grime from your hands. The soap uses it in combination with other cleaning and moisturizing agents to really remove all the dark residue that can remain on the skin. Using Lava Soap is a great tip, but to take it one step further, try scraping a bar of the Lava soap with your fingernails before your venture into the garden. This will prevent the dirt from getting under your nails and makes for a quick and easy cleanup.
2. Create a Makeshift Water Station
I learned this trick as a child during day camp with the Girl Scouts.
Place a piece of the Lava Soap into the bottom of a pantyhose.
Tie it to the handle.
Then use a golf tee and some twine, also tied to the handle, and insert the tee into the corner of a gallon water jug.
Hang this on a tree, or Shepherd's hook in the garden.
Now you have a little soap and water station in the garden, so you don't have to go back and forth to the house to clean up.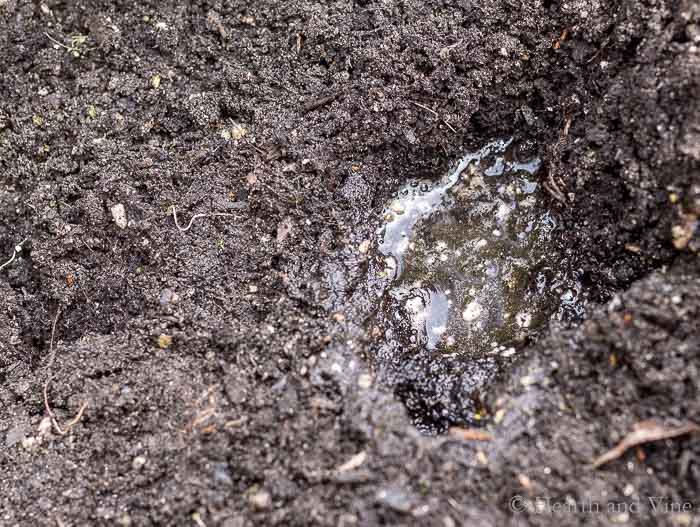 3. Help Out Transplants Using Puddling
This technique was taught to me by my mother when I started my first garden as a newlywed.
When planting transplants, dig a hole and add water first, aka "puddling," before setting the plant into the hole.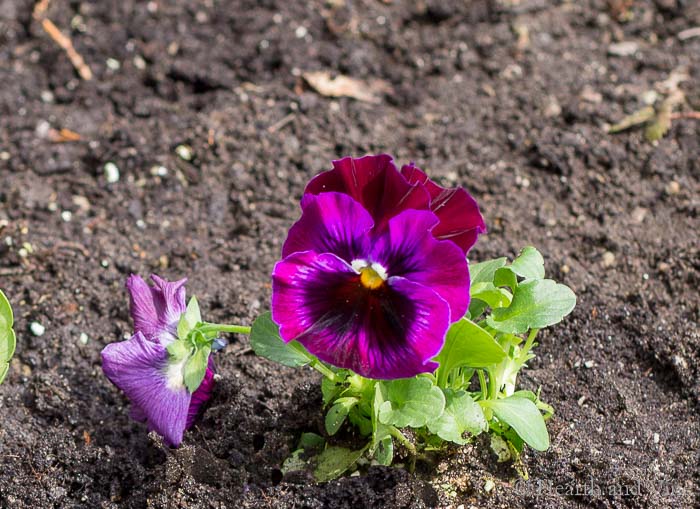 This ensures that the roots are watered thoroughly. Because sometimes when you water from the top, the water may run off and not reach as well to the bottom of the root ball.
4. Carry All Your Vital Items with You
Use a garden bucket tool belt to carry all your vital tools around with you in the garden. Having important tools like 3-IN-ONE® Multi-Purpose Oil at your fingertips will come in handy when you are already in the garden and need to quickly lubricate garden shears and pruners at a moment's notice. Learn about more tool maintenance tasks 3-IN-ONE Multi-Purpose Oil can help you, with this garden tool prep tutorial.
5. Create a Super Simple Compost Pile
Even though I have been gardening for many years, I have never created a traditional compost pile. I have a compost pile, but it is simply dried leaves, plant clippings, and other plant material, all thrown into the same heap next to our shed.
These materials, along with the help of Mother Nature, eventually break down into rich compost. All you need to do is dig underneath to access it.
6. Use Old Sheets to Protect Plants from Late Frosts
This trick pertains to those of us in the north. I live in Pennsylvania. We get wonderful warm gardening weather as early as March. However, we can also get snow in April, or more likely a hard frost in May. While Mother's Day, mid-May, is a pretty good time to start planting in my area, I need to keep an eye out for a late frost, or many plants will take a direct hit from the cold. Thankfully the weatherman is pretty good at letting us know when a frost is coming. So, if I have any tender or newly planted shrubs or pots, I get out old bed sheets and cover them overnight. Trash bags work well too, but I like the size of the sheets more, and they can easily be washed and used over and over again.
7. Pour Boiling Water on Sidewalk Weeds
For those of you who prefer natural methods of gardening, and worry about dangerous runoff to our water supply, I suggest using boiling water on weeds. This works well in sidewalk seams for many weeds and grass. Dandelions, which have a deep taproot, may not die off so easily, but they will take a hit. It's easy enough to get the kettle out, and this garden hack helps keep the sidewalk looking clean.
I hope you enjoyed my list of garden hacks, and that they help make your life a little easier, giving you more time to enjoy the fruits and flowers of your labor.
Do you have any garden hacks or tips?
For more gardening tips, follow 3-IN-ONE on Facebook and Instagram.
You can find 3-IN-ONE Multi-Purpose Oil at most big box stores and hardware stores, including Walmart. To find it at a store near you or online, click here.