When I garden I always carry around a bucket with a handle for weeds or extra soil depending on what I am doing. Several years ago I made a tool belt or apron for the bucket, which is great for holding my pruners, twine and other garden necessities. Today, I'm upgrading it with some of the beautiful duck cloth fabric available in the stores.
Garden Bucket Tool Belt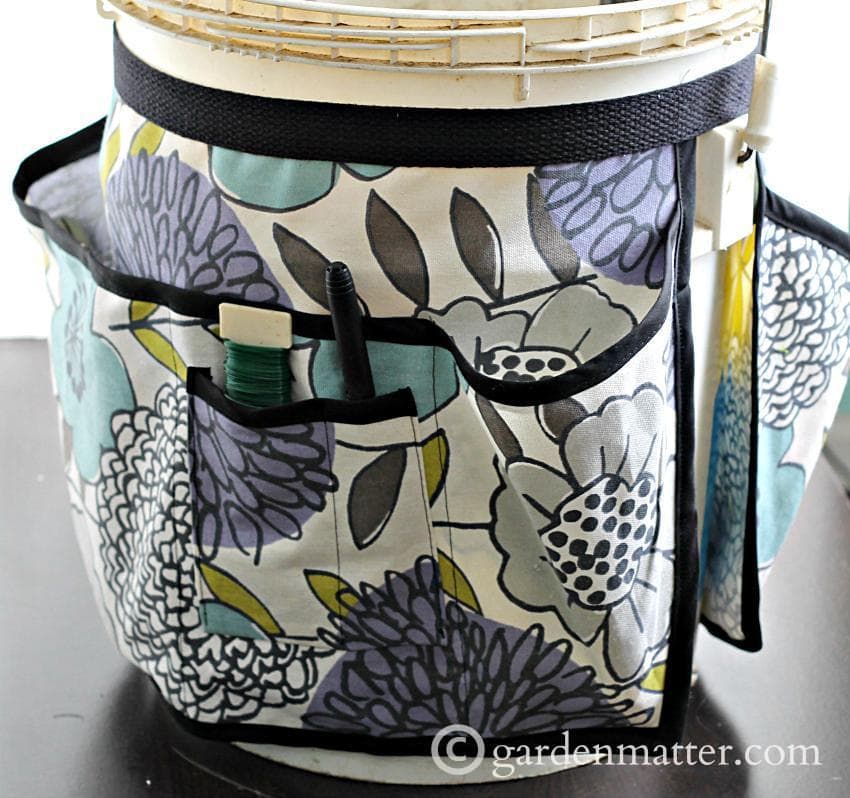 Here's what the original looked like:
It's still pretty functional, but with all the pretty fabric on the market today I thought I'd treat myself to a new one and show you how it's made.
Materials
3/4-1 yd sturdy fabric (duct or heavy twill, denim)
1.25 yds – 1 inch cotton twill
4 yds -1/2 inch double fold bias tape
2 D rings
The Process
Cut the fabric as shown below: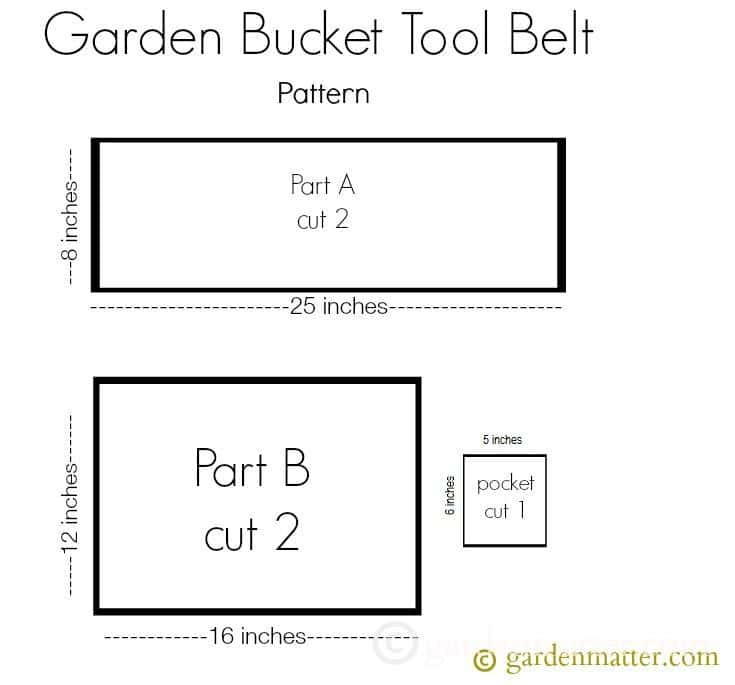 Sew the bias tape on the small pocket first.
Press 1/4 inch of the sides and bottom of pocket.
Place the pocket on long piece (Part A), face down with bottom edge 2 inches from the edge and sew.
Flip over and top stitch sides. Then sew another line of stitching about 1/3 of the way in to make 2 pockets within the pocket.
Sew bias tape on top of Part A.
Next pin Parts A and B together lining up the bottom edge with the right sides showing.
Pin the top corner of Part B sides to match Part A.
Fold the excess fabric in from the sides at an angle and cut.
Sew side and bottom edges of Part A to Part B.
Then sew a line of stitching on both sides of the small pocket from the bottom.
Then sew the bias tape all along the sides and bottom.
Repeat with the remaining pieces. (except for the small pocket)
Then attach the two sections together with the 1 inch cotton twill trim at the top leaving enough space between the two pieces to fit around the handles. I used two rows of stitching for stability.
Turn in 1 inch of the end of the trim and sew.
Sew D rings on the other end of the trim and you are finished.
Much prettier, right?
Now I just need to clean my bucket and tools.