This apple cider cocktail is perfect for entertaining in the fall, with the fresh taste of apples and cinnamon, that will warm you down to your toes.
Fall is one of my favorite times of year for entertaining. We have a daughter and three nephews born in the month of October, so that usually means lots of birthday parties. Oktoberfest and Halloween themed parties are big events in October too. Then, here in the States we are celebrating Thanksgiving.
This post contains some affiliate links (that means if you make a purchase after clicking a link, there's no additional cost to you, but I will earn a very small commission. ) Click here to read my full disclosure policy.
Apple Cider Cocktail aka Apple Bomb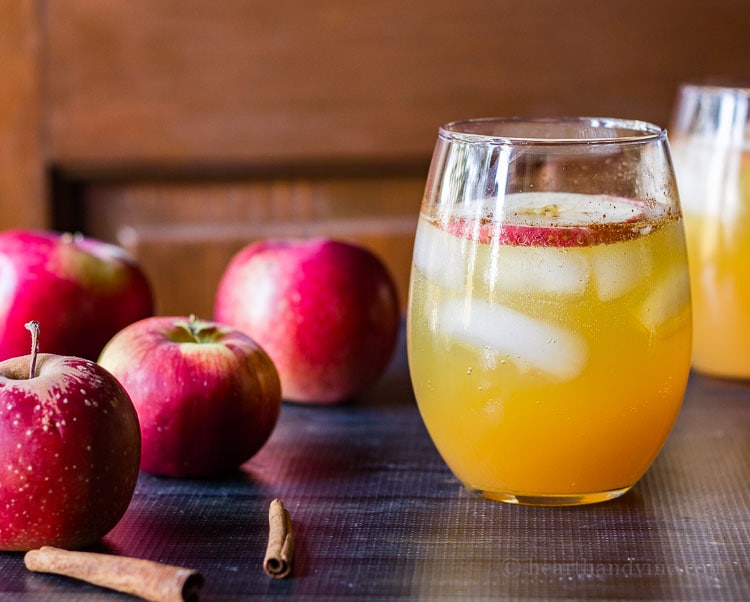 When we host a party, we always offer beer, wine and sodas, but sometimes I like to create a signature drink to add to the mix. This one was made with fresh local cider, apple vodka, seltzer water and angostura bitters.
Once the drink is created, I like to have my guests name it. It's super fun. We did this last Christmas with a pomegranate flavored cocktail which we named Moscow Pom. This time, the winner was "Apple Bomb."
It's perfect for a fall harvest party. Add slices of apples and cinnamon sticks to dress up the drink. Though I haven't tried it, I think this would also be tasty served warm.
If you're not a fan of vodka, you can substitute it with the liquor of your choice. Whiskey, bourbon or even tequila would work with this drink, as the cider and bitters give it plenty of flavor.
Apple Cider Cocktail Recipe:
Apple Bomb Cocktail
Ingredients
2 oz . Green Apple Vodka
4 oz . Fresh Apple Cider
Seltzer water
Angostura Bitters
Ground Cinnamon
Instructions
Fill a large glass with ice.
Add vodka and cider
Top with seltzer water.
Add 2-3 shakes of Angostura Bitters
Stir
Sprinkle with ground cinnamon