Arroz Con Pollo or Rice with chicken is a flavorful dish that will feed the entire family, all in one large pot.
Arroz Con Pollo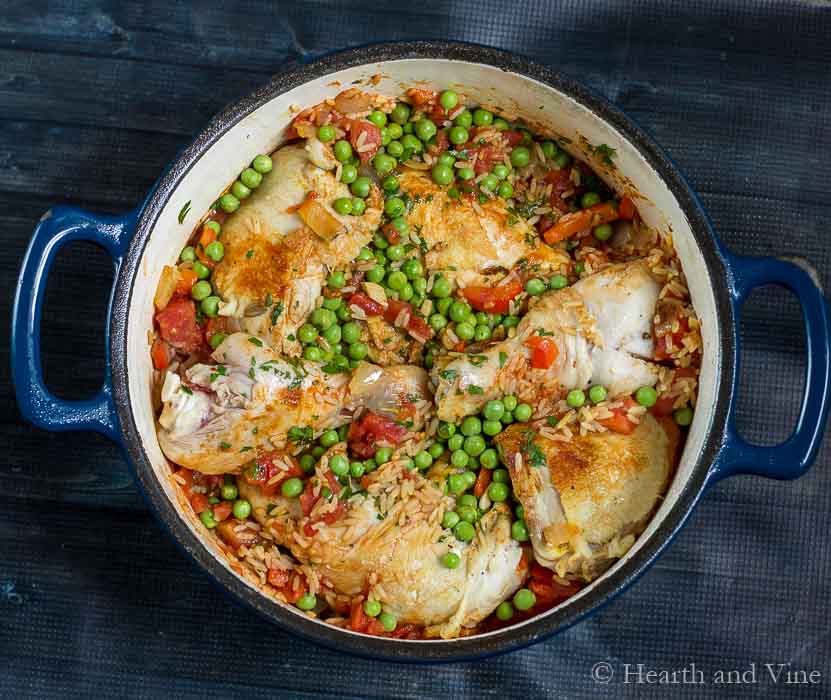 My mother used to make this meal. As a young child, it wasn't my favorite. However, as I grew older, as with many things, this dish grew to be one of my favorites. Since my father was Lebanese we often had rice as a staple, so it's no wonder that she would make Arroz Con Pollo, translated to Rice with Chicken. Cooked in a large pot, there was always plenty for our large family.
This post contains some affiliate links (that means if you make a purchase after clicking a link, there's no additional cost to you, but I will earn a very small commission.) Click here to read my full disclosure policy.
It has a spicy flavor which you can easily cut back on, or ramp up as you like. A traditional dish from Spain and Latin America, this popular recipe like most others, has many different versions. For example some use jarred roasted peppers, or piquillo peppers, and some add olives and wine. I just like this basic recipe that I grew up eating, but the gist of the dish is pretty much the same.
Finally, I'm sure that you could make this in a slow cooker or instant pot, however I usually make it on a day where I'll have the time in a large dutch oven
.
Arroz Con Pollo
Ingredients
1 whole chicken in parts
1/2 large onion, diced
2 cloves garlic crushed or grated
1 red pepper, diced
1 32 oz can of diced tomatoes
1 tablespoon tomato paste
2 tablespoons fresh parsley chopped
1 1/2 cup chicken stock
1 cup fresh or frozen peas (thawed)
1 1/2 cup Uncle Bens original rice
1/2 teaspoon hot paprika
1/2 teaspoon turmeric
3 tablespoon extra virgin olive oil
Instructions
Saute chicken parts in olive oil skin side down until golden brown about 6 - 8 minutes. Turn over and cook for another 3-5 minutes. Remove and set aside.
Saute onion, and peppers adding additional olive oil if needed for about 2-3 minutes until softened.
Add rice and garlic and saute, stirring for about 30 seconds
Add tomato paste and stir
Add diced tomatoes, chicken broth, turmeric and paprika. Stir well
Place chicken skin side up in pot. Bring to a boil then reduce heat to a simmer. Cover pot and cook for 40 - 50 minutes.
Add peas and parsley. Cook for an additional 10 minutes then serve.
You May Also Like:
One Pot Seafood Jambalaya Recipe to Feed a Crowd
Southwest Rice & Black Bean Casserole