This one pot shrimp boil recipe combined with the flavors of beer and old bay seasoning to create a fun meal any time of year.
You May Also Like: Steamed Shrimp, Grilled Ginger Lime Shrimp, Seafood Jambalaya
This post contains some affiliate links (that means if you make a purchase after clicking a link, there's no additional cost to you, but I will earn a very small commission.) Click here to read my full disclosure policy.
This shrimp boil recipe is super easy, and you can make it in one pot. However, the pot I use is pretty big. It's great for a crowd in the summer, with fresh corn on the cob, but since you can buy frozen ears of corn in the grocery store, you can make this delicious meal any time of year.
I made this recently when my brother-in-law came over for dinner. He's a single guy and a huge fan of shrimp, so I made extra for him to take home and enjoy later in the week.
The key ingredient is Old Bay Seasoning. My husband loves it. He puts it on corn and eggs and potato salad. It must have come from his love of steamed Maryland crabs growing up in Eastern Pennsylvania.
Some of this special seasoning ended up on sticking more to the corn which floated to the top of the pot. It made the corn extra tasty.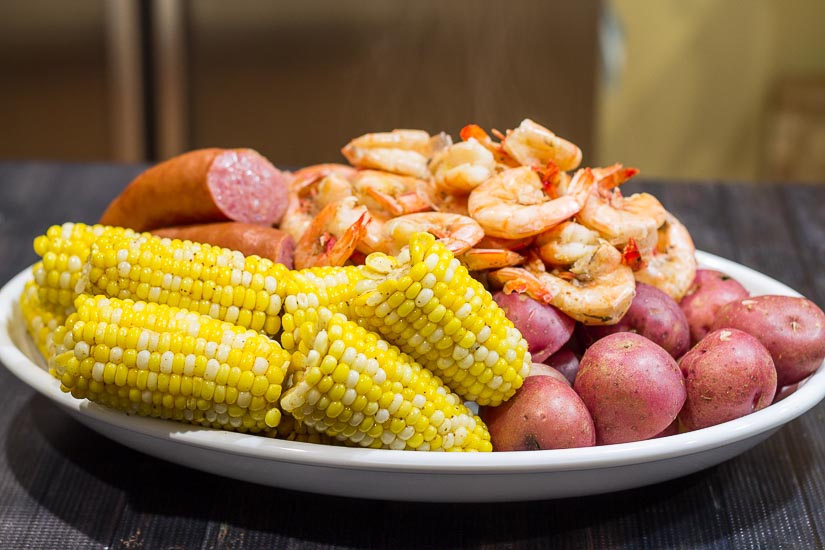 A classic shrimp boil with Old Bay somehow screams summer and the beach to me, but as I said, there is no reason you can't make this any time of year.
Check out the Recipes Page,
for more great ideas.
Easy One Pot Shrimp Boil
Ingredients
8 quarts of water
2 bottles/cans of beer, 24 ounces
1 lemon, cut in half
1 cup Old Bay seasoning
3 pounds red potatoes washed and cut in half
1.5 pounds of Kielbasa or smoked sausage cut into 3 inch lengths
6 ears of corn, cleaned and cut in half
2 pounds large shrimp unpeeled and deveined
Instructions
In a large stock pot combine water, beer, lemon and Old Bay seasoning.
Bring to a boil.
Add potatoes. Bring back to boil and cook for 12 minutes.
Add the Kielbasa and cook for 5 minutes.
Add the corn and cook for 7 minutes
Add shrimp and cook for 4 minutes.
Remove all pieces to a large platter and serve.