This strawberry praline trifle recipe is fun to make with layers of fresh strawberries, a praline filling combined with pudding and cool whip.
This recipe for strawberry praline trifle is part of the Ultimate Recipe Challenge hosted by Kim Six of The Kim Six Fix. The feature for this bi-monthly challenge is strawberries. You can see all the yummy strawberry creations at the end of this post.
When we were told that strawberries were going to be the feature I started thinking of strawberries and cream. Then I thought of pralines and cream, and then I thought, why not strawberries and pralines. So I thought a strawberry praline trifle would be fun to try and make.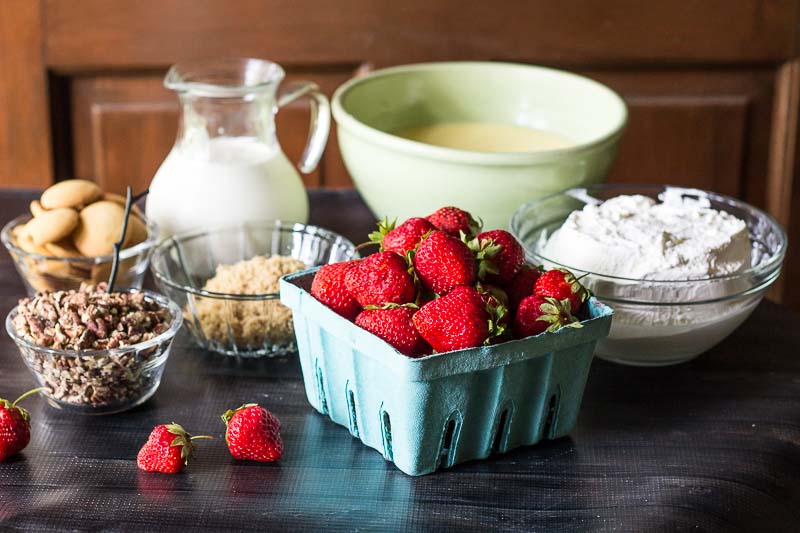 Trifles seems to come in all shapes and sizes. I found a nice inexpensive clear bowl with flat sides for the trifle at Target. They did have a couple of pretty traditional glass trifle bowls but I didn't want to spend $35 for something I wasn't sure I would use very often.
Then all I need to do was come up with a layering scheme. I decided to use crushed cookies at the bottom. Remember Nilla wafer cookies? We use to have them a lot as kids in school. Anyway they are still on the shelves at the grocery store and make a great cookie crumble.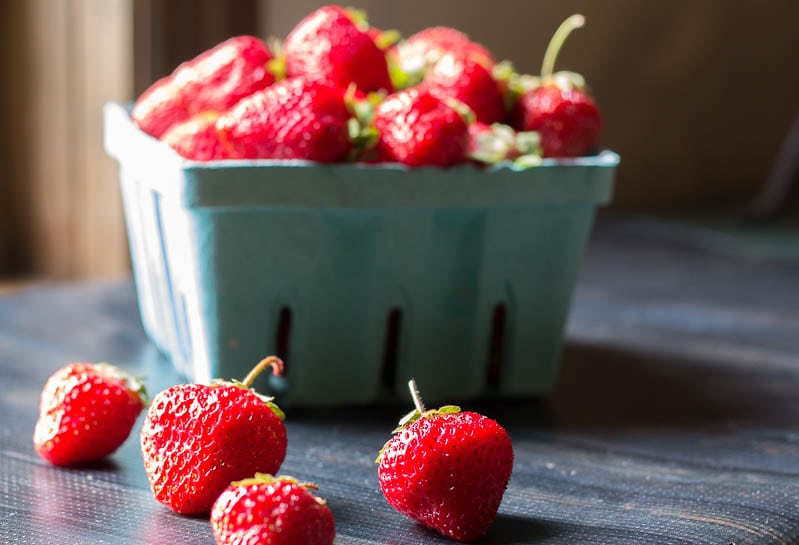 I couldn't decide between pudding or whipped topping so I used both. The Praline recipe came from rosebakes.com. I liked that her recipe was an easy one and did not require using a candy thermometer or the oven. I did not make actual pralines but a layer of praline filling and used chopped pecans instead of halves. I also, (because I'm impatient), threw all the ingredients in a once but the filling turned out great and I would do it again.

The top was the most fun, creating a pattern with the berries. You can add a few blueberries to give it a patriotic look too.
Adaptations:
Change the layers. Change the fruit. Add a layer of graham crackers. You can use chopped up candy or cookies. Chocolate chips of any flavor. Add a little liquor or coffee to the whipped topping or pudding.
Overall a very fun dessert to get creative with and impress you friends and family.
Here's the Recipe:
Strawberry Praline Trifle
Prep Time:
1 hour
30 minutes
Total Time:
1 hour
30 minutes
Ingredients
2 large pints of fresh strawberries
5 oz package of vanilla instant pudding, need 3 cups of milk
1/2 cup heavy cream
8 ounce bag of chopped pecans
1 cup brown sugar
1/2 stick of butter
1 cup powdered sugar
1 teaspoon vanilla
1 cup of crush vanilla cookies
2 containers of whipped topping, 8 ounce
Instructions
Make pudding and place in refrigerater while you make the other layers.
Make the praline layer by combining the cream, pecans, butter, brown sugar, powdered sugar and vanilla in a saucepan. Stir until everything has melted. Allow to come to a boil and continue stirring for about 1 minute. Remove from heat and let cool while you cover a sheet pan with waxed or parchment paper.
Pour praline mixture onto to the sheet pan and place in the freezer.
Crush cookies and set into the bottom of your trifle bowl.
Clean and slice berries reserving some of the best looking ones for the top.
Add 1/2 of the pudding on top of the cookie layer.
Add a nice layer of strawberries next about 1/2
Add the rest of the pudding.
Next add the 1st container of whipped topping.
Then add all of the praline filling
Next add 1/2 of the second container of whipped topping.
Add another layer of strawberries.
Add the remaining whipped topping and decorate the top with slices of strawberries in any pattern you choose.
What Else Can You Make With Strawberries?