Enjoy this quick and easy steamed shrimp recipe using old bay seasoning and beer. It takes about 20 minutes from start to finish and is always a big hit.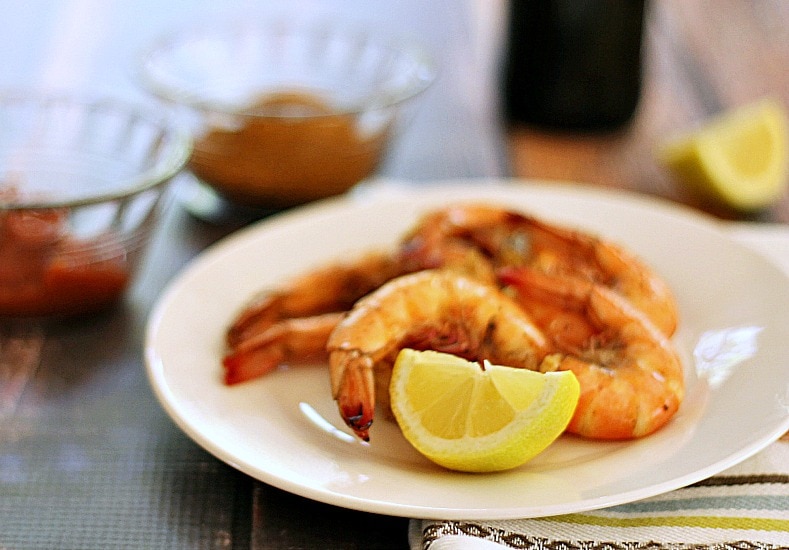 Growing up near the Inner Harbor in Baltimore, my husband knows what it takes to make great steamed shrimp. So when we go to the beach, he takes center stage, making lots of steamed shrimp for everyone to enjoy poolside, with a cocktail.
The truth is that they are super easy to make. All he does is bring beer and old bay seasoning to a boil, in which he then steams the shrimp, for a few minutes, until they have a nice color.
He does use a crab pot steamer, but any pot could do in a pinch.
We serve the shrimp with lemons and homemade cocktail sauce, which you can make by combining ketchup, horseradish, lemon and a little bit of Worcestershire sauce. Store bought cocktail sauce works just as well, and really, the shrimp are pretty tasty on their own. You don't even need sauce.
Quick & Easy Steamed Shrimp
Ingredients
3 pounds large fresh shrimp
2 -12 oz bottles of beer
1/2 cup Old Bay seasoning
Instructions
Place beer and seasoning in the bottom of a steamer.
Bring to a boil.
Add shrimp and steam for about 5 minutes or until the have a nice red color.
Cool and serve with cocktail sauce and lemon wedges.
You May Also Like:
Grilled Ginger Lime Shrimp For a Quick and Healthy Dinner
Easy One Pot Shrimp Boil – Perfect for Summer Entertaining