This Cajun shrimp gumbo recipe is perfect for celebrating Mardi Gras. It's a delicious seafood dish made with authentic New Orleans flavor. Made in one pot for an easy meal that feeds a crowd.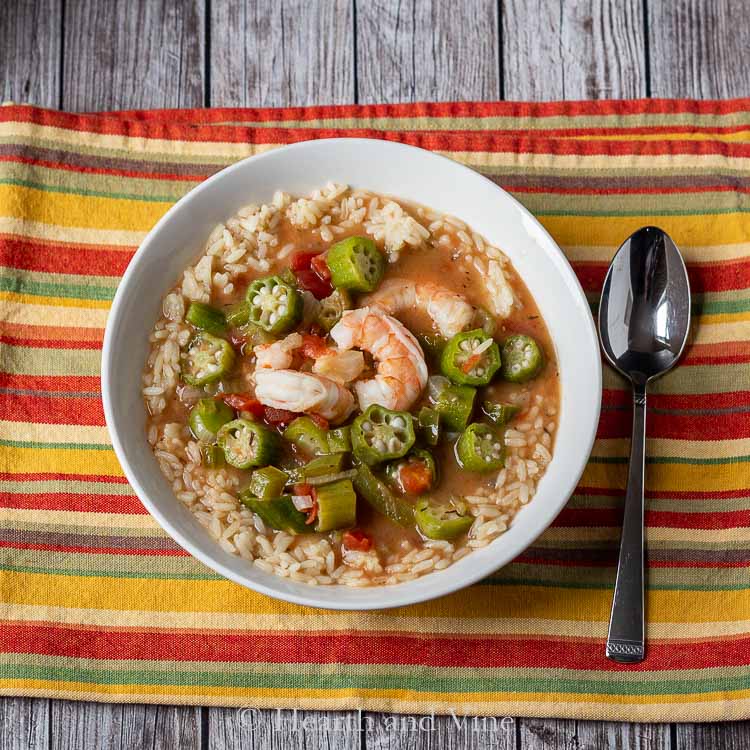 Mardi Gras, the celebration of food before the Lenten season, conjures up all kinds of delicious dishes. I've shared a delicious seafood jambalaya already and today I'm sharing my version of Cajun shrimp gumbo.
Cajun Shrimp Gumbo Recipe
This yummy gumbo recipe is made with a traditional Cajun Holy Trinity, but it is not made with filé powder. Filé powder is hard to find and though it does gives some flavor it's mostly used as a thickening agent.
However, I did make a nice medium colored roux. Using roux in a gumbo will also make the broth thicker and is something that my husband always does when making gravy at Thanksgiving.
This roux has a nice caramel color and took me about 5 minutes to make. However, some people like to make it even darker which takes even longer to make.
I also used okra in my gumbo recipe. Okra has a natural thickening ability and I really like the way it tastes.
Shrimp is the main protein in this gumbo. Many people use andouille sausage in their gumbo and/or chicken but I wanted to make this more of a seafood dish. This way you can eat it during lent too.
Can You Use Frozen Shrimp in Gumbo?
Yes. I do it all the time. Just make sure that it's frozen raw shrimp, not pre-cooked frozen shrimp.
Do You Cook the Shrimp before Adding it to Gumbo?
Definitely not. You want to add your shrimp in just a few minutes before you are ready to serve. It will cook and turn pink in about 3 minutes or so. Cooking shrimp too long will make it tough.
What's the Difference Between Gumbo and Jambalaya?
To me, jambalaya is more of a rice-based dish or stew with little liquid, whereas gumbo is more like a thick soup.
Try this yummy shrimp gumbo soup for your Mardi Gras celebration or any time of year. It's a nice savory, hearty dish the whole family will love.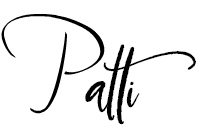 Cajun Shrimp Gumbo
This Cajun shrimp gumbo recipe is perfect for celebrating Mardi Gras. It's a delicious seafood dish made with authentic New Orleans flavors.
Ingredients
1/4 cup (1/2 stick) of butter
1/4 cup flour
1 cup onion diced
2 large celery ribs diced (1 cup)
1 cup diced green pepper
2 cloves of garlic diced
1 bay leaf
14.5 oz can of diced tomatoes
1 teaspoon thyme
1 teaspoon hot paprika
1/4 teaspoon black pepper
1 teaspoon salt
1 quart (4 cups) chicken or vegetable broth
12 oz bag of cut okra
1.5 pounds raw shrimp
Instructions
Make a roux by melting 1/4 cup of butter in a large pot on low-medium heat.
Sprinkle 1/4 cup of flour on top and use a high heat spatula to stir well.
Continue to stir the roux until it cooks the flour and turns a nice light brown color. This will take about 5 minutes or more. Make sure to keep stirring so that the mixture does not burn.
Next add the onions, celery and green pepper and saute for a few minutes.
Add the spices, stock, okra, and tomatoes next.
Bring to a boil then reduce the heat to low and simmer for 20 minutes or until the mixture thickens.
Add the shrimp and cook for 3-5 minutes or until the shrimp is pink and cooked through.
Serve with rice.
Nutrition Information:
Yield:

10
Serving Size:

1
Amount Per Serving:
Calories:

95
Total Fat:

1g
Saturated Fat:

0g
Trans Fat:

0g
Unsaturated Fat:

1g
Cholesterol:

86mg
Sodium:

724mg
Carbohydrates:

10g
Fiber:

3g
Sugar:

4g
Protein:

11g
Nutritional information for the recipe is provided as a courtesy and is approximate only. We cannot guarantee the accuracy of the nutritional information given for any recipe on this site.