This beautiful DIY indoor wall planter is easy to create. Fill it with small plants, fresh or artificial flowers for a casual farmhouse look.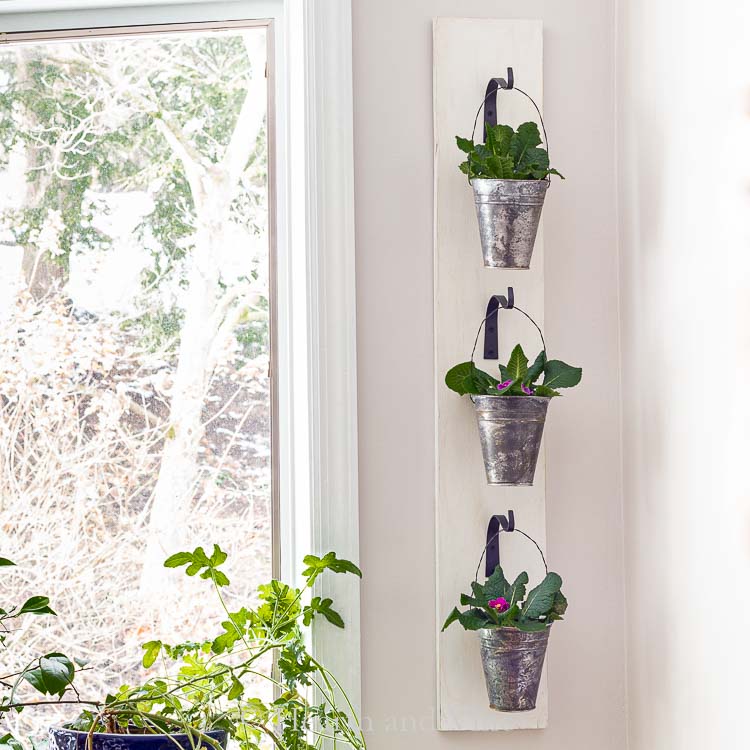 When you love flowers and houseplants you can never have too many planters, indoors or out. So, when my girlfriend offered to give me some extra galvanized pails from her son's wedding decorations I decided to make a farmhouse style wall planter for the dining room.
This post contains some affiliate links (that means if you make a purchase after clicking a link, there's no additional cost to you, but I will earn a very small commission. ) i.e. as an Amazon Associate, I earn from qualifying purchases. Click here to read my full disclosure policy.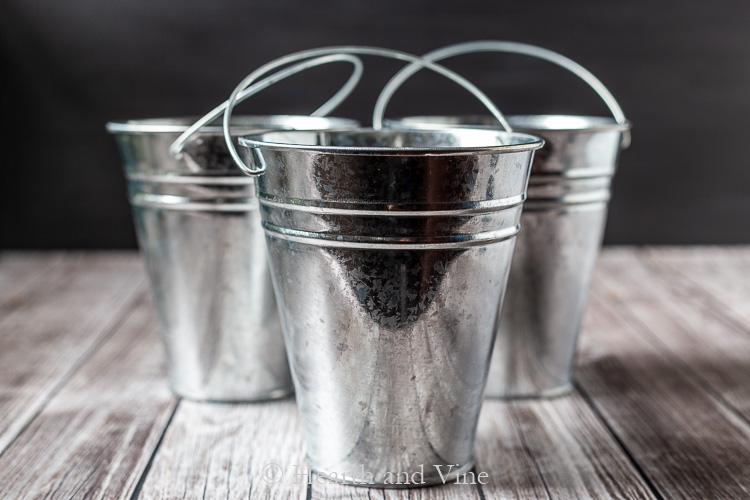 How to Make an Indoor Wall Planter
However, when I saw them they were much bigger than I realized. Sill, I now had my heart set on the idea, so I bought these adorable shiny pails online
.
Aging Galvanized Buckets
First, I wanted to give the shiny metal pails a nice aged patina so I wrapped them in a rag soaked with vinegar for several hours.
Once you remove the vinegar rag you can lightly rinse off the pails and dry them with some paper towels.
The vinegar does a great job changing the pails from shiny new to aged and vintage, don't you think?
Next, I took a piece of scrap wood and painted it white and added a little aging wax on top.
Then I attached three rustic iron wall hooks
to the wood.
A saw-toothed picture hanger
was used on the back of the planter to hang it on the wall.
Finally, even though the pails came with handles they were pretty short. So I replaced them with some twisted black wire to give the plants plenty of room.
All you need to do is grab some needle nose pliers and you can easily swap out the standard handles with the wire.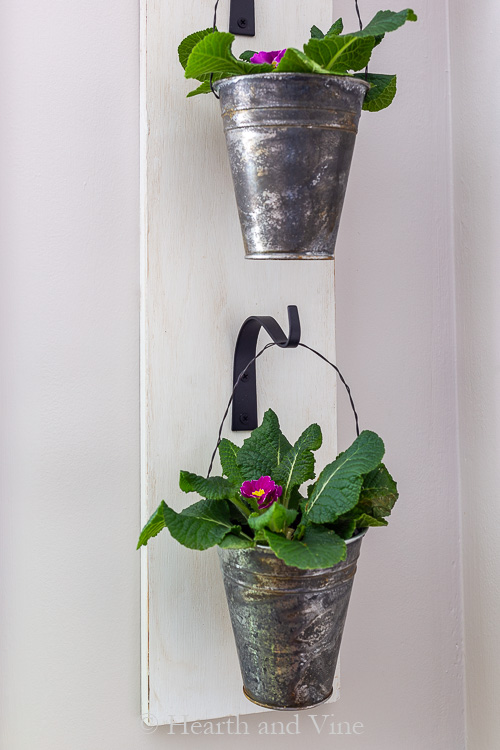 These little primroses look so nice in the pails. They are close to the window and grow lights so they should have plenty of light to grow.
However, I also like the look of these artificial tulips. No need to worry about lighting with artificials.
You could also place a plastic container or cut off a plastic water bottle to use as a vase inside of the pails. Then add fresh tulips or any flower from the store or your garden.
Either way, this DIY indoor wall planter is sure to be a beautiful addition to your home.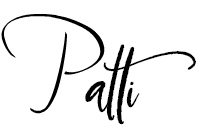 Click Here to Save to Pinterest!
Print
How to Make an Indoor Wall Planter
Bring a touch of nature into your home with a beautiful indoor wall planter. You can use faux or real flowers, and switch them out for each season.
Materials
Galvanized Buckets

Old Rag

Vinegar

Iron Wall Hooks

Picture Hanger
Instructions
Give the shiny metal pails an aged patina by wrapping them in a rag soaked with vinegar for several hours.

Remove the vinegar rag then lightly rinse off the pails.

Dry them with paper towels. Paint a piece of scrap wood white.

Add a little aging wax on top.

Secure a saw-toothed picture hanger to the back of the wood for hanging.

Fill it with your favorite flowers or plants.