Learn tips and techniques for entertaining and cooking with edible flowers, including what to look for and how to display beautiful flowers at your next gathering.
Using edible flowers when entertaining adds color and interest to your presentation, and I think it also adds an extra "something" that you don't see every day. The taste of most flowers is very mild, but their beauty makes everything extra special.
This post contains some affiliate links (that means if you make a purchase after clicking a link, there's no additional cost to you, but I will earn a very small commission. ) i.e. as an Amazon Associate, I earn from qualifying purchases. Click here to read my full disclosure policy.
Some Edible Flowers
More Edible Flowers
Just about all herb flowers such as chamomile, fennel, basil flowers or chive blossoms are edible and have a mild similar flavor to the leaves.
Violas aka johnny-jump-ups, borage, calendula, and hibiscus
Flowers from fruit and vegetables such as squash blossoms, zucchini flowers, apple, or orange blossoms.
Daylilies
Safety Notes
Don't use flowers with pesticides or other chemicals.
Use flowers you've grown, or ask at the nursery if they spray their flowers.
Be careful with those who are sensitive to pollen or who have asthma, as the flowers may cause an allergic reaction.
Not all flowers are edible. Check a reference guide to help you correctly identify your flowers and to make sure they are safe. Sometimes you should only eat the petals, as other parts are bitter or even toxic. Check out this handy list from the University of Minnesota's Extension Unit.
Cooking with Edible Flowers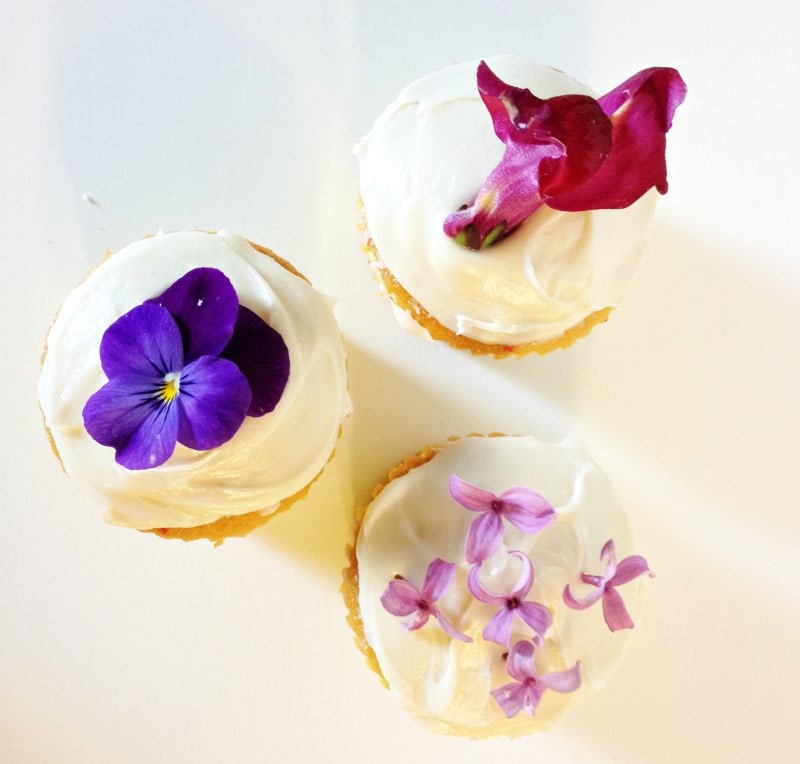 Edible Flower Ideas
The easiest way to add edible flowers to the menu is with desserts. Decorating the top of a cake or even plain cupcakes makes an ordinary dish extraordinary. They also make a dish of vanilla ice cream a real treat.
Or simply toss some in with your salad greens.
Freeze them in ice cubes for a fancy cocktail, or make an ice ring for a punch bowl.
Make candied flowers by brushing egg whites over each petal, then dusting with super-fine sugar.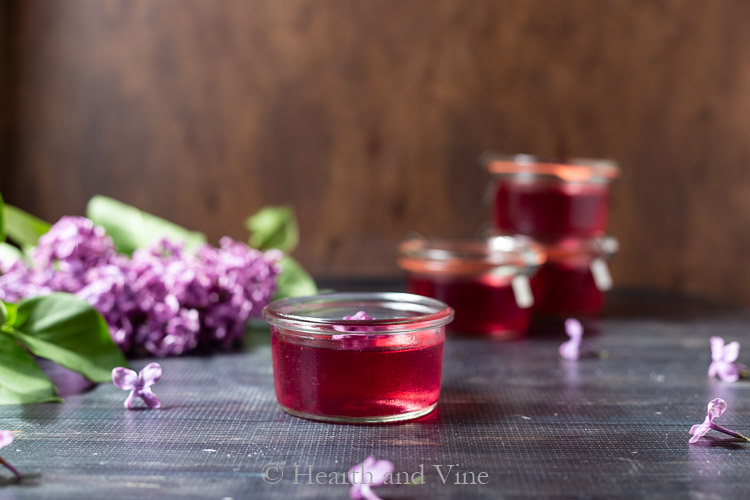 Making jams and jellies like this pretty lilac jelly.
Floral vinegar made with white wine and flowers like lavender or red nasturtium blossoms will turn a beautiful shade of pink.
Make floral scented sugar with rose petals or lavender.
If you don't have enough of your own, you can always purchase them online or at places like Whole Foods stores.
They say that many of us eat with our eyes, so what better way to offer a feast for the eyes, than using edible flowers.