Edible squash flowers have a light delicate taste and are the feature of this easy squash blossom pasta recipe.
Most of you know that I do not have a vegetable garden. So why am I writing about squash blossoms?
I had a few gourds and squash as part of my fall decor last year and when they started to get old I tossed them into my compost pile. Low and behold didn't a couple of them start to grow this year.
I did harvest that one pretty green acorn squash above, but there were also plenty of blossoms, so I thought I'd make a simple pasta dish with them.
Just a little FYI. This is a male blossom with an anther in the center. Their job is to pollinate the female blossoms which produce the fruit.
Here's a female blossom. The interior is a little out of focus but you can see the stigma in the center. Also, you can see the beginning of a squash growing right at the base of the bloom.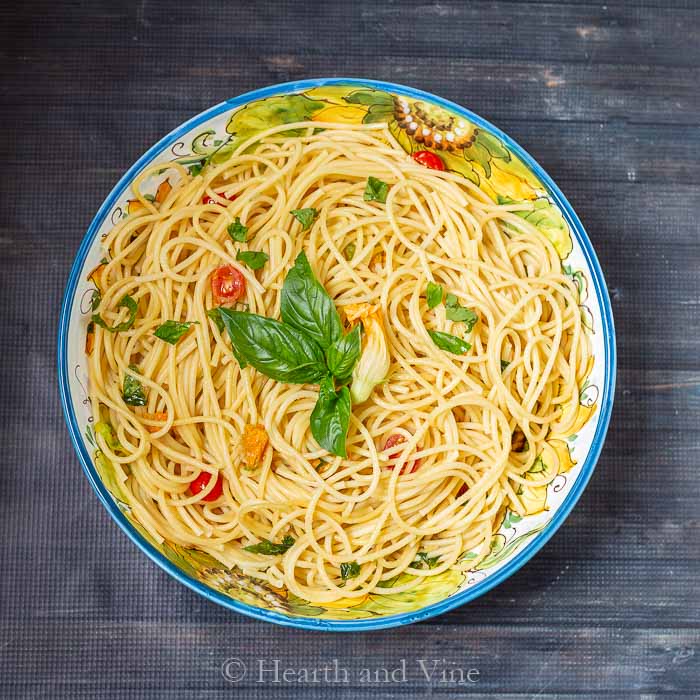 Most of the time you see articles where people stuff the blossoms with cheese and fry them.
I had some cherry tomatoes and plenty of fresh basil so I thought they would work well in a pasta.
You can use any kind of pasta you like. The squash blossoms have a very light taste. Different from other edible flowers which often have a perfume-like taste and some are even a little bitter. These are nothing like that.
If you're growing squash like zucchini and already have plenty of fruit, feel free to harvest a bunch of the male blossoms as they are more typically numerous then the female blooms, and have already done their job.
Stuff them. Add them to a salad or make this easy and tasty pasta dish.
Squash Blossom Pasta
Here's a great way to eat some of those delicious squash blossoms from the garden in a pasta dish.
Ingredients
1 pound bucatini pasta
1/4 cup olive oil
2 cloves garlic chopped, grated or crushed
2 tablespoons butter
1/4 cup fresh basil leaves chopped
1/2 cup fresh squash blossom, 8-10 chopped
6-8 cherry tomatoes
2/3 cup pasta water
juice of one lemon
Instructions
Boil the pasta according to the package directions. Do not drain.
Remove the anthers and stigmas from the inside of the blossoms and discard. Lightly rinse with water and roughly chop.
In a large saute pan add the olive oil and garlic and saute for a couple of minutes on medium-low heat. Do not let the garlic burn
Add squash blossoms and tomatoes and saute for a few more minutes.
Add basil and butter. Stir well
Add cooked pasta along with 2/3 cup of the pasta water.
Stir together on low heat for another minute until all ingredients are well combined.
Remove and stir in lemon juice.
Serve with grated Parmesan cheese.
Nutrition Information:
Yield:

4
Serving Size:

1
Amount Per Serving:
Calories:

438
Total Fat:

21g
Saturated Fat:

6g
Trans Fat:

0g
Unsaturated Fat:

14g
Cholesterol:

15mg
Sodium:

57mg
Carbohydrates:

54g
Fiber:

3g
Sugar:

3g
Protein:

10g
Nutritional information for the recipe is provided as a courtesy and is approximate only. We cannot guarantee the accuracy of the nutritional information given for any recipe on this site.