Learn how to make beautiful book page bags for letters or small gifts using a variety of materials you probably already have at hand.
I haven't tried making anything with old book pages yet but I love the look. Recently I saw some envelopes or bags made with bird decoupage on Instagram. There was no link to a blog with instructions so I just tried to come up with my own version.
How to Make Book Page Bags or Envelopes
Cut out some pages from an old book. This one is not particularly old but I found it at the misson store for $.75. The pages were starting to discolor and the weight of the paper seemed like it would work well for this project.
The first one uses two pages of the book.
Fold over the top of both pages about 1.5 inches from the top.
Next, use an craft knife or scissors to cut off the top of one page at the fold.
Sew a line of stitching along the top of the cut edge first. Then place it on top of the longer page and sew along the perimeter of both pages. You can make the stitches fairly large if you want. Play around to find the look you like on some other pages from the book.
If you don't have a sewing machine you could definitely use a needle and thread and sew the pages by hand. I used black thread but you could use any color you like. I think embroidery thread would work well too.
Next, make the closures by cutting out eight round circles from cardstock. Four large circles and four smaller circles. (A paper punch would work great here.)
Then glue two of each size together so that you are left with two large circles and two small circles.
Then glue one of the sets of small circles to a set of large circles.
They will be glued to the envelope with the large circle on top. The smaller circle will leave room for the twine.
If you want you can further embellish the circle with paint or markers. I used some of my distressed oxide spray in walnut stain.
Further embellish the envelope/bag by mod podging pretty napkin cutouts on top. Make sure that you get to the very top layer of the napkin for a more translucent appearance.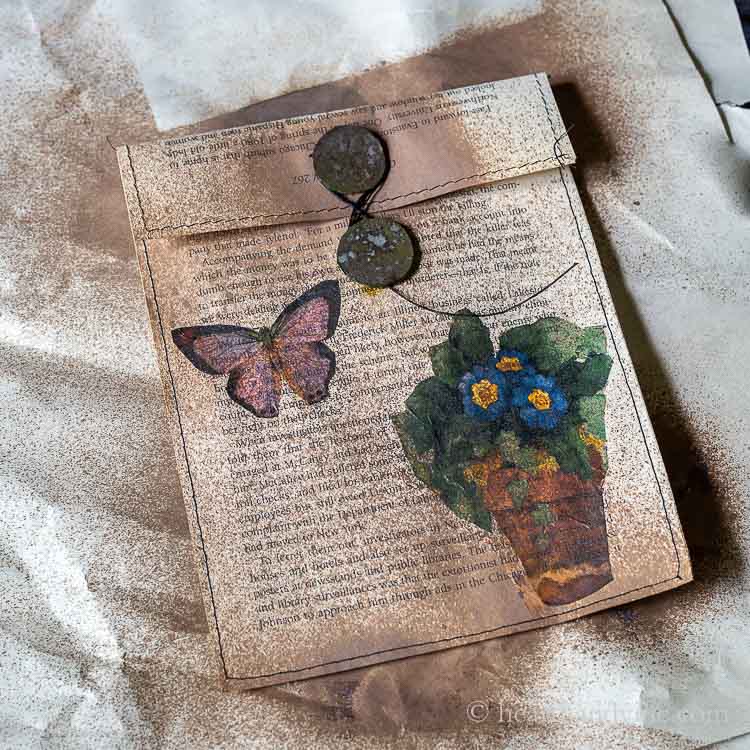 Glue the circles with the small side down at the edge of the top fold and one just below. Once dry, add a long piece of waxed thread or bakers string to the top circle and wrap it around the bottom circle to close up the package.
Use your stamps or spray more antiquing medium over the pages to add a more textured look if you wish.
For a small envelope just use one piece of paper folded as shown above. Once folded open the top and sew along the sides and across the top.
I found some old adhesive backed cork circles to use this time for my closures. Again, I'm using a smaller circle on top of a larger one.
Then the corks are flipped over and pressed on the middle of the top fold and one just below. The closure is finished with waxed twine wrapped around both circles.
More images from paper napkins are decoupaged with Mod Podge to finish the look.
I think these would make a great envelope for a special handwritten note or a nice holder for a small gift or gift card.
Use what you have. Buttons or brad fasteners for closures. Stamps, paints, or watercolors. You could even use a book you have at home and make it look older with tea or watered down paint.
The point is to make it a fun creative art exercise that doubles as a gift.