Learn how to make this simple potato egg and ham casserole made with leftovers. The perfect comfort food and a traditional dish from Hungary.
When I was in college one of my friends invited us to dinner at her Hungarian grandmother's home. I remember that she made the most delicious potato egg and ham casserole. Thanks to the power of the internet I believe this dish is called Rakott Krumpli. Hosting Easter dinner at our house left us plenty of ham and boiled eggs so I thought I would try to make this casserole myself.
There are many recipes on the internet for this dish but overall basically the same. I reminded me of my scalloped potato recipe. You simply layer sliced boiled potatoes, sliced eggs, thinly sliced ham and sour cream in a buttered casserole dish. Cover with foil and bake removing the foil at the end to until the top is golden brown.
A couple of the recipes called for paprika, a traditional Hungarian spice, and some added cheddar cheese to the top and since I had a nice white cheddar on hand I decided to add it as well. I have to say it turned out great and I will definitely be making this again. I can't believe I waited so long to try it.
Potato Egg and Ham Casserole Comfort Food

Here's the Recipe: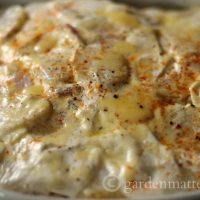 Potato, Egg & Ham Casserole
Make take on a traditional Hungarian dish called Rakott Krumpli. Great use for leftover ham and hard-boiled eggs.
Ingredients
6 medium potatoes
6 hard boiled eggs
2 c thinly sliced cooked ham or sausage
1 pint sour cream
½ c grated white cheddar
salt, , pepper and paprika to taste
Instructions
Boil potatoes, then peel and slice them to about ¼ inch thick.
Slice eggs with an egg slicer
Butter a casserole dish
Place a layer of potatoes in the bottom (1/3)
Place ½ of the eggs onto the potatoes
Then layer ½ of the ham
Then about ⅓ of sour cream
Sprinkle with salt, pepper and paprika
Next layer half of the remaining potatoes
Layer the remaining eggs
Layer the remaining hams
½ of the remaining sour cream
more salt, pepper and paprika
The remaining potatoes
The remaining sour cream
More salt, pepper and paprika
Sprinkle the cheddar cheese on top
Cover with foil and place in a preheated 350 degree oven for 40 minutes.
Remove foil and continue cooking until top is golden.
Let cool and serve