See how simple and easy this natural spring centerpiece is to create for your Easter table with a dough bowl, bunny, moss and clay egg planters.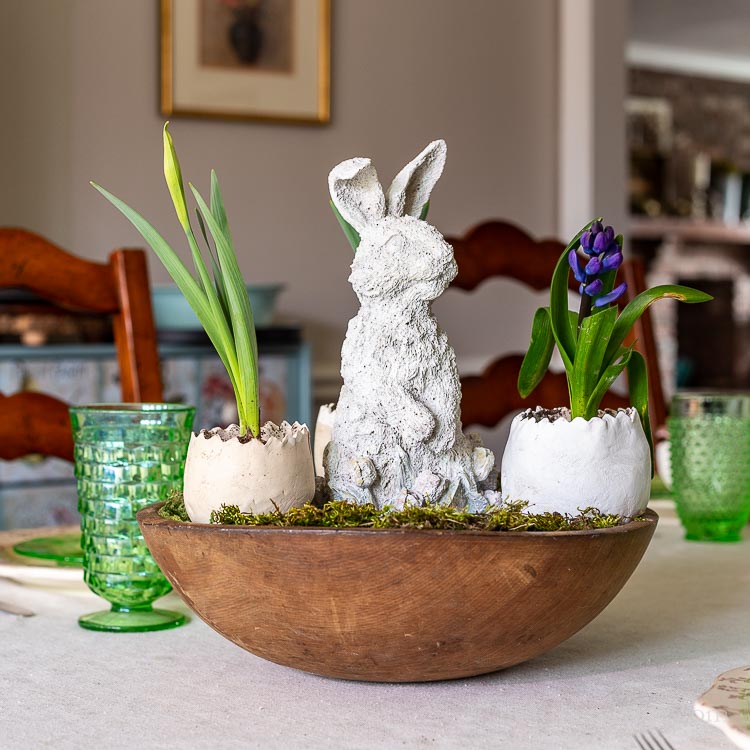 While I was shopping with my friends on our girls' weekend getaway I found this cute bunny in an antique mall. I knew I had to use it for my Easter centerpiece.
This Easter bunny centerpiece is easy to make and you can adapt it to items you may already have in your home.
Natural Spring Centerpiece
Once again, I like the idea of creating a centerpiece that can easily be removed for dinner so you can serve the meal family-style.
I started with an antique dough bowl. Any container will work. A big wooden salad bowl or a ceramic bowl would be good. You could also try this with a tray or box.
Use anything solid to give your bunny something to lift and support it. I have some old wooden blocks that I used. Then I added some chicken wire to support the moss, and clay eggs.
Before you start arranging your bunny and eggs set some sheet moss over the chicken wire. You can also tuck bits of moss in and around the edges as needed.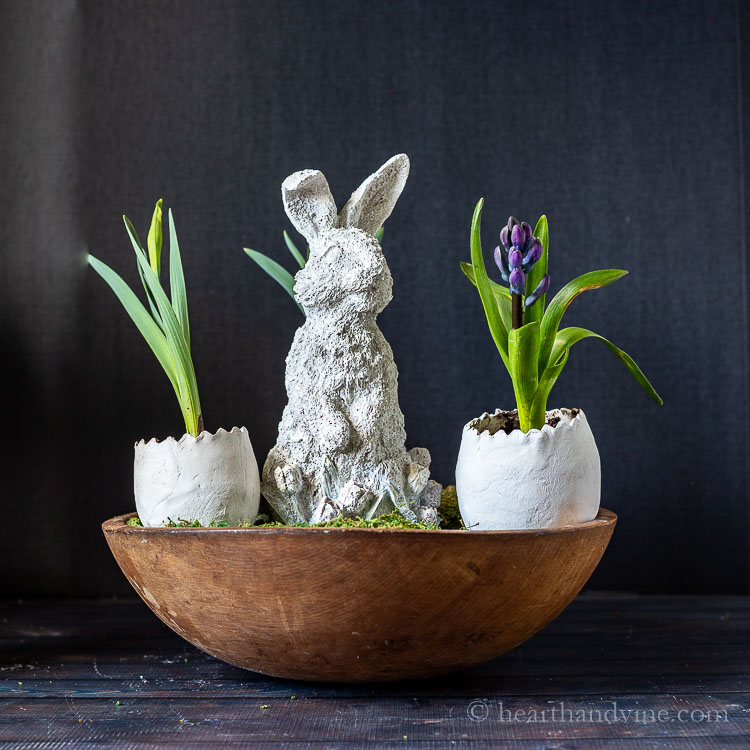 Around the ceramic bunny, I've nestled a couple of clay egg planters. These larger ones are filled with spring-flowering bulbs that I dug up from the backyard. You could use a bit of foam and artificial flowers if you don't have access to fresh flowers.
You can see some of the smaller place setting eggs are filled with artificial flowers. I think they both look great. Especially with the collection of green glass plates, glasses, and accessories that are a perfect shade of spring green.
Wishing you all a blessed and happy Easter with all the hope of new birth the season brings.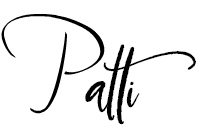 Click Here to Save to Pinterest!