Learn about a landscaping concept that I simply call "gardening on the other side of the walk," that will really increase your curb appeal.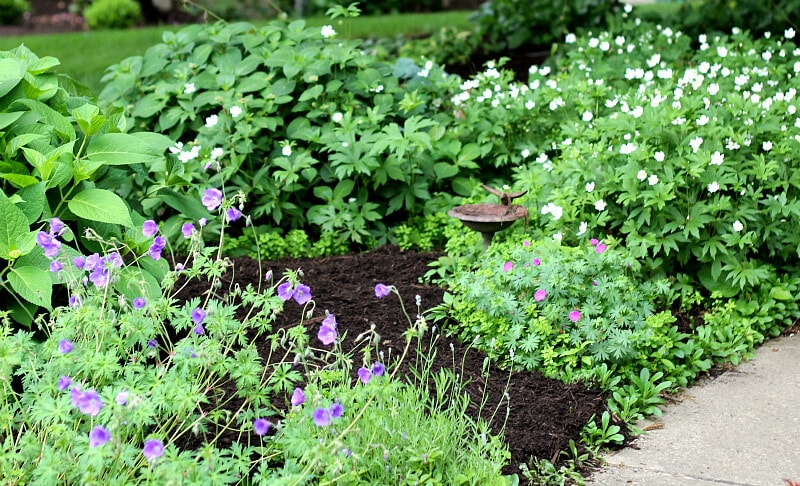 Gardening on the other side of the walk is a concept I heard about several years ago and it's one of those slap me on forehead kind of ideas.
Gardening on the Other Side of the Walk
I was attending the Garden and Landscape Symposium of Western PA. This is something my sister and a couple friends used to do every year.
One of the speakers, I wish I could remember his name, showed us a lot of homes with typical boxwood shrubs planted right up to the foundation and not much else, like the one shown above.
He then showed some really beautiful, landscaped homes with varying styles. For me, this presentation literally hit close to home.
He discussed an idea about using the height of your home, imagining dropping the front wall down to ground. Basically the height of your front wall should be around the same distance your front garden should extend from the foundation. Well, my sister and fellow garden confidant, who was sitting next to me, nudged me, and said, "Hey, that's you."
What? I have to admit I was a little bummed that I was in the category with all those boring homes. We had some nice beds from the foundation to the sidewalk but that's where our landscaping ended. My sister was right.
However, by the time I got home I was very excited to bring this new idea to my husband. We extended the garden past my front walk and used a garden hose to give it a nice curve. Then we-okay, mostly my husband-dug out the sod, and add some nice topsoil, and began planting.
I wish I had some before pictures. Little did I know back then that I would be writing about it in a blog.
Here's what the front of my home looks like now:
A little landscaping concept that now seems so simple, really made a difference in my curb appeal, and hey, who doesn't want a reason to buy more plants?