This purple dahlia deco mesh wreath is super easy to create, and it's a perfect bright and cheerful way to decorate your front door for the summer.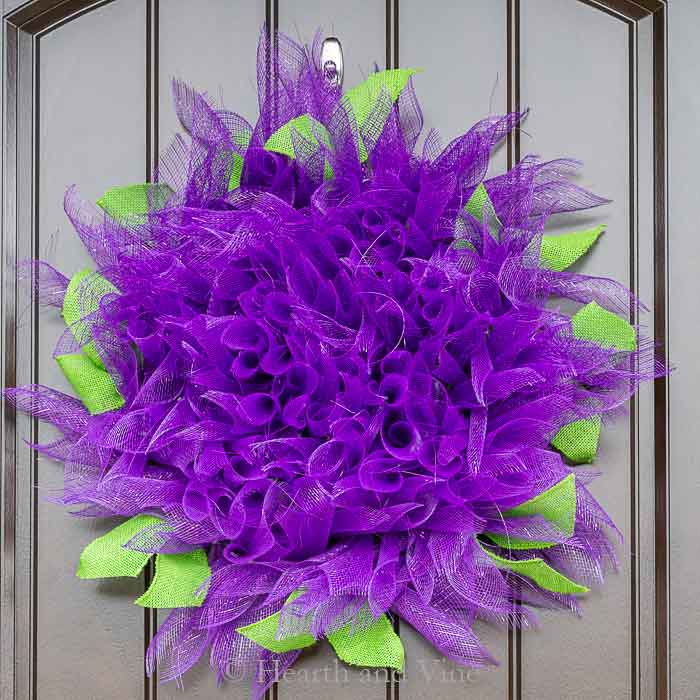 This is the year for purple and green at my house. I just can't get enough. I really loved the purple and green fresh flowers on the modern spring wreath I made, but now that summer is approaching I wanted to try something new. I decided to go with a deco mesh wreath in the shape of a purple dahlia. I'm sure you've seen the beautiful sunflowers and other designs made with this fun ribbon. Though I would have preferred to have a less shiny material, this dazzling wreath looks pretty slick on our front door.
This post contains some affiliate links (that means if you make a purchase after clicking a link, there's no additional cost to you, but I will earn a very small commission.) Click here to read my full disclosure policy.
Supplies
16 inch metal wreath form

12 inch metal wreath form

8 inch metal wreath form

small zip ties

5.5 inch deco mesh ribbon
2,5 inch burlap ribbon
twist ties
To make one of these beauties, start by attaching three wire wreath forms together with zip ties.
For the petals cut 8 inch strips from a roll of 5.5 inch deco mesh. I ended up using three rolls of this mesh to make this wreath.
Roll the corners in towards the middle and use a twist tie to gather and hold the form in place.
Use a few pieces of green burlap ribbon to make some leaves on the outside. Just cut the ribbon on an angle, also 8 inches long, and gather in the middle with another twist tie.
Starting on the outer rim, tie on the leaves first and fill in with the petals. I used leftover white twist ties that we had on hand, but you can purchase dark ones, or use something else like a pipe cleaner or wire. The wreath is so full you really can't see the white ties, but the back is not so pretty. You could cover the back with felt or fabric if you so desire.
This purple dahlia deco mesh wreath takes a few hours to create, but it's easy enough to do while you are watching TV in the evening.
I like that because it keeps me from snacking. 😉
Purple Dahlia Deco Mesh Wreath