Learn how to make a wooden boot tray that is attractive enough for your foyer. This pretty piece of decor is simple to make, and very useful in the home.
Have you seen these pretty wooden mats that some are using for their welcome mat? Some are put together with rope or beads, and I have always admired them.
Here in the north, it can get pretty messy in the winter. We have a boot tray in our laundry/mud room right off the garage, which is great for messy boots. However, we really needed one at the front door for guests, which is why I attempted to make an attractive wooden boot tray for our foyer.
This post contains some affiliate links (that means if you make a purchase after clicking a link, there's no additional cost to you, but I will earn a very small commission. ) i.e. as an Amazon Associate, I earn from qualifying purchases. Click here to read my full disclosure policy.
How to Make a Wooden Boot Tray
This particular tutorial is quite easy. We did not take the rope or bead method. I didn't even use screws or nails, and I only used two boards on the back.
Basically all you need to do is buy a nice plastic boot tray. Maybe you already have one.
This one does the job, but it's not that pretty, and, although it has a little raised pattern, let's face it, the shoes still sit in the mess.
So we found 14 feet wood pieces about 1.5 inches by 1/4 inch and cut them down to fit the tray. They also sold also smaller width pieces about 1/2 inch in size but I thought they looked too small. Two more pieces were cut to add the bottom to hold it all together.
It's similar to the contractor wood shim welcome sign I made before only using much stronger materials.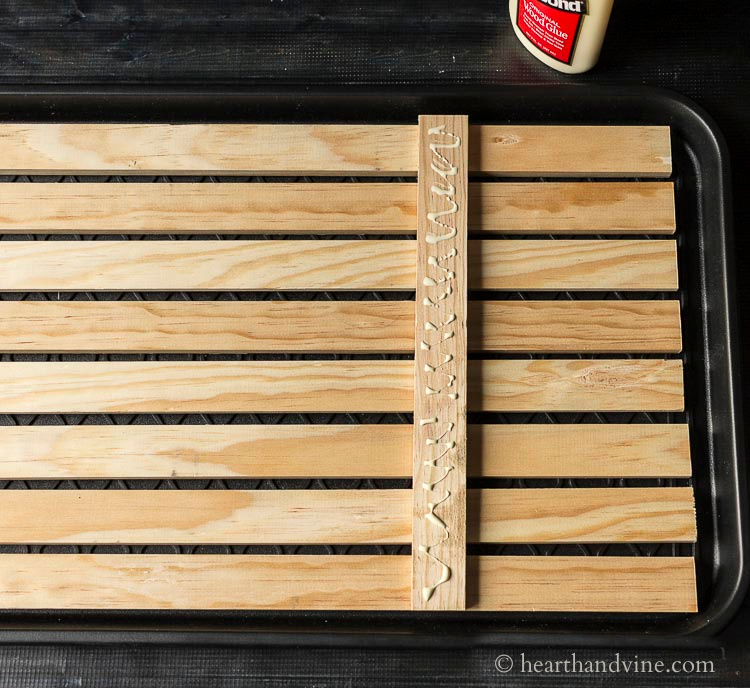 As I mentioned before, I did not use nails or screws. I simply used strong wood glue. Now, here's a mistake I did make. I should have put the glue on the individual slats, not the crosspiece. Why? Because the glue will show in between the slats. It's not really noticeable but I'd do it differently next time.
Books act as a clamp and were left there overnight.
After the glue dried, I used some poly wood stain to give it a more finished look.
Now, when our guests come to visit, I'll have a pretty wooden boot tray for their shoes to dry off, right next to the front door.
This would also be a nice addition to a mud room or near any entrance to your home.