Learn about full sun planter ideas including which containers to use, plants to purchase, and how to arrange them.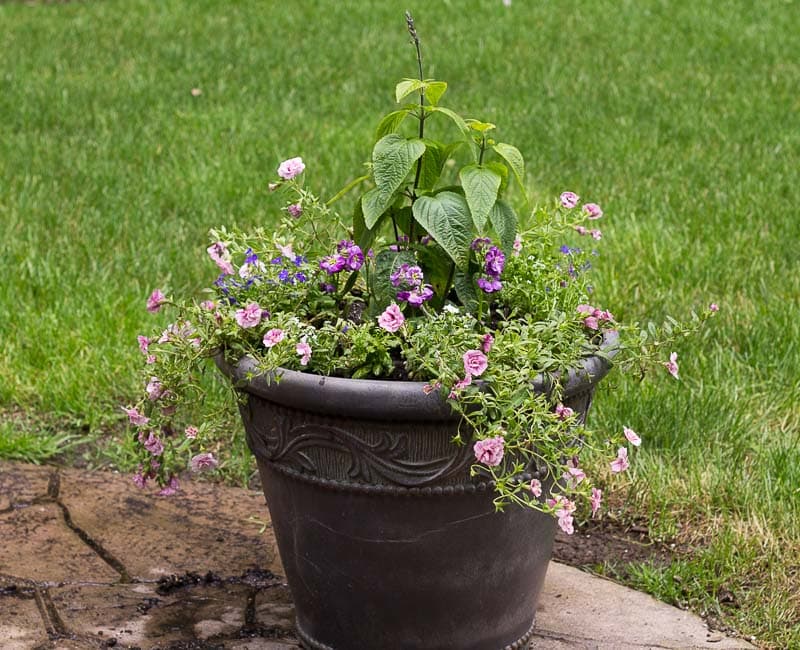 Recently I showed you some tips and ideas for a shady planter. Today I'll show you my favorite full sun planter ideas, along with a few other tips.
Growing a lush and beautiful planter in full sun is easy. There are many choices at the nursery, so it helps to have a game plan in mind before you go.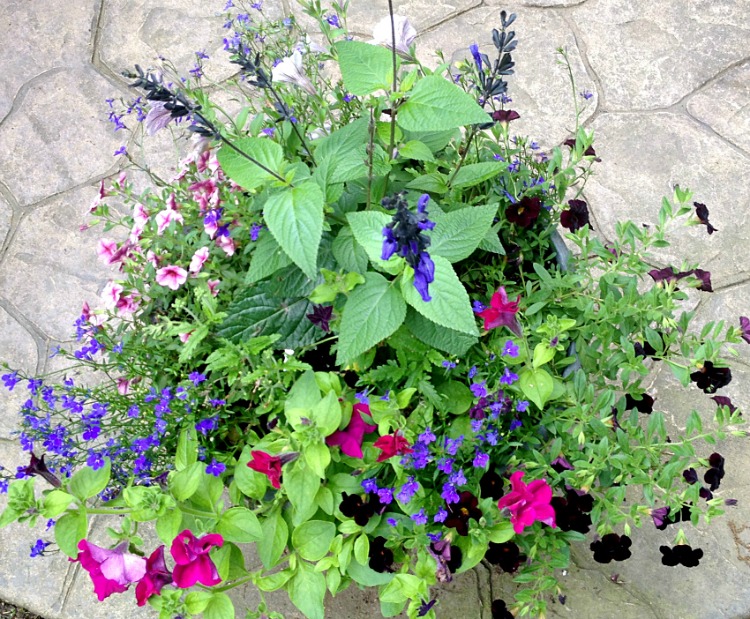 Here's a similar planter photographed in the middle of the season last year.
Full Sun Planter list for video
Salvia 'Black and Blue' - 1
Stock 'Harmony Purple'- 6 pack
Calibrachoa (million bells) Minifamous Double Pink Vein 3 - 4 in pots
Alyssum 'Clear Crystal White' - 2 - 4 packs
Lobelia 'Palace Blue' - 6 pack
Best Containers for Full Sun Planters
I like to plant in large containers. Typically fiberglass and plastic these days, because the industry is producing really pretty ones for today's market. They hold up well, are easy to move and help retain water longer so that you don't need to get out the watering can or hose every day. Larger planters can also mean that your plants will have some extra room to grow and pull moisture from. Finally, larger means more blooms, resulting in a very beautiful and lush planter.
My Formula and Favorite Container Plants for Sunny Spots
You've probably heard of the Thriller, Filler, and Spiller formula. I love it and find that it always works well when creating flower planters.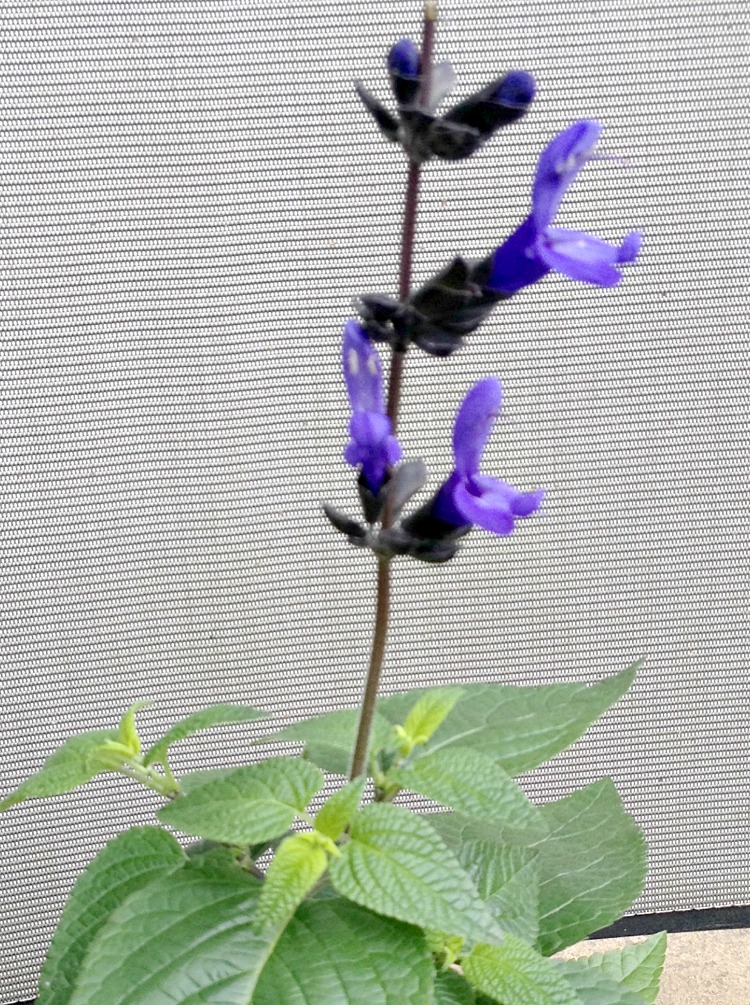 Thrillers
Any tall plant for the middle or back if your planter is going to be up against the wall.
Salvia (shown)
Angelonia
Cannas
Grasses like purple fountain grass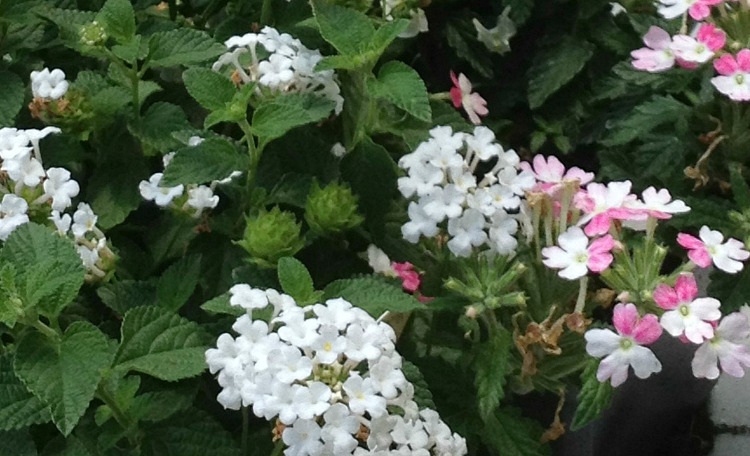 Fillers
Several mid-sized mounding type plants, to plant around the tallest or directly in front of it.
Supertunia
Verbena (shown above)
Stock
Sunpatiens,
Geraniums (standard)
Ivy Geraniums.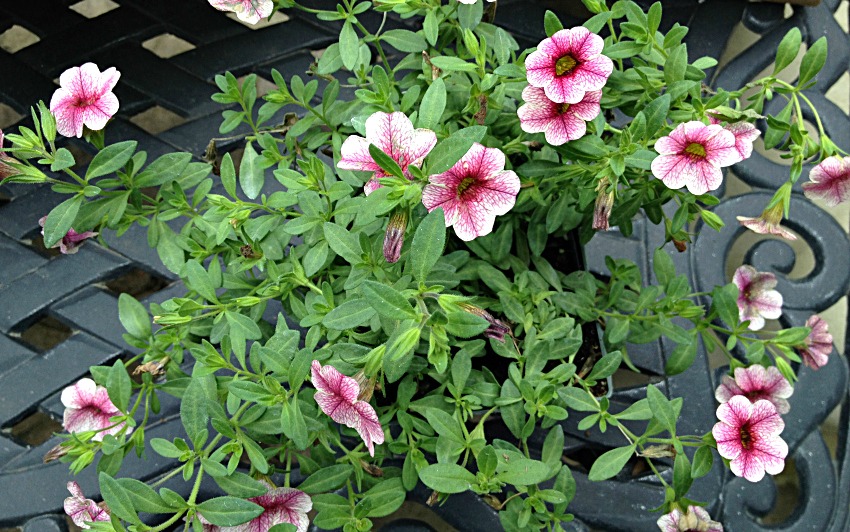 Spillers
Any trailing or vining plants to spill over the edge.
Calibrachoa (shown above)
Lobelia
Sweet Alyssum
Lantana
Vinca Vine
Sweet Potato Vine
Creeping Jenny
Full Sun Planter Tips:
Don't be afraid to crowd the flowers into the container. For the short amount of time they will be growing, usually 4-5 months the tight space will not make a difference.
Make sure you leave about an inch of space between the soil and the lip of the planter so that water does not run over the edge.
My watering schedule is every 3 days, with a good soaking, preferably in the morning. If it rains (not just a passing shower) you can skip watering. During the peak of summer, or if you live in a very hot climate with many days in the '90s, you may have to water more often.
Consider adding a slow-release fertilizer to your potting soil like Osmocote.
The choice is yours but I believe choosing colors in a similar hue is more pleasing to the eye. I tend to favor cooler colors but if you prefer warm tones, there are tons of reds, yellows, and oranges, many in the varieties listed above, that will work just as well.
More Full Sun Container Garden Ideas
Create an herb garden. Most herbs such as basil, rosemary, parsley, and thyme thrive in full sun and can make a beautiful container garden.
Try creating a beautiful planter full of succulents. Must succulents such as sedum drought-tolerant and love full sun exposures.
Consider plants with interesting or colorful foliage such as coral bells or dusty miller.
You can use these same tips for creating hanging baskets for full sun.
Creating a full sun planter is a great way to relieve stress and enjoy the beauty of nature. Gather your flowers and plant a stunning planter for everyone to enjoy, the entire growing season.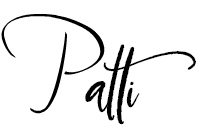 ---
More Container Garden Ideas