Learn about some of my favorite annual flowers to grow in containers each season. Lots of colorful can't beat, trouble free choices to fill your planters.
I love planting tons of flowers in containers in the spring. I typically head out to a couple of local nurseries and pick up several 4 inch pots to stuff my containers and hanging baskets. As time goes by I find myself selecting some of the same ones over and over again, because I already know how they will grow and look. Every once in a while I'll try something new, but the standbys are still on my list and I thought I'd share a few of my favorite annual flowers with you.
Above is one of my planters from last season.
My Top Picks for Favorite Annual Flowers
I have a pretty blue salvia in the middle. I love this brightly colored salvia named 'Black and Blue' that isn't quite hardy enough to over winter in my garden. It cost the same as the other annuals, and grows big and tall, making it great choice for the center.
The bright fuchsia flower is a Wave petunia. I used to turn up my nose at petunias in the past. The old ones would get very leggy and needed constant dead-heading. Now they have so many fabulous ones, particularly "the wave" which grows like mad and doesn't need much of any maintenance.
Here's one in a pretty lavender.
Another spectacular filler and trailing plant is the calibrachoa or million bells. They are like a mini petunias and come in the most beautiful colors.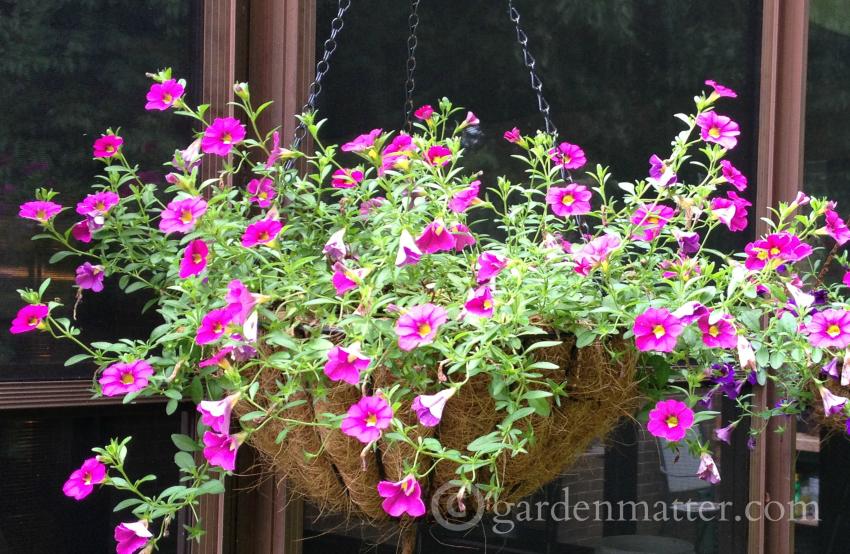 I will often take 3 of one color calibrachoa and fill a basket like this one.
Another great annual for containers that trails really well and will grow in shade is the sweet potato vine. Here's a new plant in May called Sidekick Black Heart.It grew well in my turquoise pots with coleus Kiwi Fern.
Finally, I almost always by trailing verbena. Here it is in white and a white & pink combo.
Again in a pretty dark red and violet.
Other good bets are lobelia, sweet alyssum and bocopa. Impatiens are great fillers and bloom well in shady spots. As you can tell I really tend to lean towards cool colors. For those of you who prefer warmer colors try, Lantana and nasturtiums. Both come in a nice range of yellow and red like this one.
You May Also Like:
Planting Tips for Container Gardening
5 Simple Tips To Create Beautiful Hanging Flower Containers
Plant Life Cycles: Annuals vs Perennials and More