Learn how to create the best flower container gardens for your home, including how to choose plants, how to plant them, and how to keep them looking good.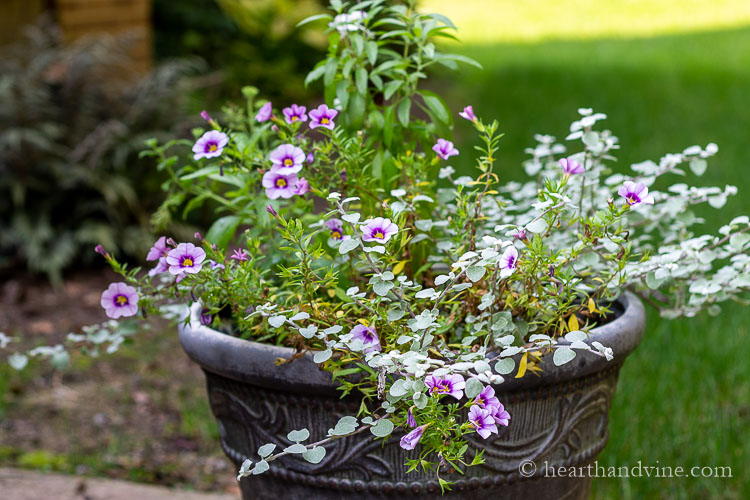 I spend my mother's day weekend buying and planting flowers because in my zone 6a part of the world it is usually safe to plant annuals outside. Still, I watch out for any nights that dip into the '30s. If this happens I try to either cover them with tarps, plastic garbage bags or move them into the garage for the night.
I've been creating my own flower containers for many years. Here are a few tips to help you create successful and beautiful flowers for your home this garden season.
How to Plan & Prepare for Flower Container Shopping
Make a list of the containers you have and whether they will be in a sunny or shady spot at your home. Keep in mind full sun means an area that receives six or more hours of direct sun per day. Click on the image above for a printable page you can fill out for yourself and take with you to the nursery or garden center.
Also, make a note of how many plants you need for each pot. Keep in mind each large pot will need one central plant that's taller than the rest or a "thriller." A few bushy "fillers" and several "spillers" to drape over the edge. For smaller pots, I will sometimes use only two plants with one trailing and the other either a thriller or a spiller. Often, a smaller beautiful pot will just have one spectacular specimen.
How to Choose the Best Plants for Containers
Check the tags in the plants to find their light requirements and the size they will grow against your container shopping list.
Look for plants with several buds and not too many flowers. It's important to be able to see the color of the flower but if you choose one that is in full bloom it may not adjust as well when transplanted.
Choose those that don't have roots coming out of the bottom. If they do you will have to tease them apart and possibly trim the extra root growth so that the roots can spread out and grow properly. Doable, but not ideal.
Choose the healthiest plants possible. This means those which look well-watered and not too dry. Overall they should be nice and full, not leggy, and the foliage should be lush and green not yellowing or faded.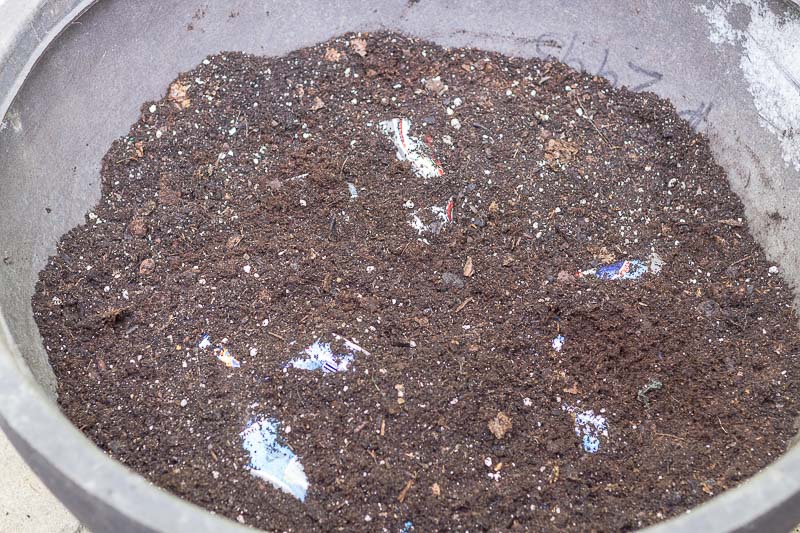 How to Plant a Container Flower Garden
Pack Plants in Tightly
Since annuals will only be around for four months or so they can afford to be crowded and will create bountiful beauties similar to the ones created in floral shops and in magazines.
2. Use Filler in Large Pots
Use old nursery cell packs turned upside down, or slightly crushed aluminum cans to lighten the load and save on soil.
3. Keep a record
Save the nursery tags and take photos of your final creations. You'll be happy that you did next year, especially if you found a particularly good combination.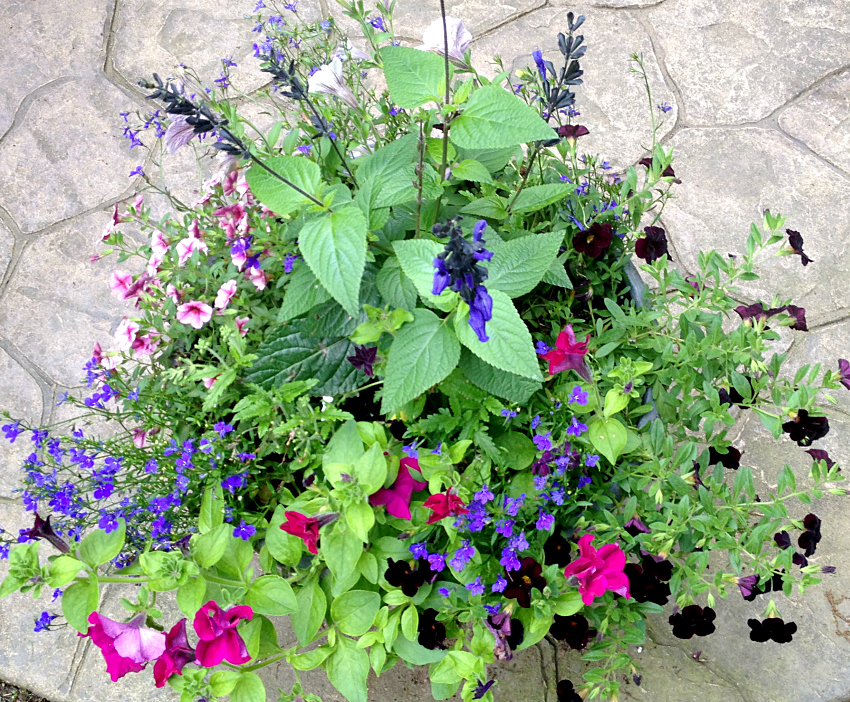 How to Keep Potted Flowers Looking Good
Water Well on a Schedule
This means making sure water is coming out the bottom of the pot before you stop watering. I water every third day unless there is rain. You may need to water more during the height of summer or depending on your climate and the type and size of pot you use. Terra cotta while gorgeous, dries out very quickly, and smaller pots sometimes require extra watering. Also, try to water during cooler times of the day. Morning is best but the early evening can work well too.
Fertilize Your Plants
Even though most nursery plants already have a little fertilizer in their soil and most potting soil does too, I still recommend adding a little liquid fertilizer when watering every few weeks or once a month.
Keep Them Trimmed
By summer, your beautiful container may start to look unruly. Don't be afraid to trim them with your garden pruners. In fact, trimming your flowering plants will encourage bushy growth and they will look much better in the long run.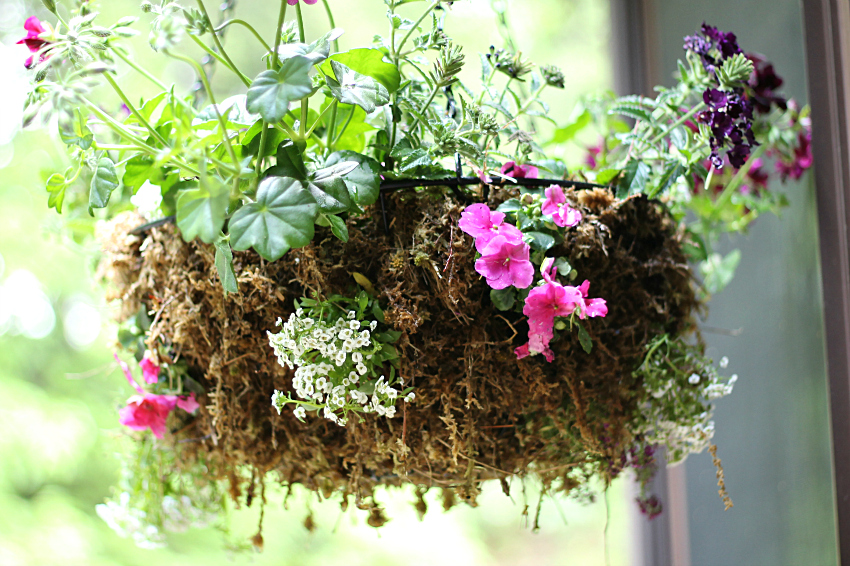 Other Container Flower Garden Tips
Repurpose something you already have around the house for a unique planter. Anything that holds water and has drainage holes will work. I've seen people plant in old chairs, tree stumps, boots, and antique colanders.
Save money by buying entire flats of annuals on sale to use as fillers or have a plant swap with your friends.
This article references using annual flowers in containers however you can also plant perennials flowers in containers. Dig up a little hosta or other perennial to add to your pots.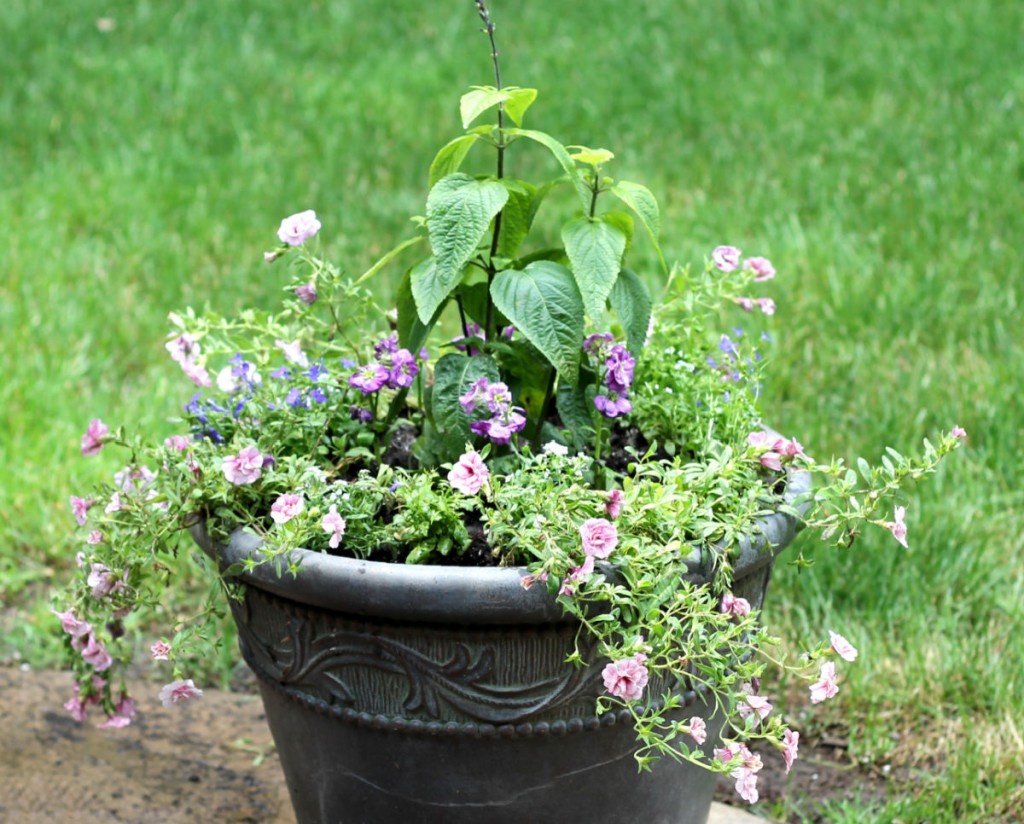 I hope these tips will inspire you to create container flower gardens that will grow beautifully and will be admired and enjoyed all season.