Learn how to make beautiful faux lead garden ornaments with paint and water from affordable concrete pieces to give your garden that English cottage feel.
Several years ago I was part of a garden club. Each month we would take turns hosting a project that everyone could make. For one of them, we created faux lead garden ornaments from concrete pieces we bought at a local merchant. Last fall while we were traveling, I noticed a man on the side of the road selling these cute little concrete garden pieces, and they reminded me of the project. So I picked up a nice cherub plaque to hang in the garden.
Faux Lead Garden Ornaments
Lead garden ornaments became popular in Europe during the late 17th and 18th centuries as stated here in an article by New England Garden Ornaments, a great source for real lead garden ornaments. But, as you may know, they are very pricey, so this simple faux treatment is a very affordable way to bring a little English cottage feel into your garden.
Materials
Concrete plaque, statue, planter
Gray putty toned paint (Behr Fashion Gray)
Charcoal putty toned paint (Behr Intellectual)
Sponge brush
3 containers for paint
Soft rag
The Process
- Clean your piece
- Mix each paint with 1/2 paint, 1/2 water into a container.
- In the third container mix 1/3 of each paint and water.
- Liberally paint on the lighter color and water mixture on to the concrete, and let dry. About an hour depending on the humidity.
- Next do the same with the dark color. Let dry.
- Paint on the last mixture of the two paints and water. This time do not let it dry. Instead, use a soft rag to wipe off the paint. Allow some to seep into the cracks and crevices giving the look more dimension. If you want you can dab on more of the paint, even full strength with the cloth as you desire.
Let dry and hang, or place in the garden. It will only get better with age.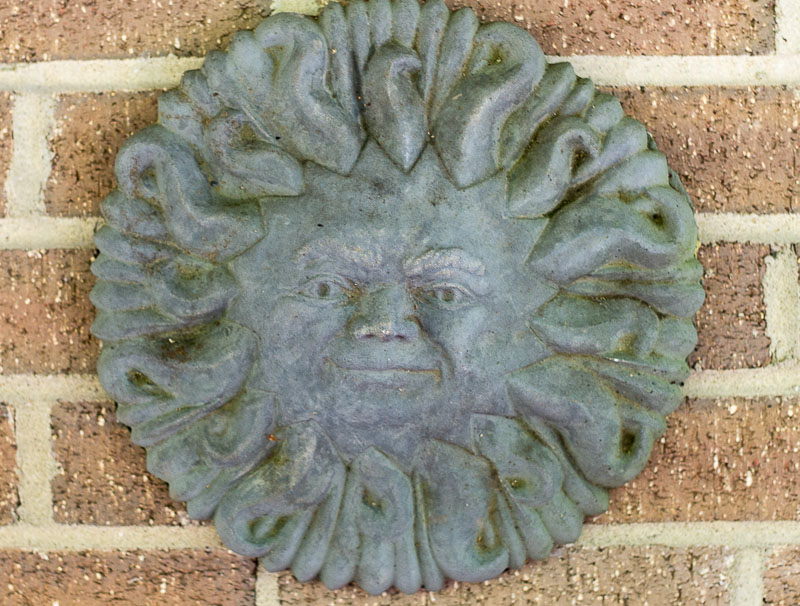 Here's the one I made in my garden club years ago.
As you can see I am of fan of this look.
These are different garden ornaments I have collected along the way.
This is a resin container with Helichrysum or Licorice Plant.
Maybe you already have a concrete statue, plaque or container that you can transform into a faux lead garden ornament. And the next time you see a vendor selling some concrete pieces on the side of the road, or a concrete steal at a garage sale or flea market, you'll know just what to do.