This DIY bag from jeans is the perfect weekender bag that's easy to make and only requires some basic sewing skills to create.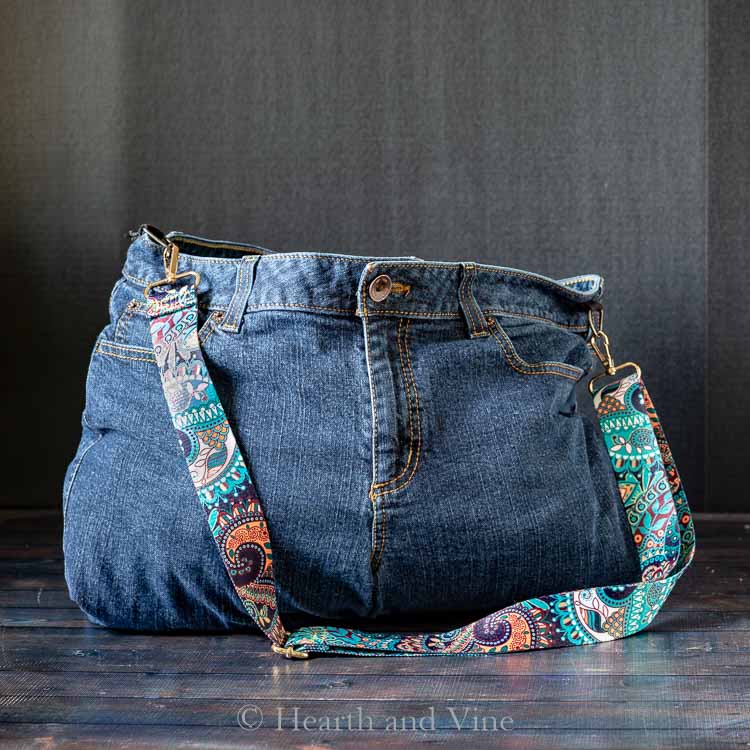 I remember making a purse from old jeans in the late '70s and thought it might be fun to bring back this fun easy recycled craft.
Denim Bag Supplies
Old pair of jeans
Zipper to fit the inside of the jean bag (I used a 16-inch zipper but this will vary with the jeans)
2 1 inch D-rings

1 inch black twill tape

1 decorative purse strap
This post contains some affiliate links (that means if you make a purchase after clicking a link, there's no additional cost to you, but I will earn a very small commission. ) i.e. as an Amazon Associate, I earn from qualifying purchases. Click here to read my full disclosure policy.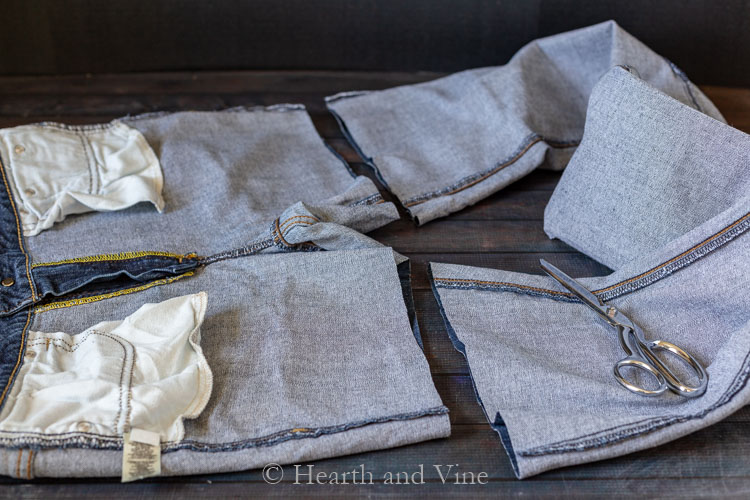 How to Make a Jean Bag
I have several pairs of old jeans in my stash. This pair had wide legs that are no longer in style so I used them to make a weekender bag. You can also use the denim from the legs to create cute denim placemats.
Step 1 - Cut off the legs
Because you will want to make a bottom for this bag you'll want to cut the leg off below the crotch to give yourself as much material to work with as you can.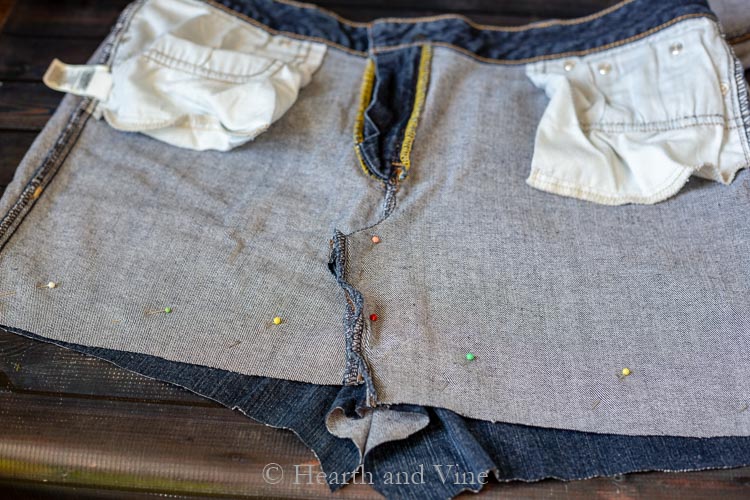 Step 2 - Sewing and Cutting Front and Back Seams.
In order to make the fabric lay flat, open the front seam, and pin it flat. Then sew along the pin lines.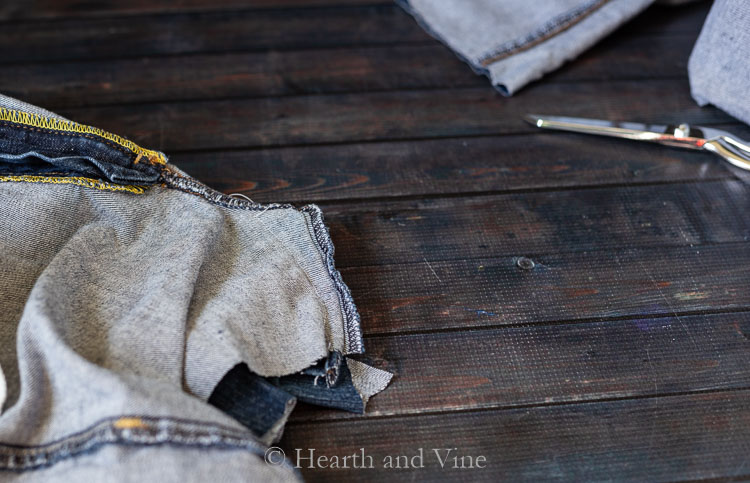 After you've sewn the center cut off the excess fabric.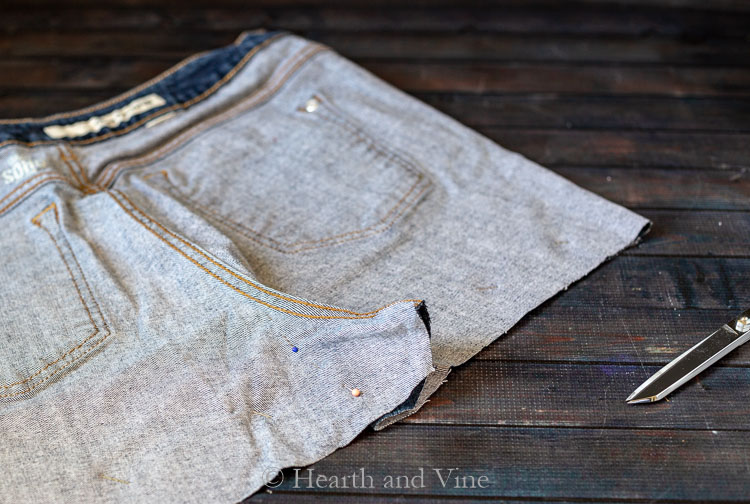 Repeat on the center of the backside of the jeans.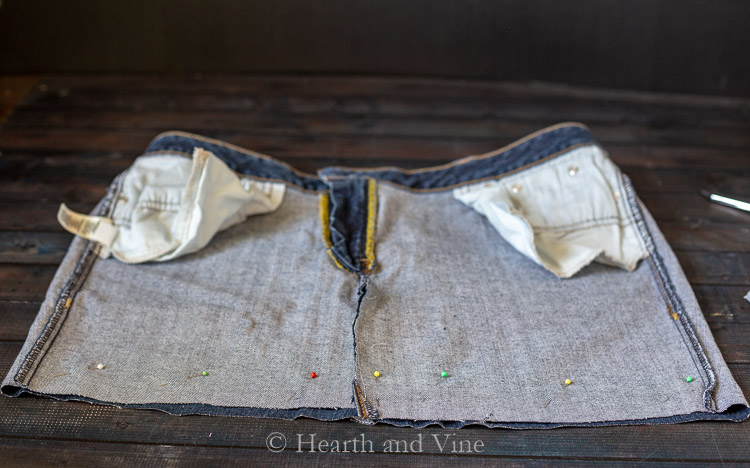 Step 3 - Pin and sew the bottom seam of the bag.
Now your fabric is nice and flat. Pin and sew a 1/2 inch seam on the bottom.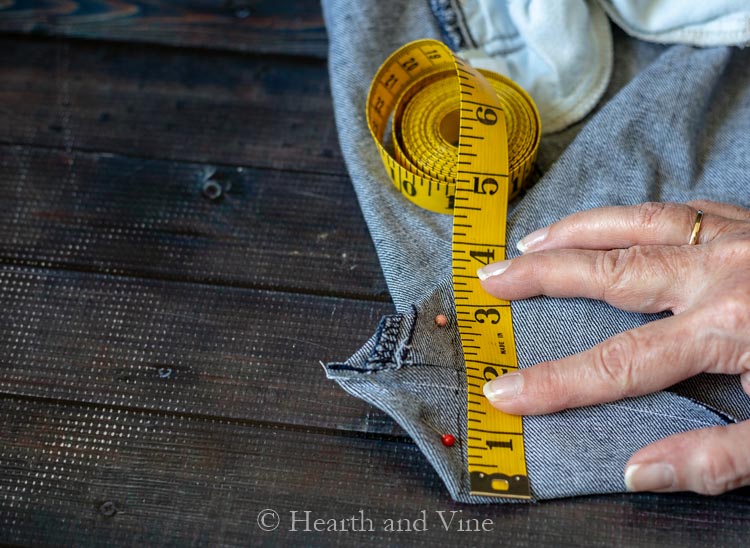 Step 4 - Make a flat bottom for your jean bag.
Once the bottom seam is sewn, match the side seam with the bottom seam making a point. Then measure 3.5 inches across and mark a line. Pin and sew along the line. You can then cut off the point or leave it for extra support.
Repeat on the other side.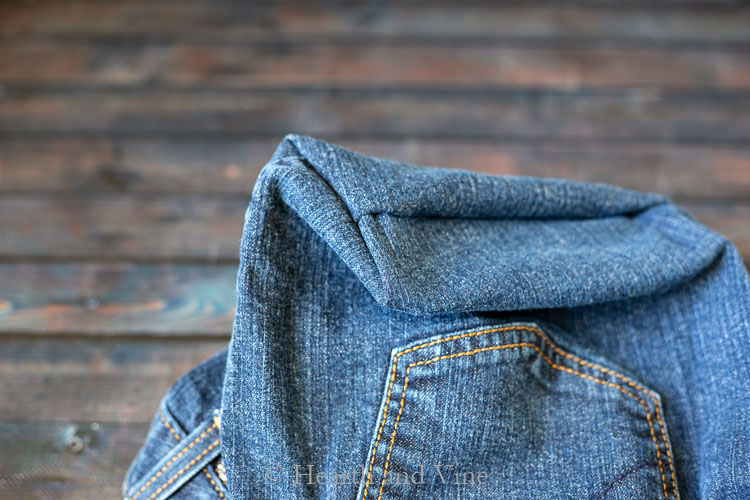 Turn the back right side out and you can now see that you have a nice boxed bottom for your bag.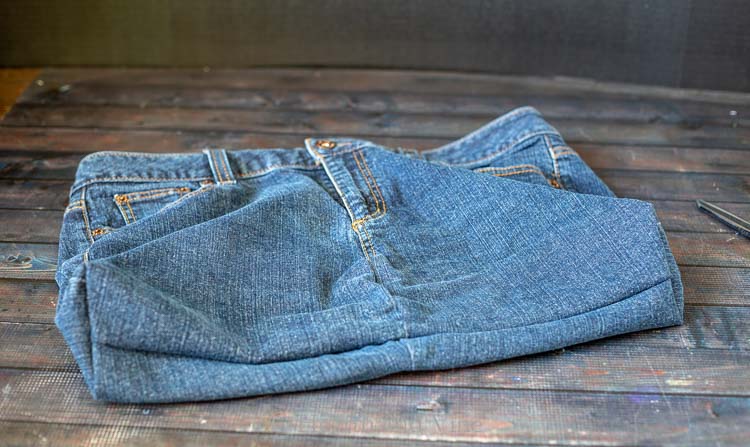 Here's what the basic finished back looks like.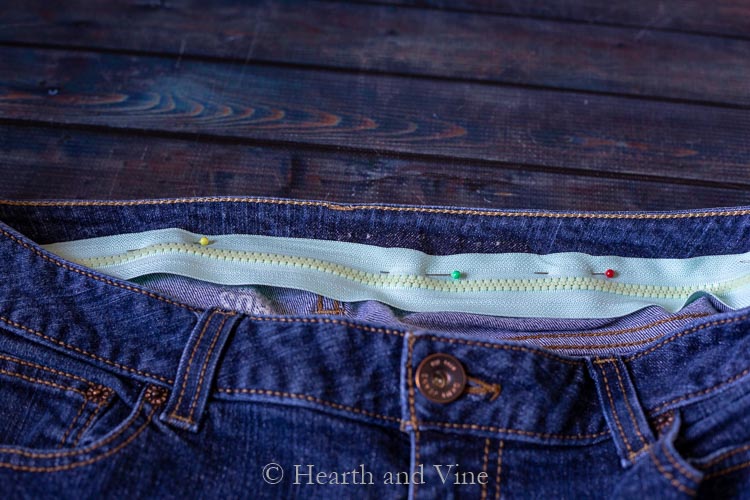 Step 5 - Add a zipper
Pin one side of the zipper just inside the waistband. Sew that side using a navy or blue thread so that it will blend in with the jeans. Then open the zipper and pin the other side. Sew in place.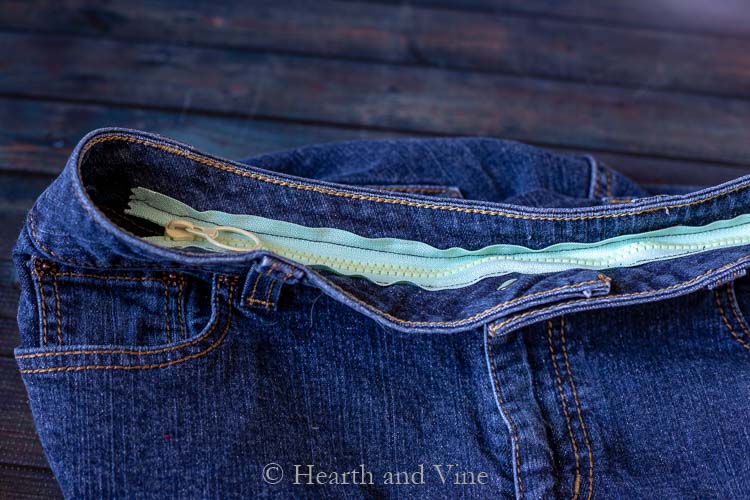 I used a fun 16-inch craft zipper
but the size will depend on how big or small your jeans are.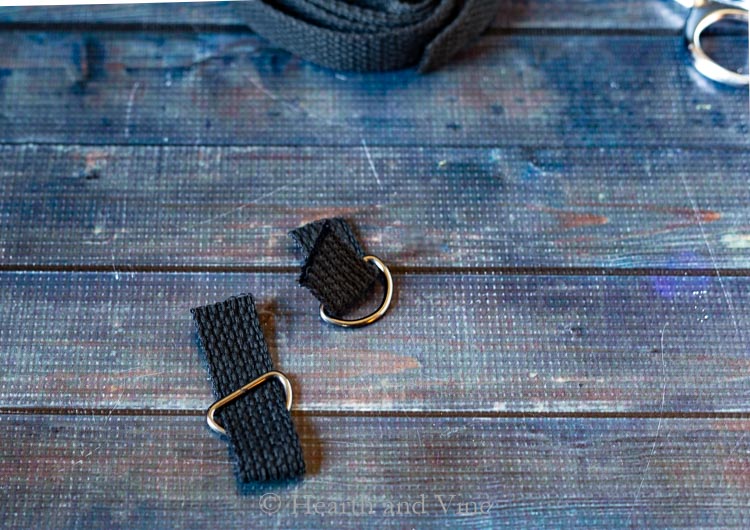 Step 6 - Add Rings to Attach a Strap
Cut a small piece of twill tape and slide it through the D-ring.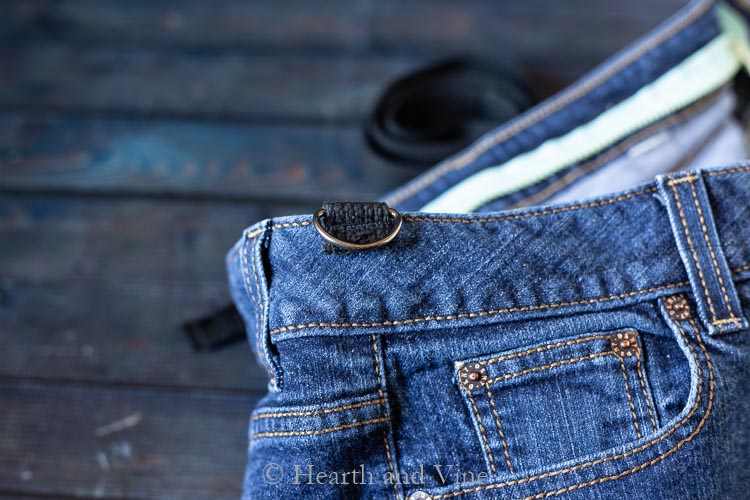 Pin it to the top of the side of the bag and sew into place. Trim off any extra twill tape.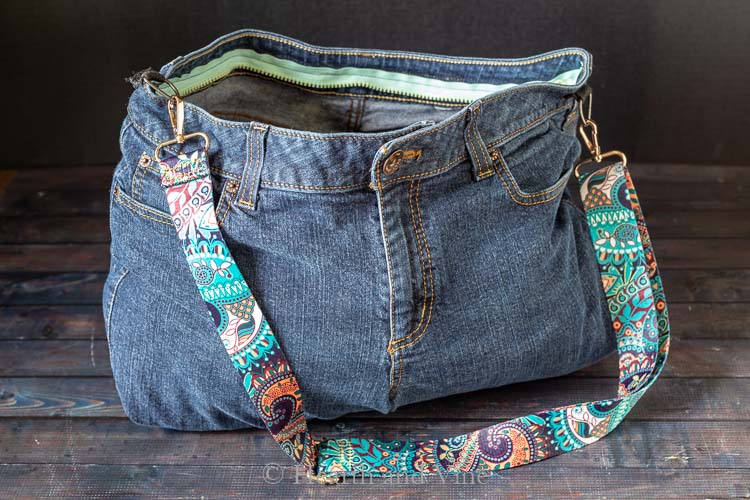 Step 7 - Clip a Decorative Strap on the D-rings
Clip a decorative strap to use as your handle. I really loved all these decorative purse straps that you can buy online.
However, you could simply make a strap of the extra material from the legs. In this case, you could also do away with the D-rings and twill tape, or keep them for added texture.
How to Make a Purse Strap from Jeans
Decide on the finished length and width. For example, say you want a 30 inch strap that is 2 inches wide. You probably do not have a piece of fabric that is 30 inches. Here's what you can do. Split it in half and add extra for seams and attaching to the bag. In this case, I would cut two strips 17.5 inches long and 5 inches wide.
Sew the two strips together (right sides together) on the short ends using 1/2 inch seam allowance. Press open the seam open. You now have a 34 inch piece of fabric with a seam in the middle.
Next, fold the fabric in half lengthwise with right sides together and stitch with a 1/2 inch seam allowance. Turn the fabric right side out and stitch it to the bag. Fold under the raw edge a little and either loop it through the D-ring and sew it back onto itself or fold under the raw edge and sew it directly to the top side of the bag.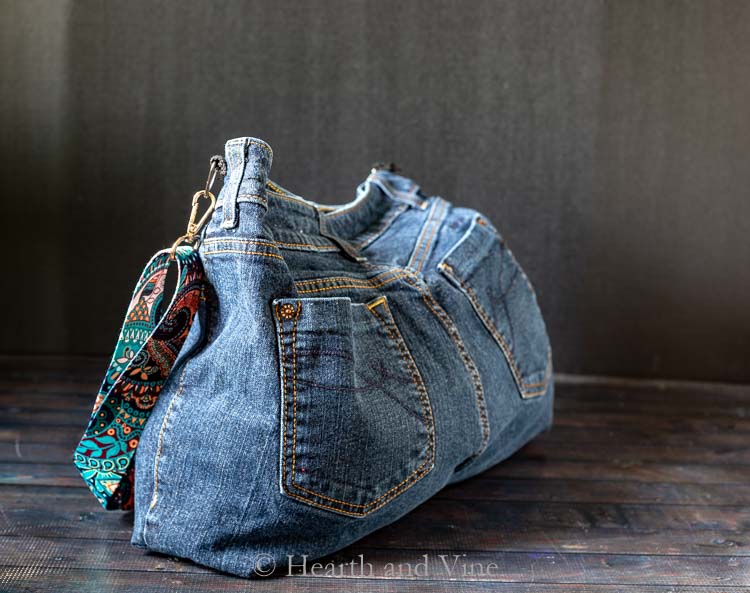 This updated DIY bag from jeans turned out super cute. I can't wait to use it the next time I spend a night or two away from home.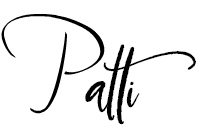 P.S. I have a lot of fun easy beginner sewing projects on this blog. Mostly because I'm eager to use up some of the pretty fabric I've collected over the years. For a while, I thought I might take up quilting and I still have many quilters squares aka charm packs just waiting to be used for a new craft. You can find them all on my Projects Page.
Click Here to Save to Pinterest!