Learn an easy way to make Kokedama and create your own indoor string garden. This tutorial requires just a few items and can be made in less than an hour.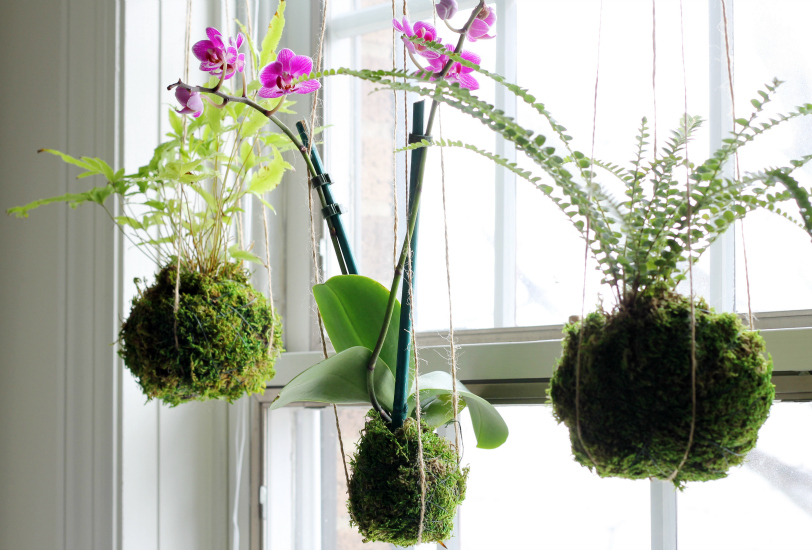 Here's another great garden craft that is new to me, but it's actually not new at all.
Kokedama is a Japanese craft, similar to bonsai, where plant roots are covered with a small amount of soil and wrapped in moss. Many are hung near a window with twine or cotton string. Others are simply displayed on a pretty dish or tray.
The traditional method for Kokedama requires a special mix of soil with clay used for bonsai plants. However, I thought that simply covering the plants with moss using their existing soil would work, and it's a much easier process.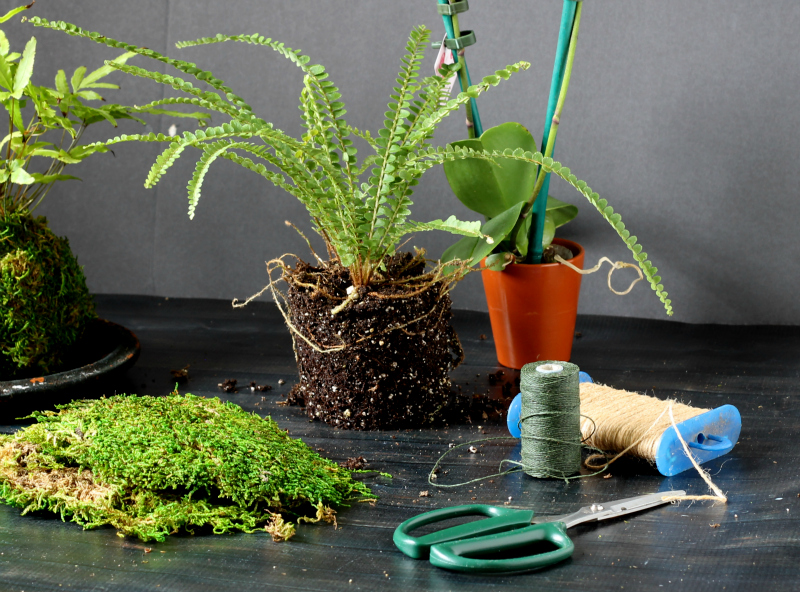 This post contains some affiliate links (that means if you make a purchase after clicking a link, there's no additional cost to you, but I will earn a very small commission. ) Click here to read my full disclosure policy.
Materials to Make Kokedama
Small plants
Sheet moss
Waxed twine
Natural jute or cotton string
How to Make Kokedama
Step 1: Purchase plants that will do well in the area where you will be keeping them.
My plants will be in a window that gets indirect lighting, so I went with two ferns and a small orchid. If you have a space with bright light I think succulents would be a good option, as they need little water.
Step 2: Prepare your plant.
Water it well early in the day, or the night before. Then remove it from its pot, shake off the excess dirt, trim any wayward roots, and gently mold it into a ball shape.
Step 3. Use sheet moss to cover the roots.
Step 4. Wrap with twine.
Using waxed twine, wrap the moss up firmly around the root ball, crisscrossing, similar to rolling a ball of yarn, until the moss is held in place.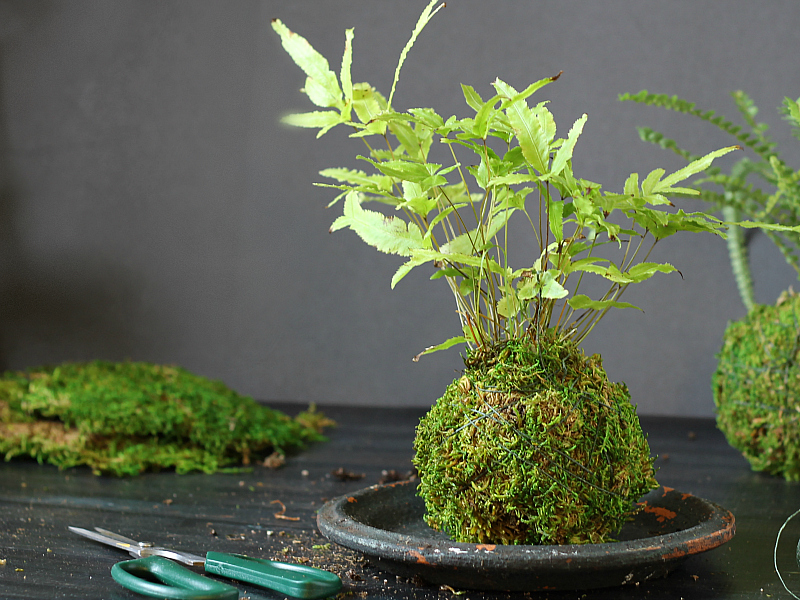 Step 5. Display and Enjoy
You can then display the plant on a dish or tray, or, make a hanging string garden. To hang the moss balls, use two pieces of jute that cross underneath, and tie together at the top. I hung them from simple white nails at the top of the window.
Kokedama String Garden
This way I can easily remove them for watering, which I plan to do by soaking them in water for a few minutes, about once a week if needed. They should be very light by the time they need to be watered. I also have a little mister which I can use to keep them hydrated.
It's so nice to have this pretty greenery to look at while I'm working, and they were so easy to make. Wouldn't they make a nice gift?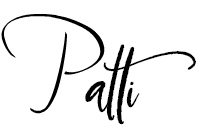 ---
P.S. I have a few other fun project using moss that you may like. One is a Mini Moss garden Centerpiece that I made for Easter one year. Another uses moss to create a fun Fairy Garden Terrarium, and a third celebrates spring by creating Natural Moss Decor in your home.
Click Here to Save to Pinterest!