One of the first signs of spring here, is the bright green moss that is starting to show after a long winter. I really like the look of natural moss decor, and thought it would be perfect to brighten up the house for spring. Here I'm using preserved reindeer moss, and sheet moss, to create two simple projects you can make in no time. They look great for spring, but could be used all year long.
How to Create Natural Moss Decor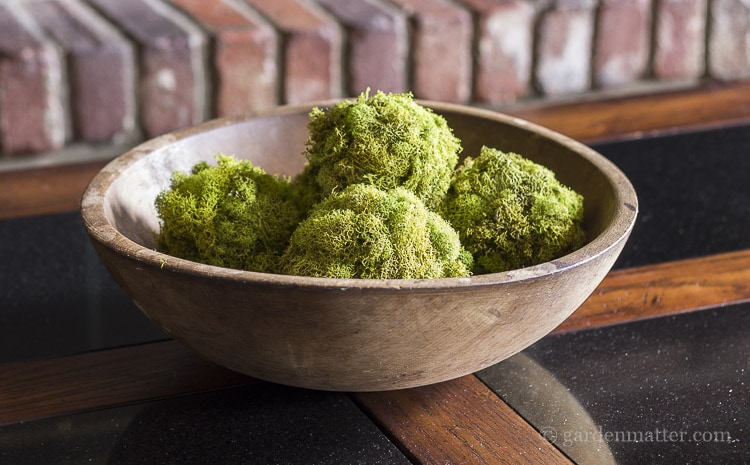 Did you know that reindeer moss is not a moss at all. It's a lichen. In fact, it's natural form is gray or white in color. Typically you will find it dyed in a few different shades in the craft store.

Materials
Reindeer Moss

Sheet Moss

Paper Mache Letter

Styrofoam Balls

Spray Adhesive Glue

Grapevine Wreath
This paper dmache letter E is easily covered in sheet moss. Just spray on some of the adhesive, tear off some of the moss, and press it onto the letter.
Hang it with a pretty ribbon onto a grapevine wreath for a simple, yet beautiful, decoration for your front door.
The same process works with the Styrofoam balls. Here I used reindeer moss in a pretty spring green color.
I will say that my hands got a little sticky during this project. A little nail polish remover helped with all the extra glue left on my hands.
Toss in a few seasonal extras, like these spotted eggs for Easter.
Or simply leave the moss balls as a statement on their own. This would be pretty in a urn with a large moss ball sitting on top.
Natural moss decor is an inexpensive, easy way to bring a little bit of the beauty of nature inside.
If you like this post you may be interested in this mini moss garden centerpiece, or the hanging moss garden art of Kokedama.