Learn a few simple tips about preparing your spring garden, including clean up, pruning, dividing and moving.
In my neck of the woods, spring is just around the corner and if you like gardening as much as I do, then you're probably itching to get out and dig in the dirt.
For me this is probably my favorite time of year to garden. It's still cool outside and I have plenty of energy stored up during the winter. I've been busy dreaming and planning on what I may change, buy, and plant for the new season.
Tips for Preparing Your Spring Garden
As I walk around the garden in late winter I noticed a few plants are started to green up, and a couple, like these pretty hellebore, are blooming.
There are 3 main areas I typically tackle this time of year:
Clean-up
Pruning
Dividing/Moving
Spring Garden Cleanup
If you have been reading this blog for a while you may have read my post, Pruning Perennials Fall or Spring? This is a personal preference, but I like to leave just about all of my cleanup until spring. I enjoy the winter interest that the seed pods provide, and I also feel like the extra plant material is helpful during a tough winter, to both the plants and the wildlife.
So, as you can see from the photo above, I have a good deal of dead foliage from day lilies and catmint in this part of the garden. All of this will need to be racked out and cut back.
I also like to rake out the beds, especially in areas where I know there are some spring beauties getting ready to bloom like these primroses. We clear out as many leaves that we can in the fall, though we have more than anyone could want. In fact, recently we had two oaks cut down to help with the leaf clutter, and since they were very close to the house, and many years old, we were worried that the perfect storm could take out our house along with the trees.
Pruning
This is the best time to prune shrubs. This beautyberry or C. dichotoma 'Early Amethyst," is pruned back to 12 inches every spring.
Here it is at the end of winter.
After pruning in the spring.
By the end of summer it still reaches 5 feet in height and is filled with beautiful berries.
Other shrubs such as butterfly bushes and some hydrangeas, like this hydrangea Limelight, are good candidates for early spring pruning. Not all hydrangeas should be pruned however, only those that produce blooms on new growth should be pruned in late winter, or early spring. See more about pruning hydrangeas here.
Of course it goes without saying that you can prune any broken or dead plant material at any time, and you'll probably see a lot of this after winter.
Dividing/Moving Plants in the Spring
This is also my favorite time to divide many perennials as they are just starting to emerge from the ground. These chives really do not need dividing but there are a couple that are out of line, and could be potted up and moved elsewhere, or more than likely, I'll give some to a friend. Everyone loves fresh chives.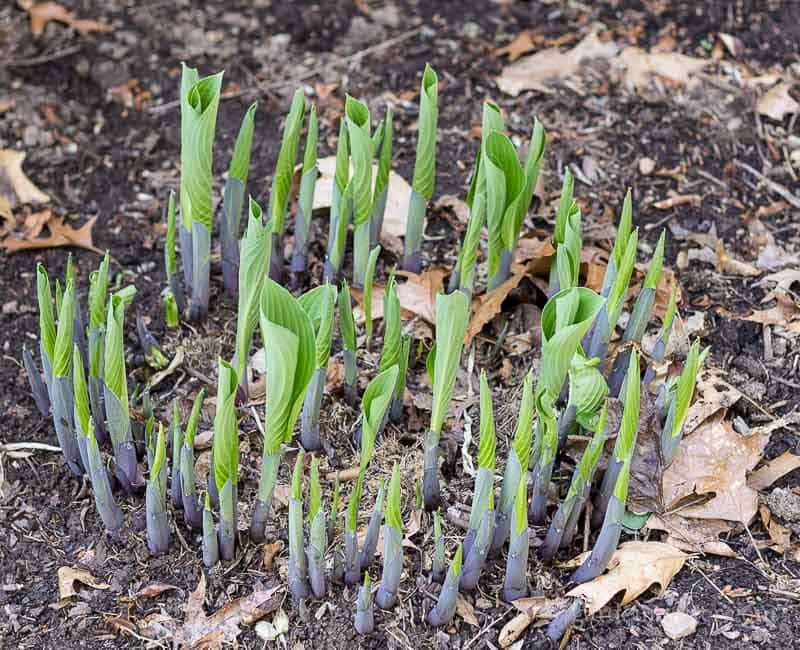 The best time to divide and move hosta is the spring, when you can easily see where to separate the plant.
Every year I have volunteers of this pretty penstemon, Huskers Red. Sometimes I move them to a different areas of the garden, or I pot them up to give away.
Another hardy volunteer is this hardy geranium sanguienum. It's a great filler plant and very easy to grow, with numerous bright fuchsia flowers all summer long.
The sky is so blue and the magnolia is just starting to bloom. Looks like it's going to be a great spring.