This mini moss garden centerpiece will bring a fresh look to your decor with primroses, baby tears and lots of green moss and a rustic galvanized container.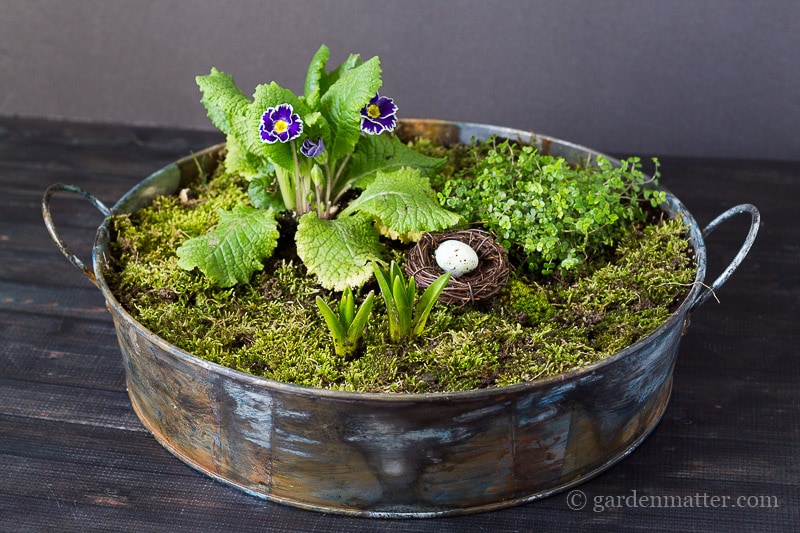 We have a lot of moss growing on the property. This moss is a great free addition to pots and terrariums, and you can even use it to create a mini moss garden centerpiece for your spring decor.
It's similar to the very popular and adorable fairy gardens you've seen online. This one has a cute little nest with a speckled egg, in homage to spring.
Mini Moss Garden Centerpiece
This project started with a brand new galvanized tray that I found at Hobby Lobby.
See the shiny new surface on the bottom inside of the tray. That's what it looked like when I purchased it. I wanted this container to look worn and rustic so I let it sit in vinegar on its side, and moved it every few hours to get that rusted look.
Then, using a little blue and black craft paint, I played around with some sponges and brushes until I got a nice-looking patina.
The tray was planted with a beautiful primrose and a small pot of baby tears. I also dug up a couple of emerging hyacinths, which are so old they don't even bloom anymore.
Then it was outside to collect some living moss. I love the way it lifts up from the dirt so easily. I tried to keep it in large sheets so that it would cover as much surface as possible.
Tip: Make sure the potting soil is damp, or mist it before laying the moss down, and that will help it adhere and grow better.
It looks so fresh, bright and green, just like spring. The perfect centerpiece for our Easter table.