Learn how to make a simple bug house for the garden to attract pollinators. They also offer space for predatory insects that will help with natural insect control.
Have you ever heard of a bug house or an insect hotel? You can buy them as kits already assembled online or find them at nurseries. However, they are pretty easy to make at home. And if you have kids or grandchildren it's a great activity to get them involved in.
This post contains some affiliate links (that means if you make a purchase after clicking a link, there's no additional cost to you, but I will earn a very small commission. ) i.e. as an Amazon Associate, I earn from qualifying purchases. Click here to read my full disclosure policy.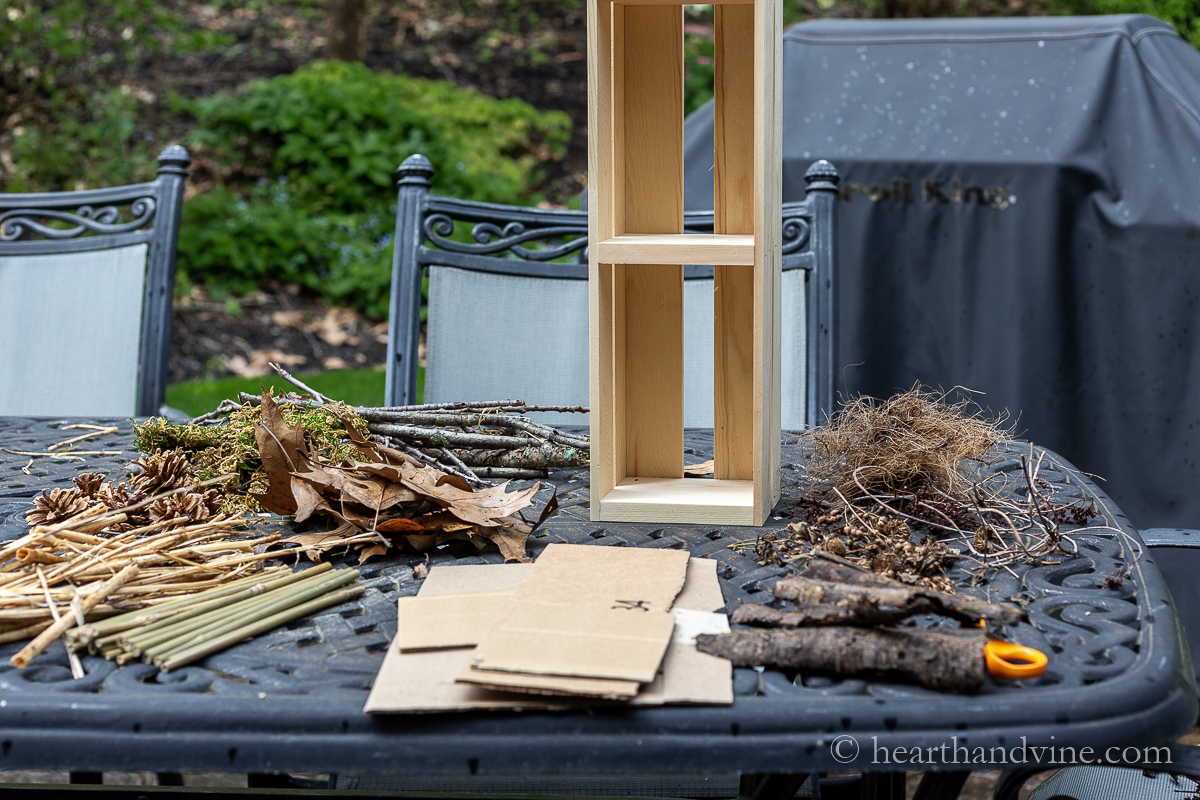 What is a Bug House?
A bug house is a place to shelter different kinds of insects from the elements and provides helpful habitats for nesting. This includes beneficial bugs that can lay eggs and hide in the various plant materials of these insect houses.
Why Create a Bug House?
You may have heard about the honey bee crisis. Creating a bug house for the backyard is a good way to encourage different types of pollinators like mason bees and wasps to set up camp and help your garden thrive. It also encourages insects such as ladybugs and lacewings who will feed on aphids and other pests you don't want in the garden.
How to Make a Bug House
Supplies
Container for the house - I used a wood crate from Joanns. However, you can use any wooden box or an open wooden birdhouse. Or build a simple box with wood scraps.
A variety of natural materials - bark, moss, lichen, wood chips, twigs, dried leaves, seed heads, reeds, pinecones, and bamboo.
Something to help divide up sections such as cardboard or thin pieces of wood.
Large pieces of chicken wire or wire mesh can also be used across the front and stapled to the sides to help hold in some of the materials.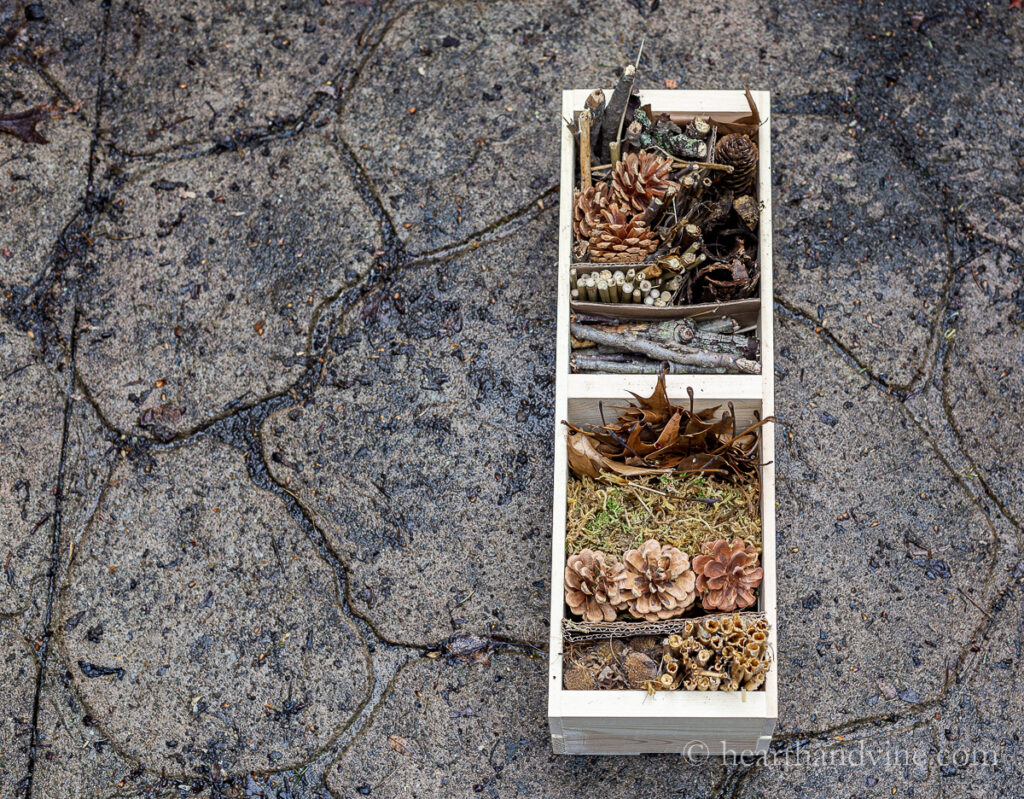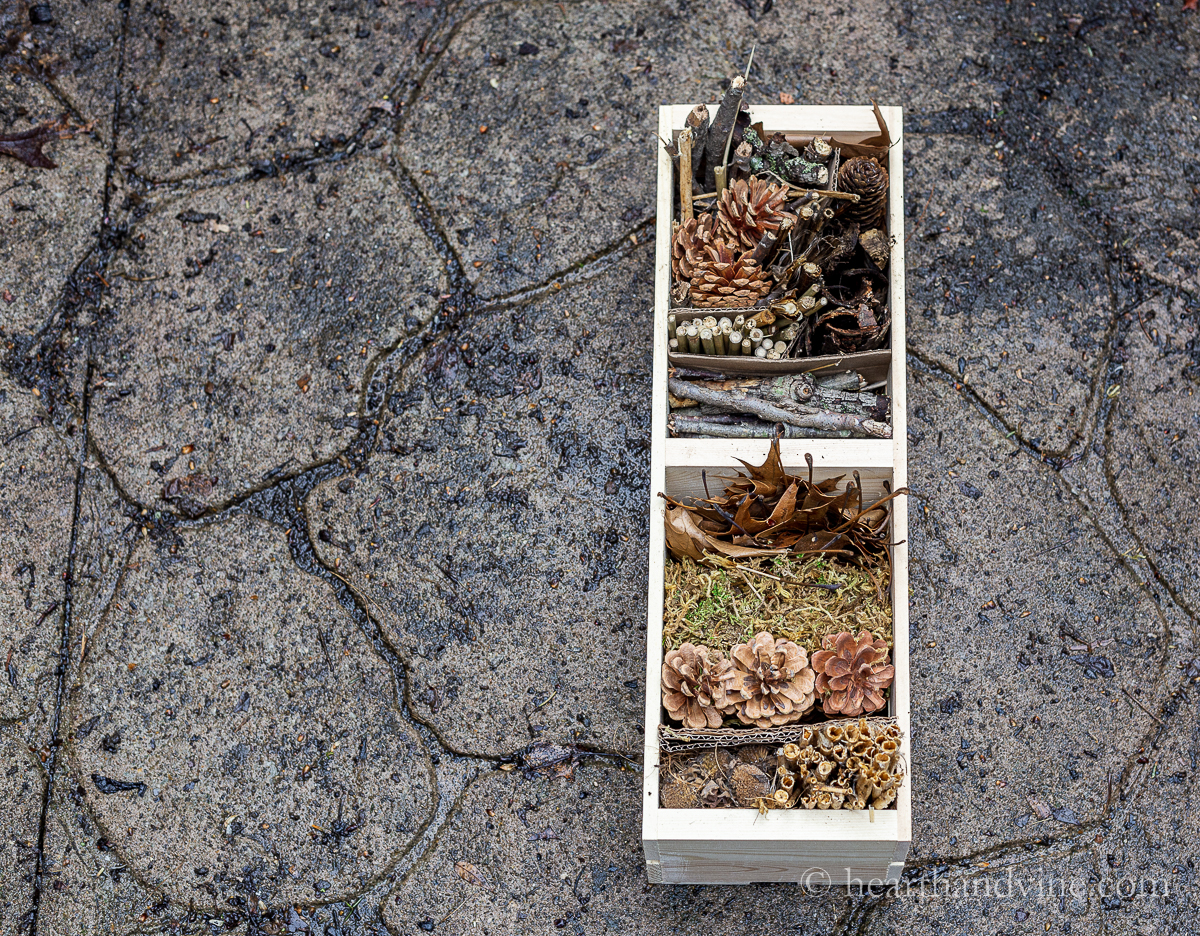 It doesn't take long to fill this 18-inch crate with all kinds of insect-loving materials. Some specifically used to make these bug houses are reeds, bamboo, or logs drilled with small holes. The small holes or openings encourage mason bees. Mason bees are solitary bees and do not live in hives but prefer to use hollow stems or holes in wood for their nests. And they are great pollinators.
By providing a welcoming home to many different types of bees and other beneficial insects you can feel good about helping to create more biodiversity and a good ecosystem in your yard and garden.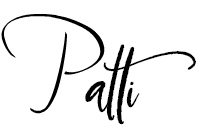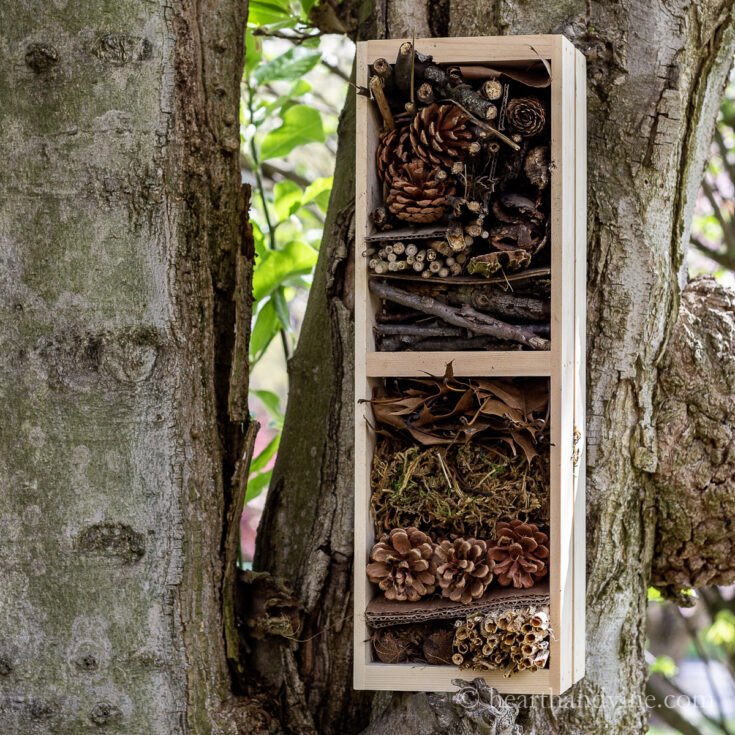 Print
How to Make a Bug House
This bug house craft is a great way to attract pollinators to your garden.
Equipment
Scissors or pruners

Hammer and nail or rope

Stapler for wire mesh
Materials
Wood box

Sticks

twigs and small logs

Pine cones

Dry leaves

Bark

Seed heads

Cardboard pieces

Moss

Lichen

Plant reeds or bamboo

mounting bracket or velcro

optional

chicken wire or mesh

optional
Instructions
Gather materials from the garden.

Include pieces of cardboard or wire mesh.

Start grouping plant material in sections of the box.

Cut pieces of cardboard to wedge in between to help hold the materials in place.

Fill the box until the materials are in so tight that when you turn it upright nothing falls out.

Or use some wire mesh across the front and staple it to the side to hold everything in.

Hang on a tree trunk, fence, or shed near your garden several feet from the ground in a sheltered spot.
Notes
I was able to hook my bug house on a tree knot but it may not be very stable. You may want to try hanging your house using a birdhouse mounting bracket or glue a large piece of velcro to the back.