This DIY bird feeder is perfect for hanging anywhere outdoors for the enjoyment of your feathered friends. However, it's best to hang this decorative bird feeder near a window or porch so you can enjoy watching the birds feast.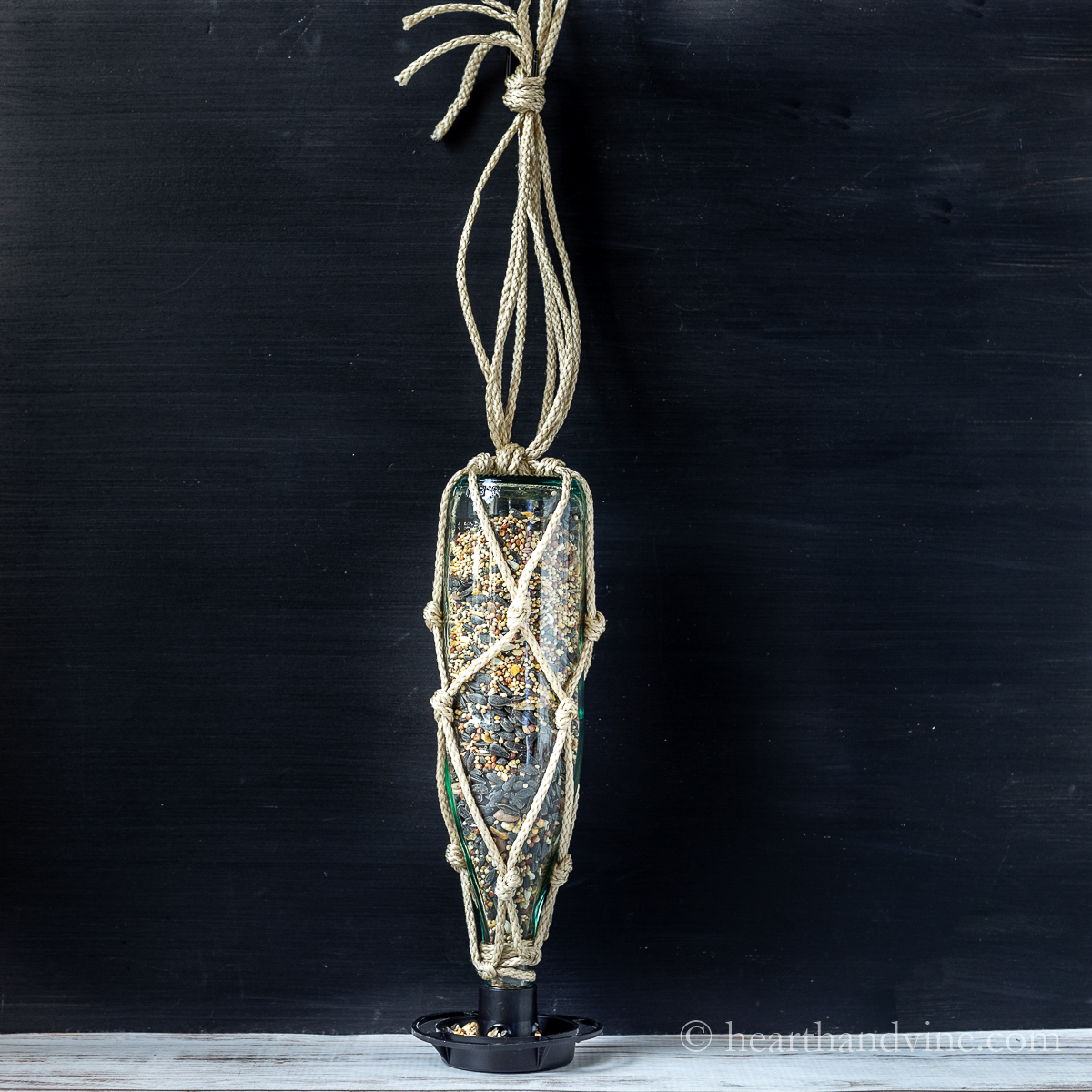 Have you seen these neat gadgets that screw onto a bottle and hold birdseed? They are made for 2-liter plastic bottles and come with a hanger but I thought they would look even better with a glass bottle and a macrame hanger.
This post contains some affiliate links (that means if you make a purchase after clicking a link, there's no additional cost to you, but I will earn a very small commission. ) i.e. as an Amazon Associate, I earn from qualifying purchases. Click here to read my full disclosure policy.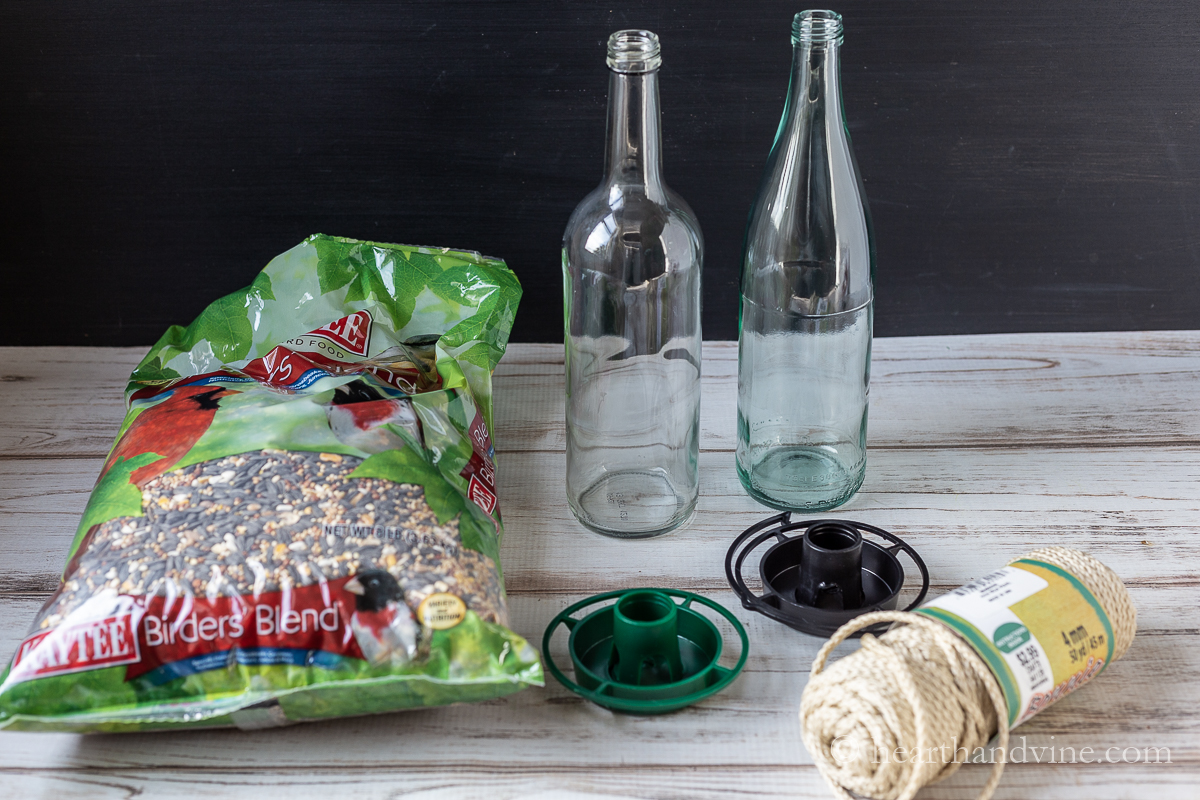 I ended up making two of these guys and gave one to my sister and brother-in-law. They are bird-lovers too.
I originally thought about making a wine bottle bird feeder but the bottles actually need to have the right kind of top to screw into the plastic saucer. So I used an Aqua Panna 750 ml. water bottle and a ginger beer craft mixer bottle from our local grocery store.
If you want to go the 2-liter plastic bottle you can use the plastic hanger on the left shown above to hang the entire bird feeder. However, I'd put that in the category of peanut butter on pinecones and toilet paper roll bird feeders. Something easy for the kids to make but not nearly as pretty.
Making a Macrame Hanger for the Bird Feeder
This is a very basic skill using macrame cording. You could use twine but this one is nylon so it will hold up well in the outdoors during inclement weather.
If you are experienced in macrame then you can feel free to make elaborate knots but I'm using basic overhand knots.
Start with four long strands (approx. 7 ft each) that you fold in half around the bottle's neck and tie a double knot.
Then grab the adjacent cords from two nearby sets and make an overhand knot.
Just cross the two strands over and through. Repeat around the bottle. Then move down a little and continue creating the same knots until you get close to the end.
Give a tug on the cords as they have some give, and decide if you want more knots on the sides or if you want to finish the project.
At this point, you can just tie one giant knot or split the eight strands in half and tie them in a double knot. That's what I ended up doing.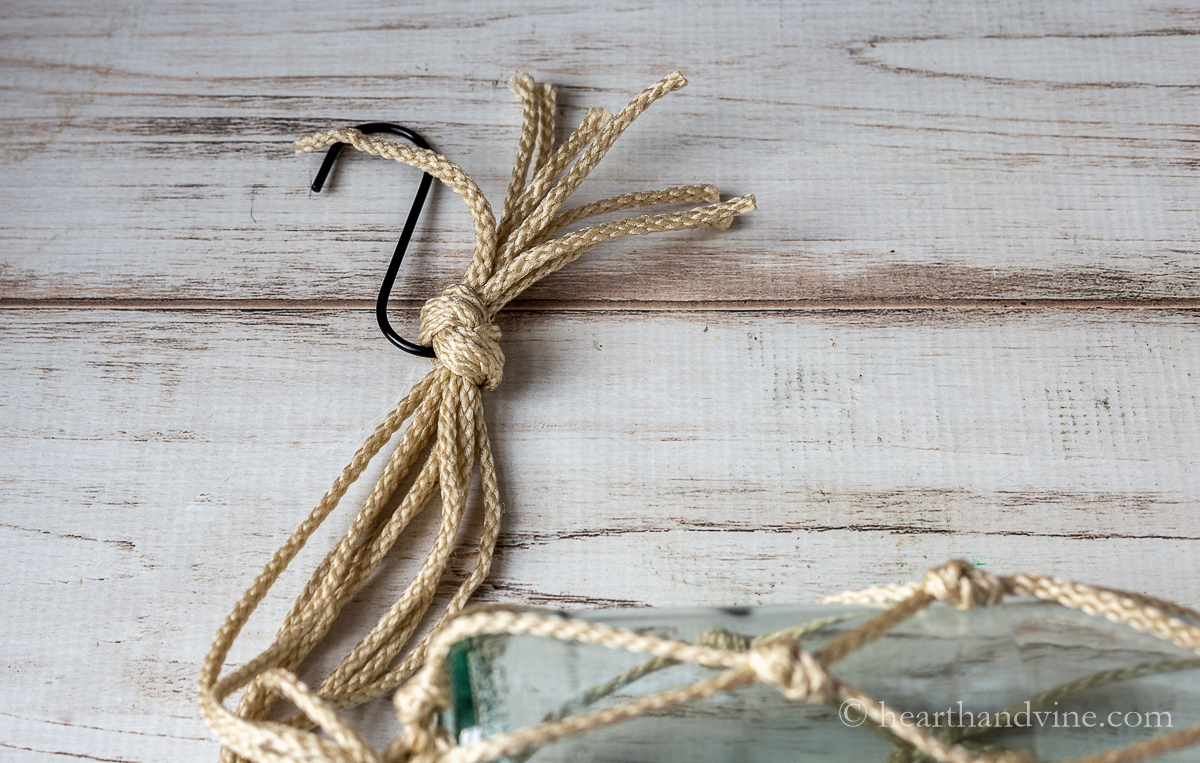 At the end of the cords tie a giant overhand knot and slip an S hook in the middle of the knot for hanging. However, depending on where you hang the feeder you may not need the S hook.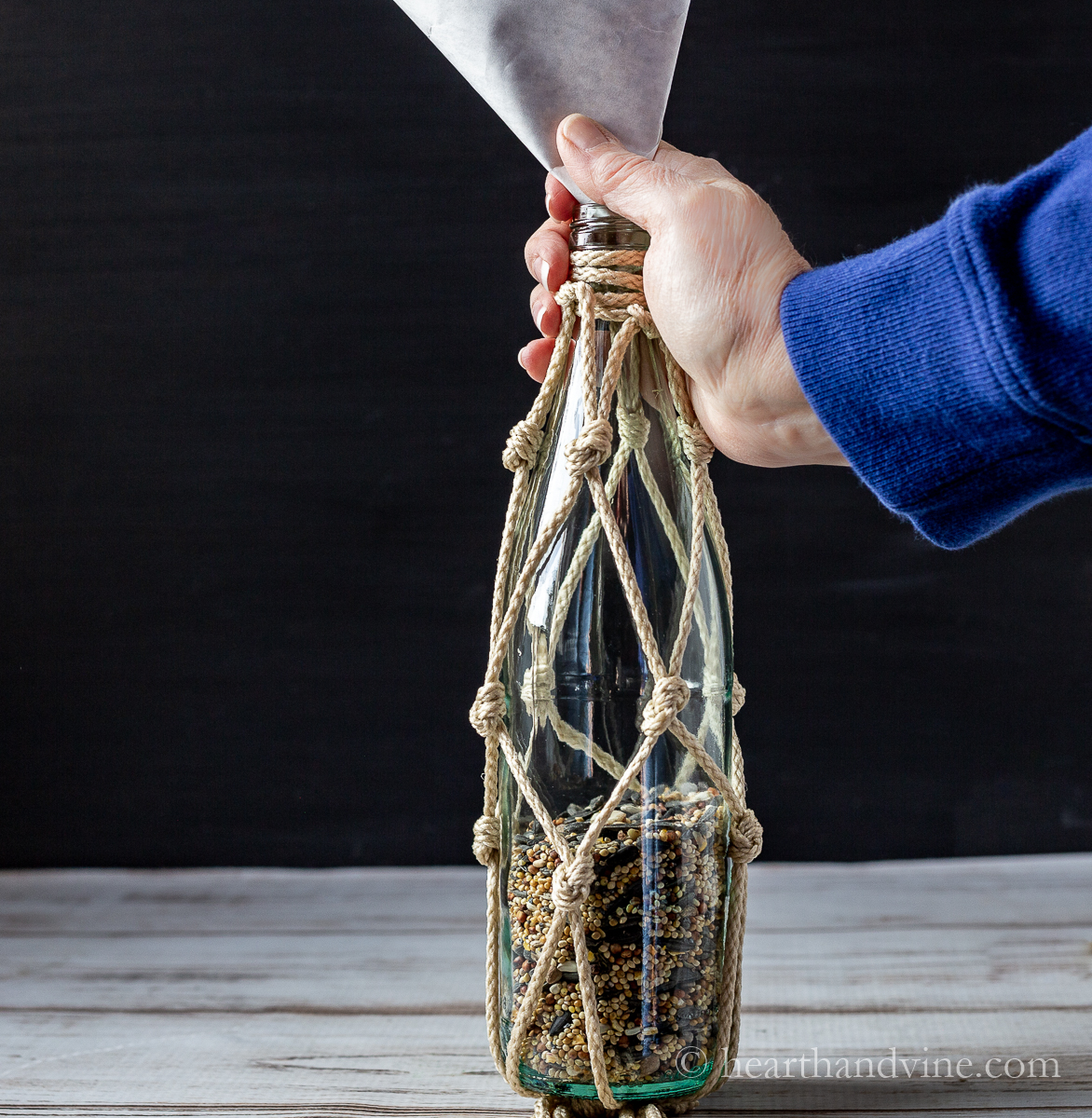 Fill the bottle with a good birdseed mixture. I bought a basic mix but you could purchase some bird food for a specific type of bird you want to bring to the feeder too.
You can hang it anywhere in your backyard. However, if you can, hang it somewhere where you can see it. Mine is hung on the porch and I can see this beautiful bird feeder through my kitchen window. So far the squirrels haven't found it.
But after just one day half the seed was eaten. It was hard to get a good picture with my phone through the window but as you can see this titmouse was looking right at me.
I laughed at this woodpecker. Did he think he could peck through the glass? Or was he seeing his reflection? So fun!
Overall, this is one of my favorite DIY projects, and it looks like the birds are loving it too.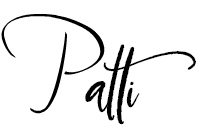 Print
DIY Bird Feeder Craft
See how easy it is to create this beautiful hanging bird feeder with basic macrame knots and a water bottle.
Materials
Large glass water bottle

Soda bottle bird feeder kit

Nylon macrame cord

Bird seed

S hook

optional
Instructions
Remove the labels from the bottle.

Cut four 7 feet lengths of macrame cord.

Fold each cord in half and tie each cord around the top of the bottle's neck with a double knot.

Arrange the cords evenly around the top of the bottle so that you have two cords in the front, the back, and on each side.

Start making over-hand knots by selecting one cord from each set and one from the adjacent set.

Continue until you reach the bottom of the bottle.

Turn the bottle upside down and gather four of the cords in one hand and the other four in your other hand and make a double knot.

Then tie a tight overhand knot at the end of the cords.

Trim up the cords to equal lengths.

Fill the bottle with birdseed.

Attach the plastic feeder kit to the bottle top opening.

Hang the bird feeder over a hook or add an S hook to the top knot and hang anywhere outside.