Make this easy DIY felt succulent planter for your table or anywhere in the house. No green thumb needed to have beautiful long lasting succulents in shades of blue, green, and purple.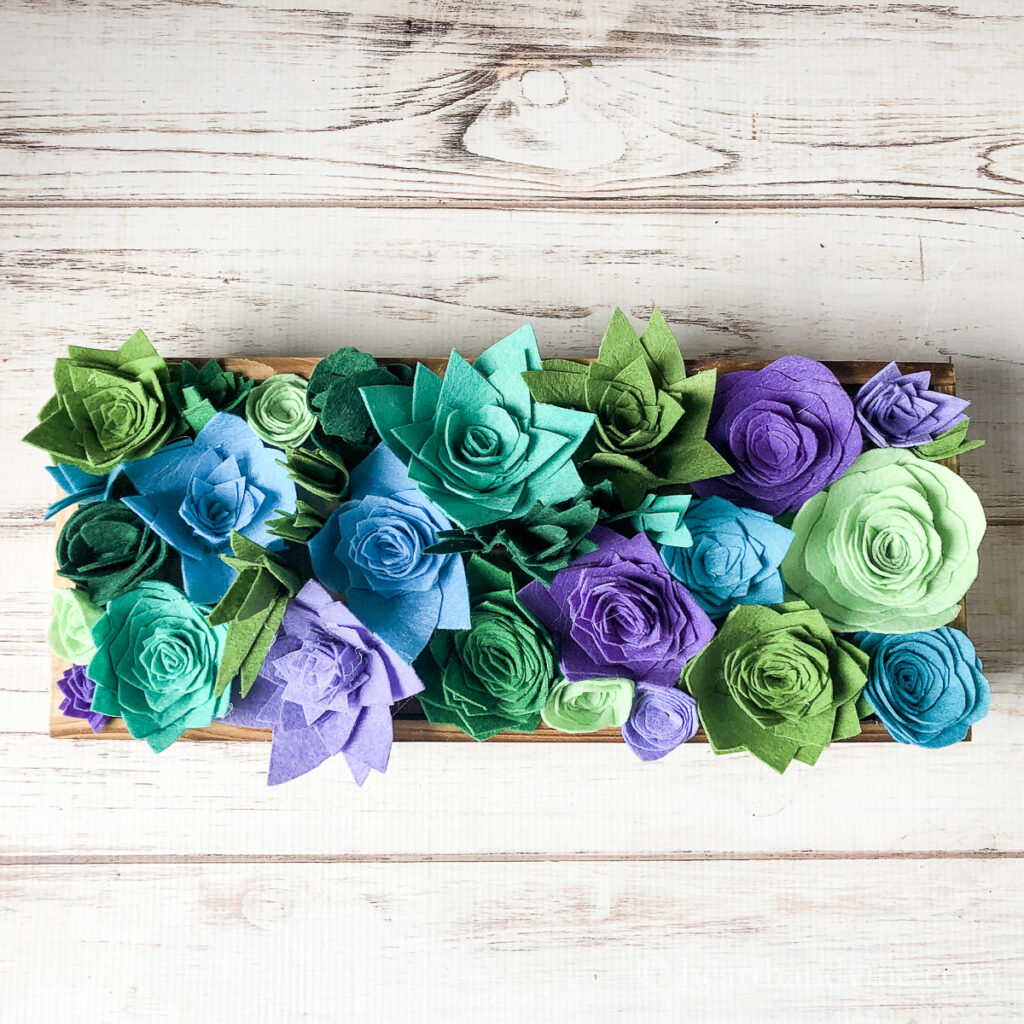 Succulents are so beautiful. However, for most people, they are pretty difficult to grow and maintain at home. Why not create a fake succulent planter that will never die and will look great for years?
This post contains some affiliate links (that means if you make a purchase after clicking a link, there's no additional cost to you, but I will earn a very small commission. ) i.e. as an Amazon Associate, I earn from qualifying purchases. Click here to read my full disclosure policy.
How to Make a Felt Succulent Planter
We're going "old-school" using paper templates for the succulent patterns. Many of you may have a Cricut maker that will cut out svg files for this purpose but I do not.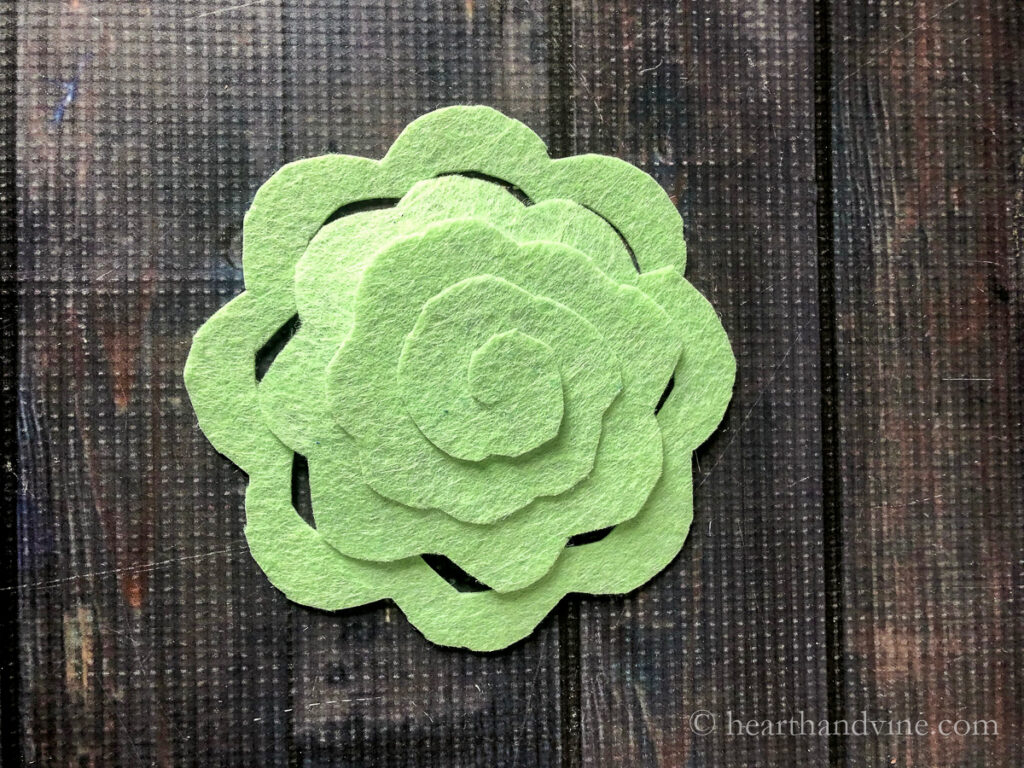 Print out any of the set of succulents shapes on this post to use as templates. Cut them out and trace them on basic felt that you can find at a craft store. After you cut out the felt, create a spiral starting at the outer edge and cut the shape about 1/4 inch until you reach the center.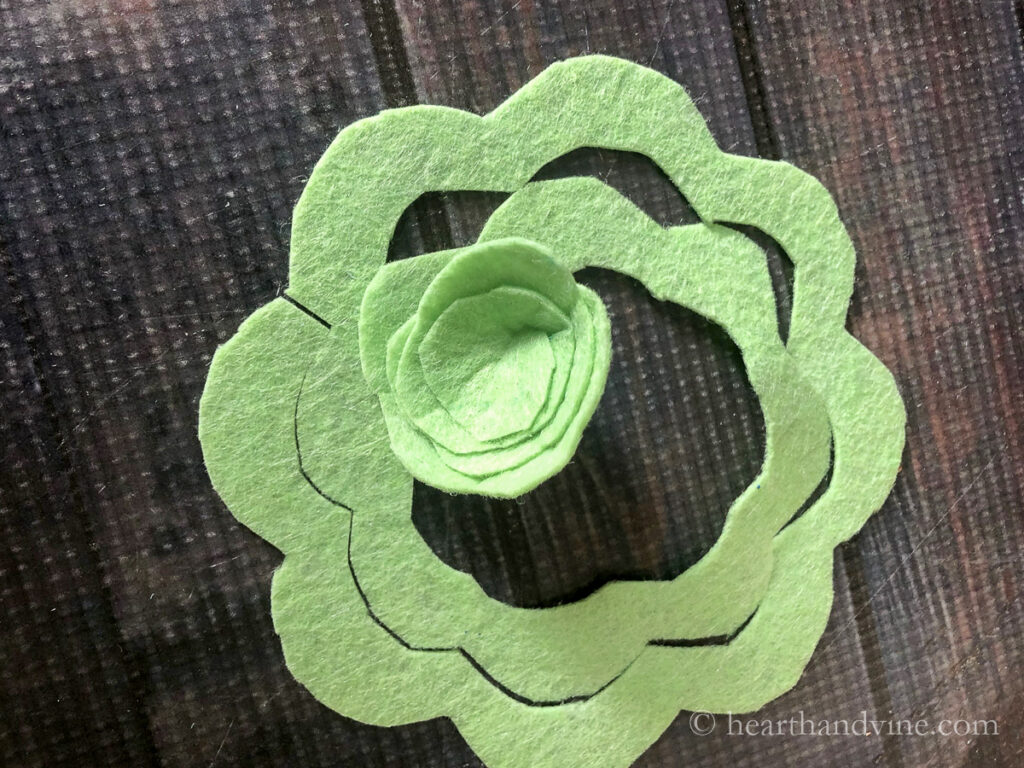 Start at the center, use a small line of hot glue at the folded edge and create the plant shape by rolling the felt loosely or tightly.
Here are two other shapes with pointed leaf shapes or petals.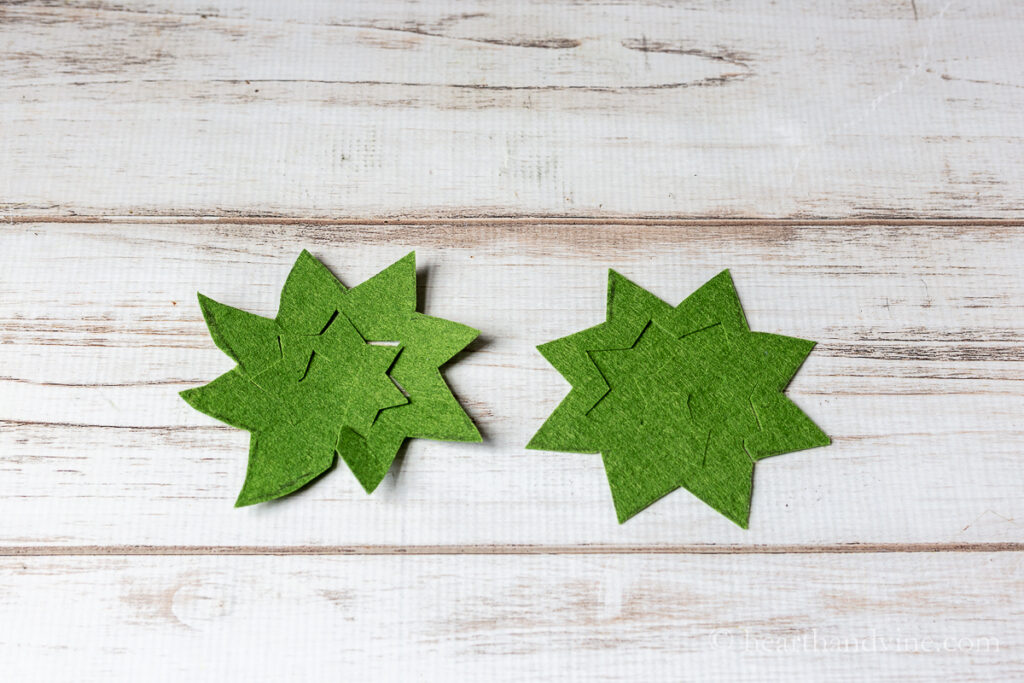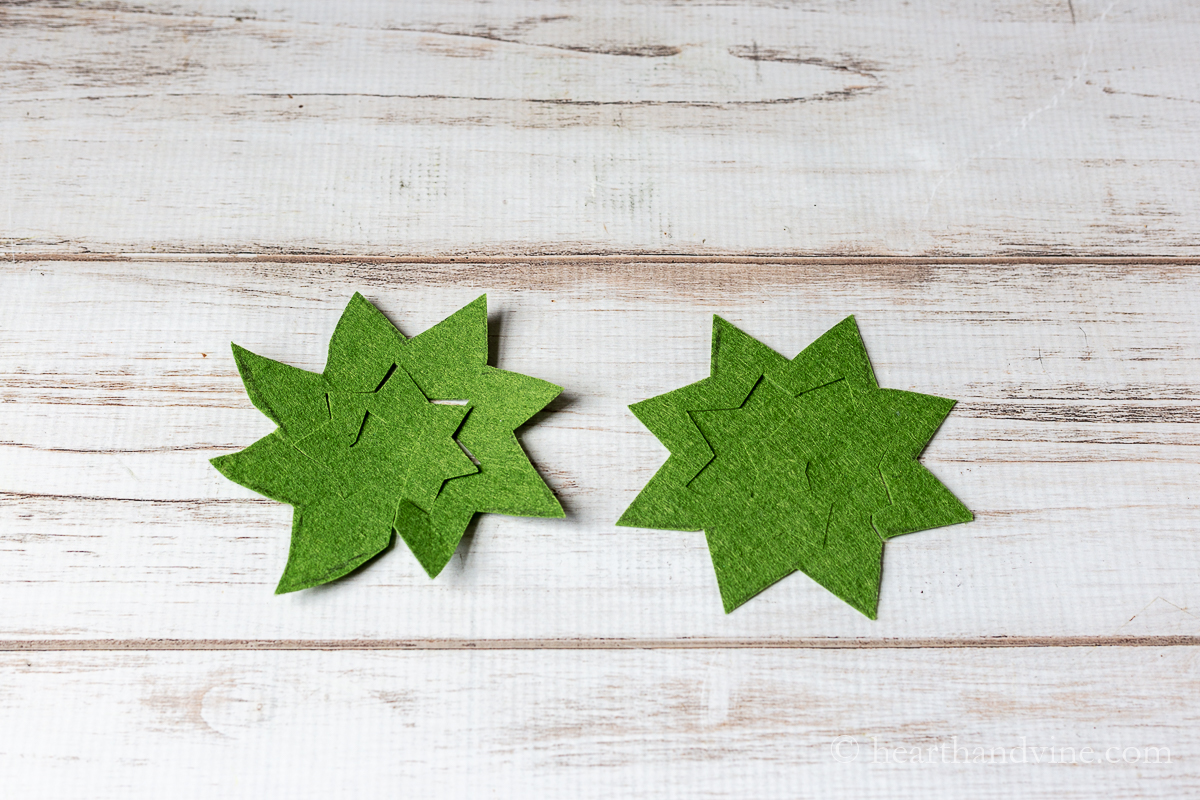 Cut spirals the same way on these pointed felt cutouts.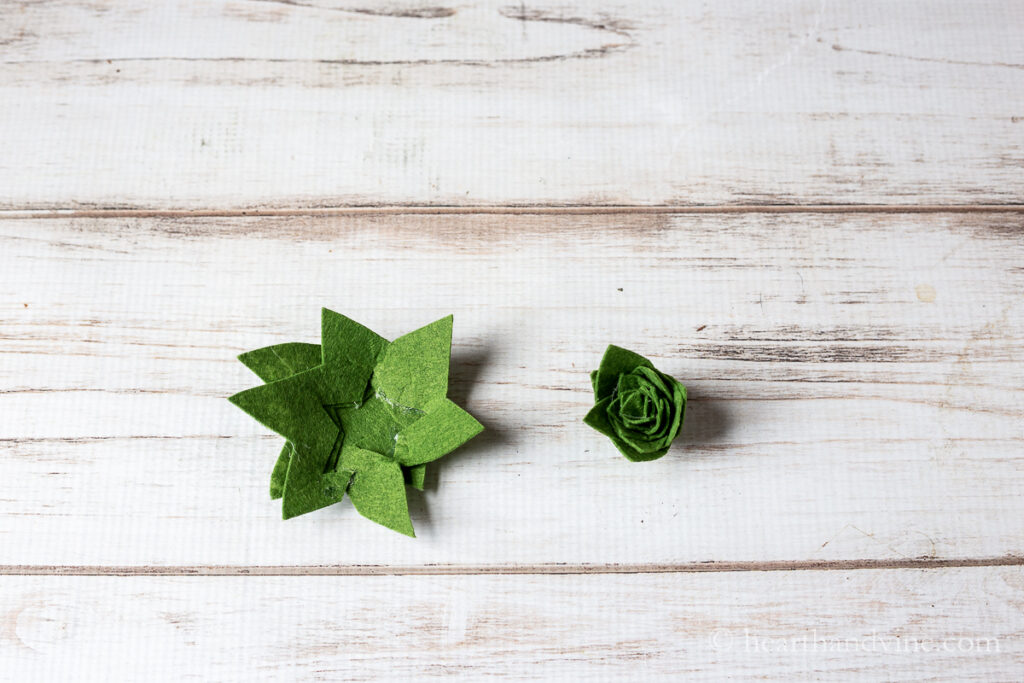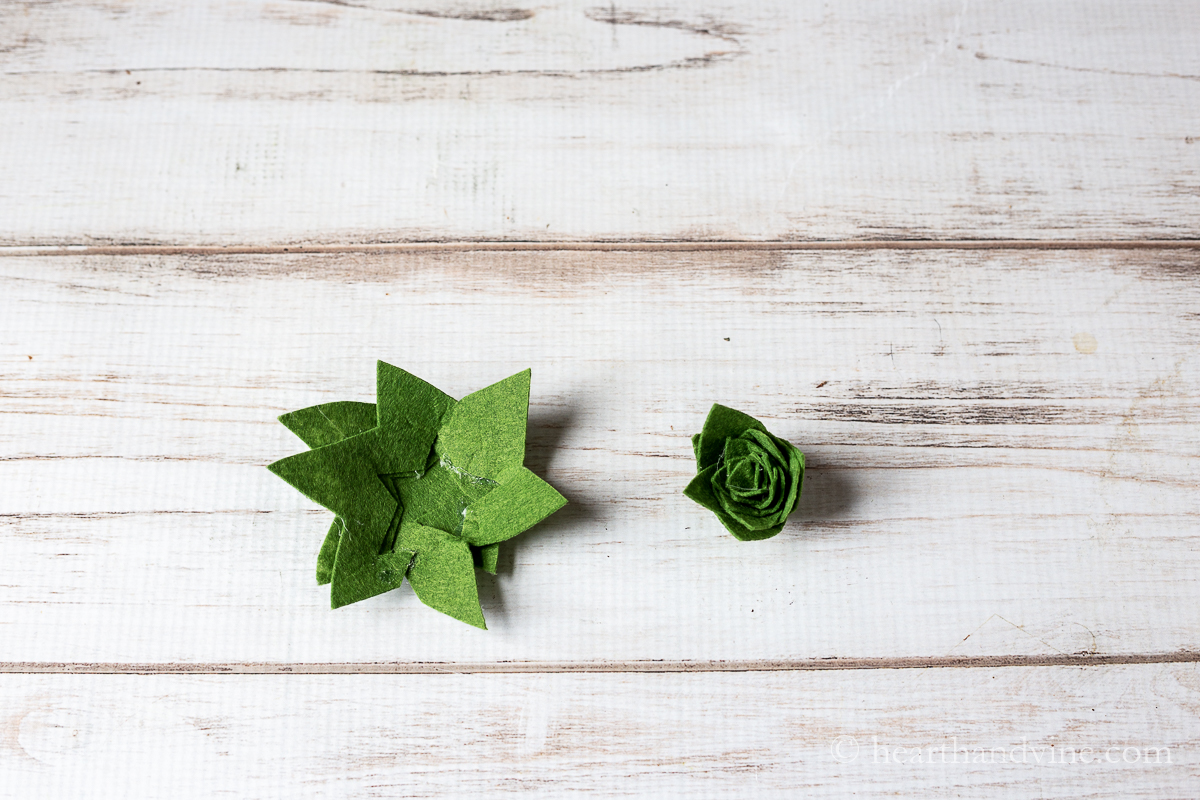 Here's an example of the same shape rolled up loose and then one rolled tightly.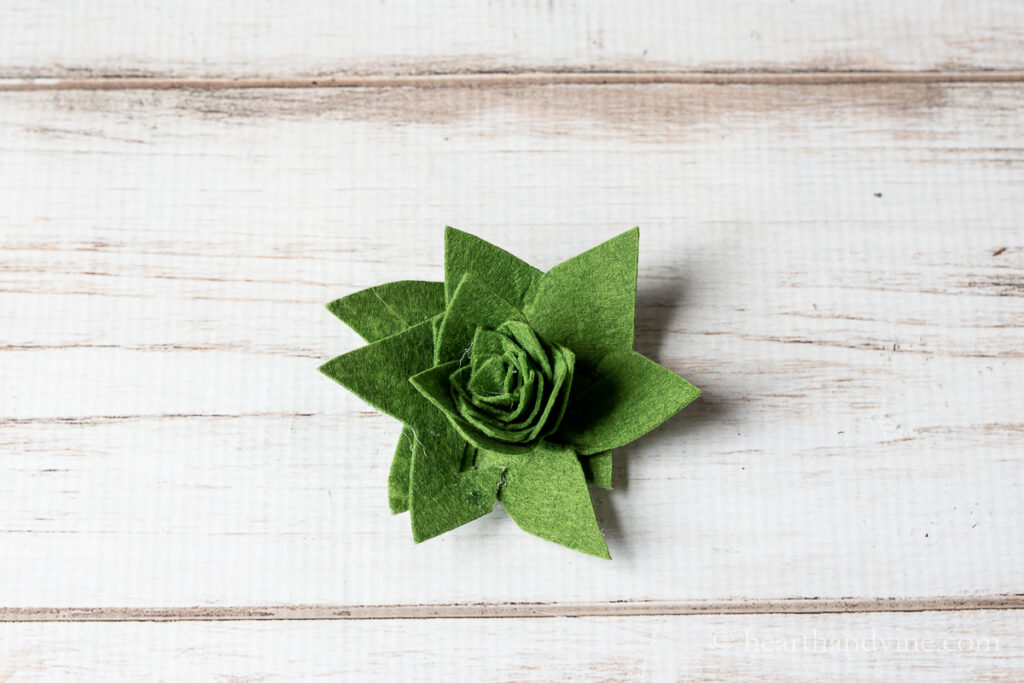 Glue the smaller flower on top of the larger flower to fill in the center of the succulent. Doesn't this star succulent shape remind you of Hens and Chicks?
Create a few extra small ones to use as little baby plants for filling in the planter.
This shape will create a spiky succulent like a snake plant or haworthia plant.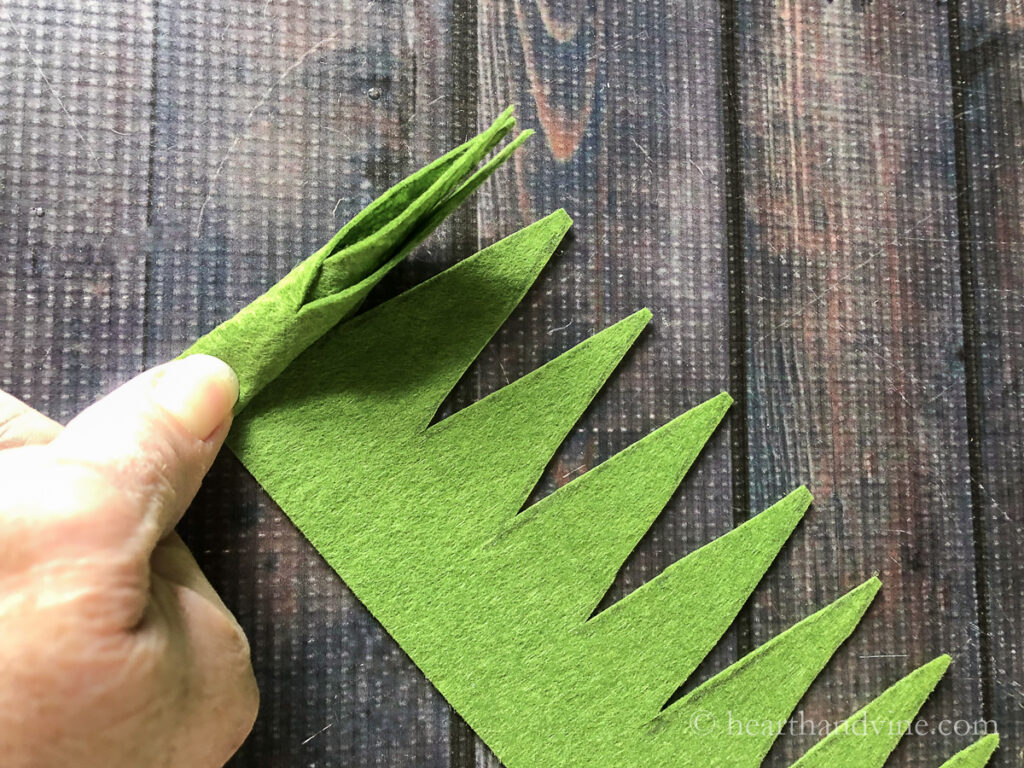 Simply fold and roll this one from one edge to the other securing it with a dot or line of glue. You can also vary the spikes for a slightly different look.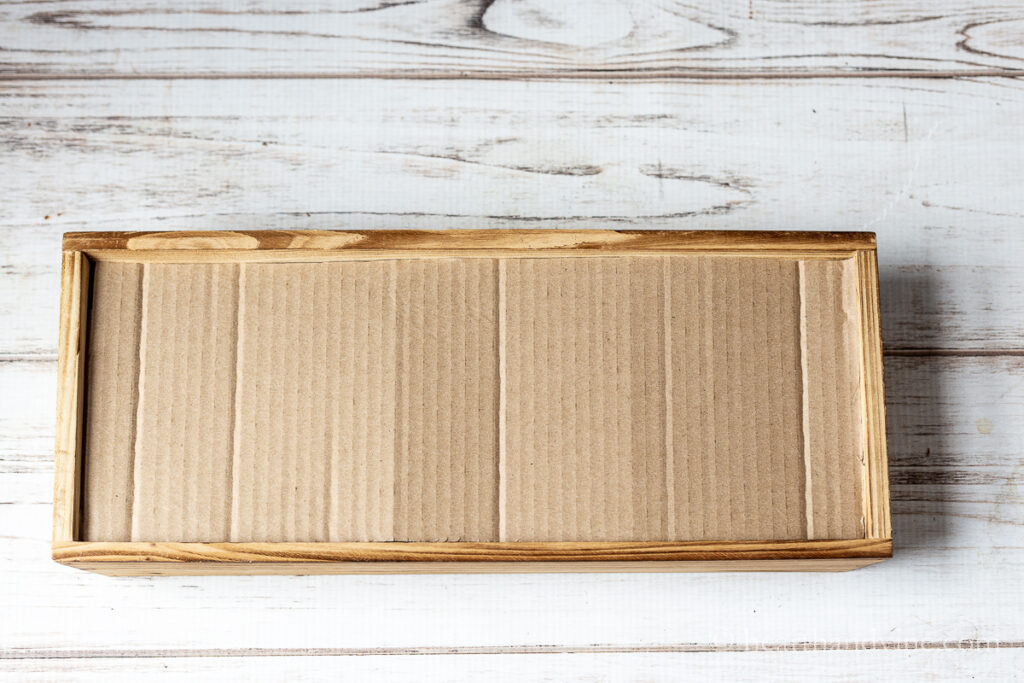 I picked this wooden tray up at Michaels but you can use any box or basket that you already have on hand. Just cut a piece of cardboard to set inside.
Start at one end in the corner and hot glue your felt succulents to the cardboard.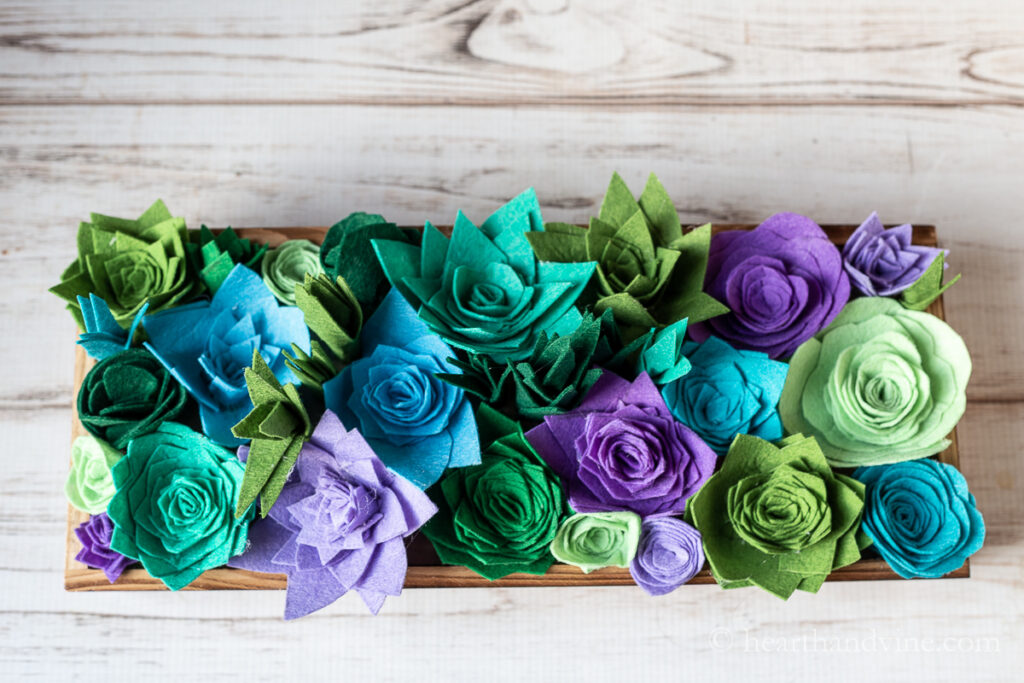 The spiky ones are great to fill in small holes. Or you can make smaller rosette succulents like pups or plant babies to fill in empty spots.
Try this easy succulent craft. It's a really pretty everlasting succulent garden that you never have to worry about watering ever again.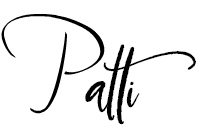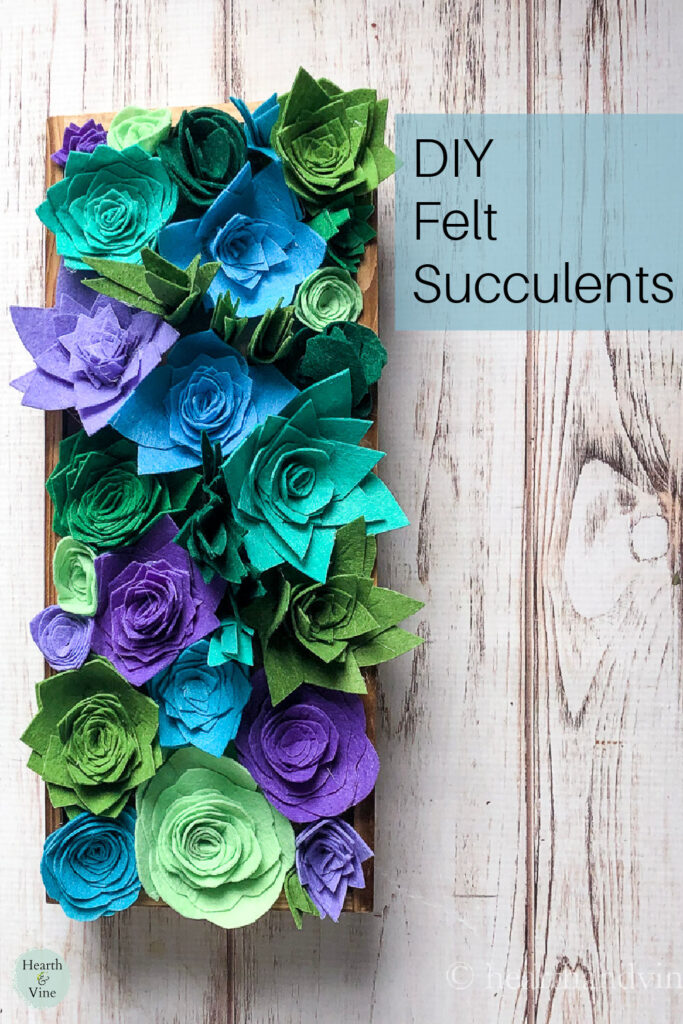 Print
How to Make Fake Succulents with Felt
Enjoy making fake succulents to create a planter centerpiece with felt and a few simple patterns.
Equipment
pencil

Scissors

Hot glue gun and glue sticks
Materials
Felt in shades of green

blue and purple

Wood box or planter

Cardboard
Instructions
Print out templates in black.

Cut out templates.

Trace templates with a pencil onto felt.

Cut out templates.

Cut a 1/4 - 1/2 inch spiral in the felt.

Roll up the felt into a loose flower shape using hot glue to keep it together.

Cut another template in the same color and then cut it into a spiral.

This time roll the spiral tightly from the inside out using hot glue to secure the shape.

Glue the small flower onto the larger loose flower shape.

Continue making different colored succulents in different shapes including the spiky template for a snake plant which is simply rolled into a coil.

Cut a piece of cardboard to fit into the wood box planter.

Glue all your felt succulents onto the cardboard.

Create small rosettes or additional spike-like succulents to fill in empty spaces.
Notes
Be careful using the hot glue on small pieces of felt. You can use the eraser side of your pencil to hold the felt in place for several seconds until the glue sets up.
You can vary the sizes and the spirals as well as the color to make different looking succulents.