This DIY lampshade makeover is so easy. For just a few dollars you can cover your existing shades and totally update the entire look and feel of the space.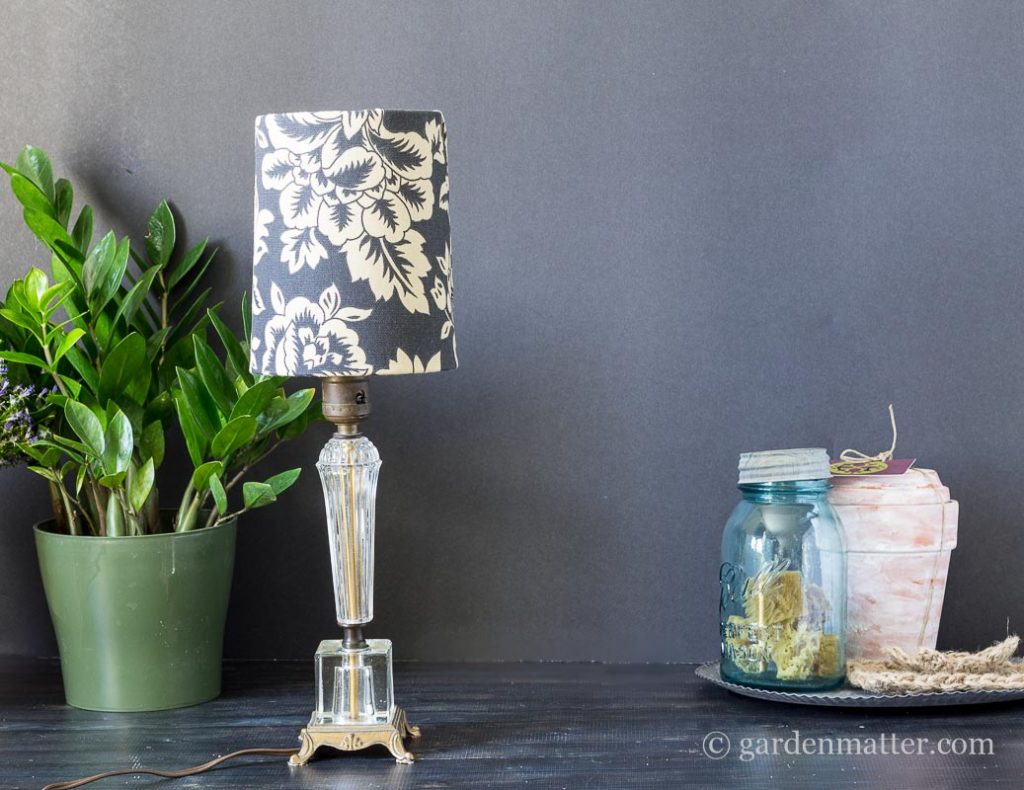 I found these two small table lamps at an estate sale many years ago. The shades were faded, but a nice shape, so I used some wine-color stain to spruce them up. It's several years later and they are in need of a makeover. This DIY lampshade makeover couldn't be easier, and I hope it will inspire you to update some of your lampshades too.
DIY Lampshade Makeover
I found some really pretty fabric, at this wonderful textile store in the strip district, while shopping with my sister and friend. They have tons of high end fabrics, including many small remnants, at much more affordable prices. This particular fabric, is a heavier weight cotton, possibly a drapery fabric. That made it easy to work with, and gave the shade great coverage.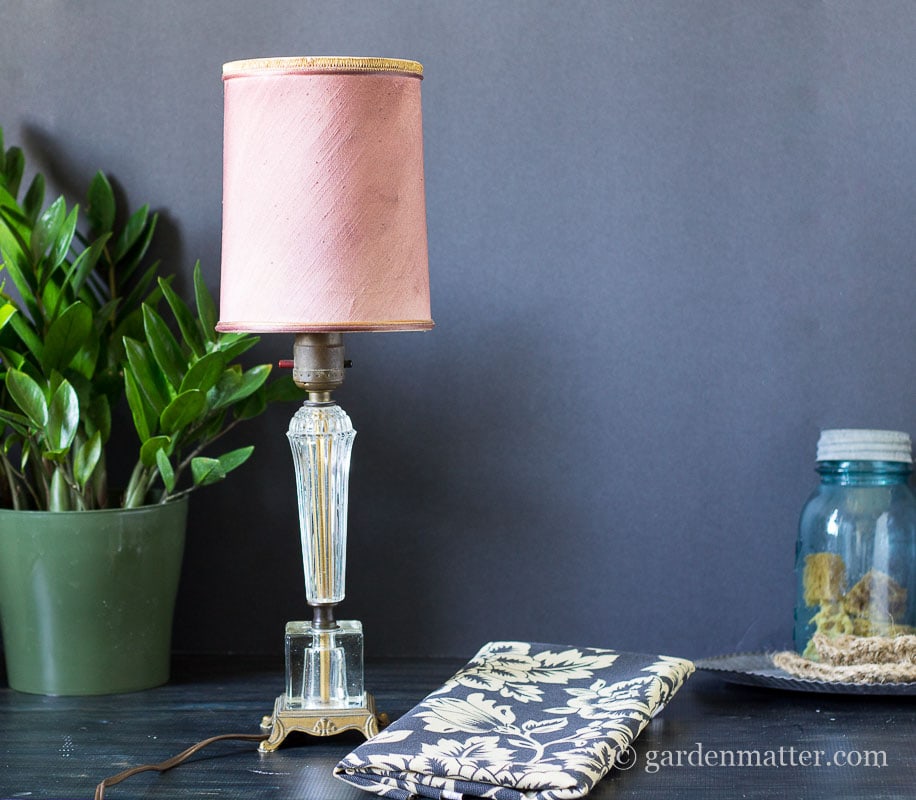 Here's what the lamp looked like before. Not too bad I think, but maybe kind of dated.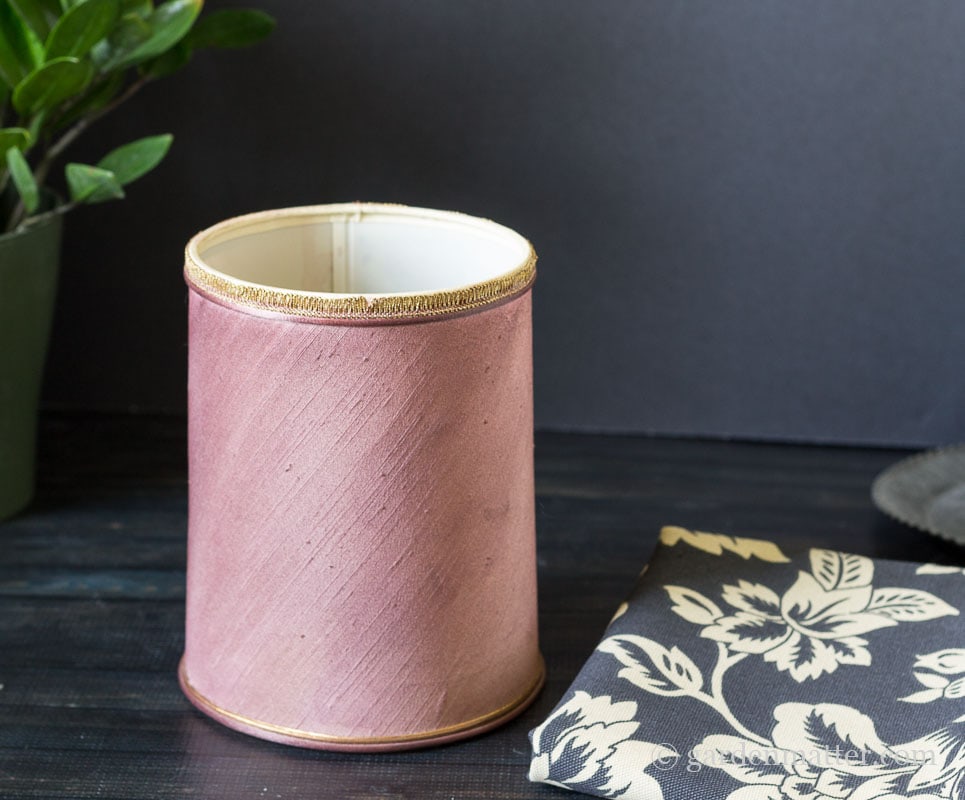 The trim, especially at the top was looking ratty, so I removed them both. At first I thought about painting the trim or adding trim but then I thought, no, because I the fabric print was strong enough on its own.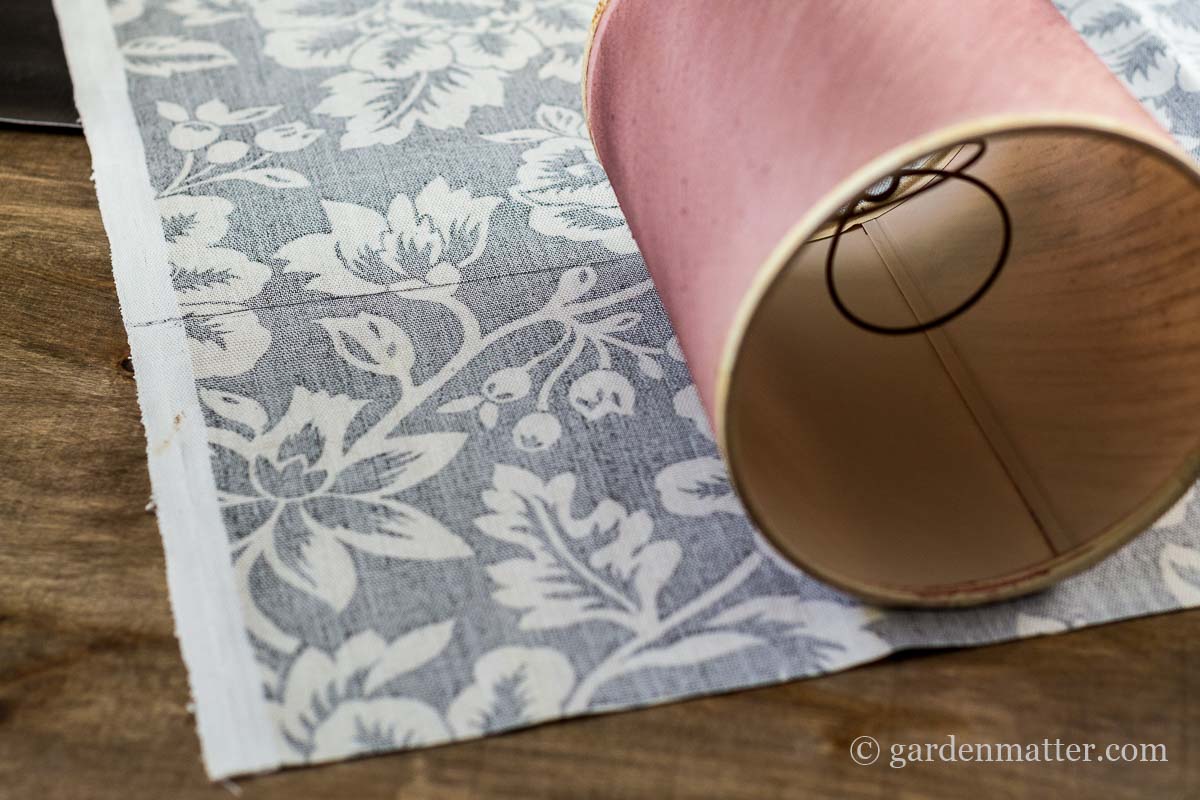 To cover your lampshade with fabric, simple lay it on its side and trace a pattern. Start at a seam so that you can easily tell where to end. Then give yourself an extra inch or two.
Also, make sure to give yourself extra material on the bottom, and when you cut the top, add a good 1 inch.
If your shade is smaller at the top than the bottom, like mine, you will probably have this uneven effect shown above. Just make sure it nice and taut with enough fabric to turn over on the top and bottom.
Then start with one edge. Glue it in place with a hot glue gun. Even up the other edge by cutting with scissors, or just folding under to make a straight edge and glue in place.
Next you can cut the top and bottom to even up the fabric, then fold over and set in place with more glue, just inside the top edge.
Here's the new look! I love the modern feel this lampshade now has.
The floral print is fresh and neutral in color, so I think they would look good anywhere in the home.
Here's the finished lamp with its mate. They will look great in their original home on my dining room buffet.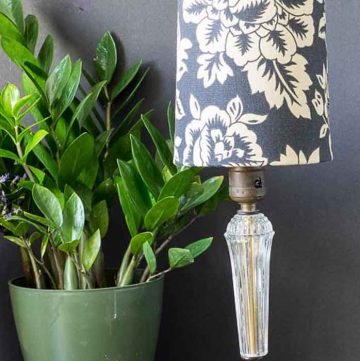 DIY Lampshade Makeover
This budget-friendly DIY lampshade makeover is a quick project that can totally transform an old shade.
Tools
Fabric Scissors
Hot Glue Gun
Instructions
Remove any old trim from the lampshade.
Lay the shade on its side on top of the fabric and trace a pattern.
Start at a seam and give yourself an extra inch or two.
Glue the fabric in place with a hot glue gun starting at one edge.
Even up the other edge by cutting it with scissors.
Glue in place.
Cut the top and bottom to even up the fabric.
Fold over and secure with more glue.
Recommended Products
As an Amazon Associate and member of other affiliate programs, I earn from qualifying purchases.