Today I want to share with you how I repurposed a hanging basket, as part of blogging group challenge. For this one we were asked to purchase the same 3 tier hanging wire basket, and repurpose it into something new. At first I thought about making a hanging planter, but then I thought that may not be much of a challenge, so I decided to make a basket stand for much needed storage in my office.
3 Tiered Basket Stand
We have a great Ace Hardware store nearby. This local store has a little bit of everything, items are easy to find, and the customer service is great. So one evening my husband and I went on a hunt to find items to create a basket stand.
Here's what the purchased hanging basket looked like.
We found a rod that would fit through the holes at the bottom of each basket. Then we looked for nuts and washers to hold them in place on the rod.
Then we had to find a base give it structure and balance. This took awhile. I was pretty picky about what I thought would look and work best. Finally, my husband found this great looking gasket. I really like the shape and color of it. Then we just had to find the right fittings to put it all together.
I primed the rod and baskets first, but not the gasket because I liked they industrial look it already had.
Then I put it all together with a washer on either side of the basket, and a nut after the washer, to hold each basket in place.
After I had it assembled I noticed that the rod was too tall so we cut it down a bit with a miter saw.
Then I tightened up the nuts, covered the base with masking tape, and I had fun with a few different cans of spray paint. I used an aqua, a green and a grey color.
I love they way it turned out. ♥
It's perfect for storing all of my twines and tapes, which I normally have all over the house.
This would be great for all kinds of storag,e like craft paint, and even the original fruit and veggie use the basket was designed for, but more on display in this pretty basket stand.
Now, let's see what the other bloggers did with their baskets.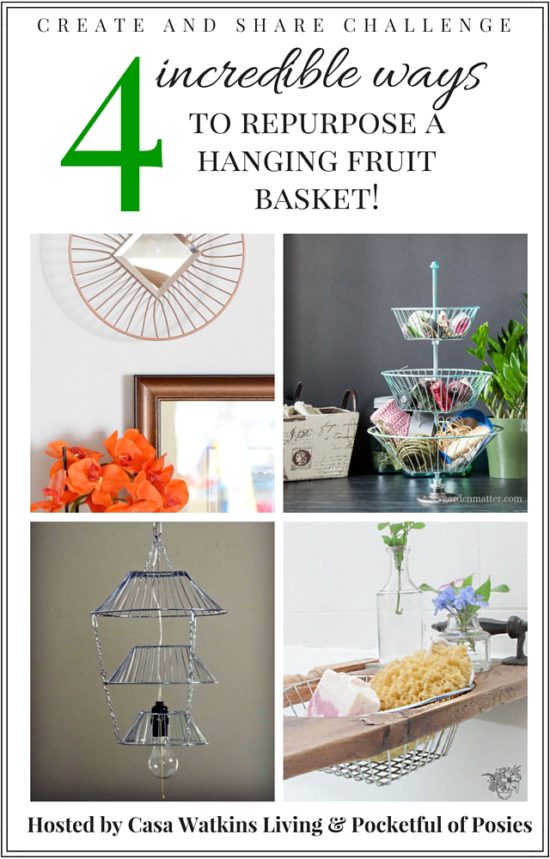 DIY Wire Mirrors :

Casa Watkins Living
Repurposed Hanging Storage Basket Stand : Garden Matter
Industrial 3 Tiered Pendant Light : Knock It Off Kim