Learn how to make an open terrarium with plants, moss, and a few other items for a beautiful miniature garden under glass.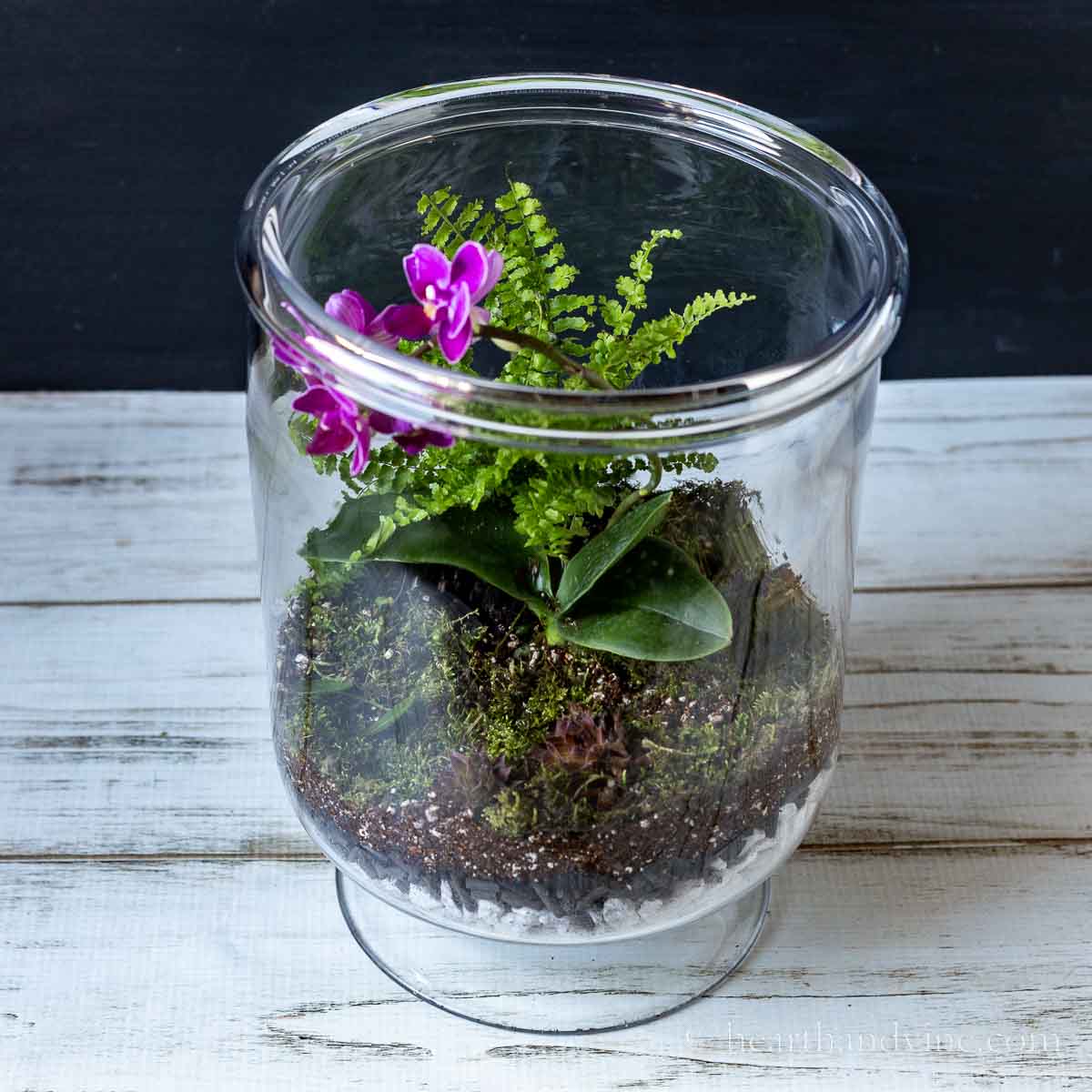 There's nothing prettier than a terrarium for bringing the garden into your home. I've made traditional terrariums with a closed lid. It's so interesting to watch as the entire vessel maintains its own watering system through condensation requiring only minimal maintenance.
Did you know that the first terrarium was discovered by accident by Dr. Nathaniel Baghsaw Ward? You can read all about it in my post called The Wardian Case.
This post contains some affiliate links (that means if you make a purchase after clicking a link, there's no additional cost to you, but I will earn a very small commission. ) i.e. as an Amazon Associate, I earn from qualifying purchases. Click here to read my full disclosure policy.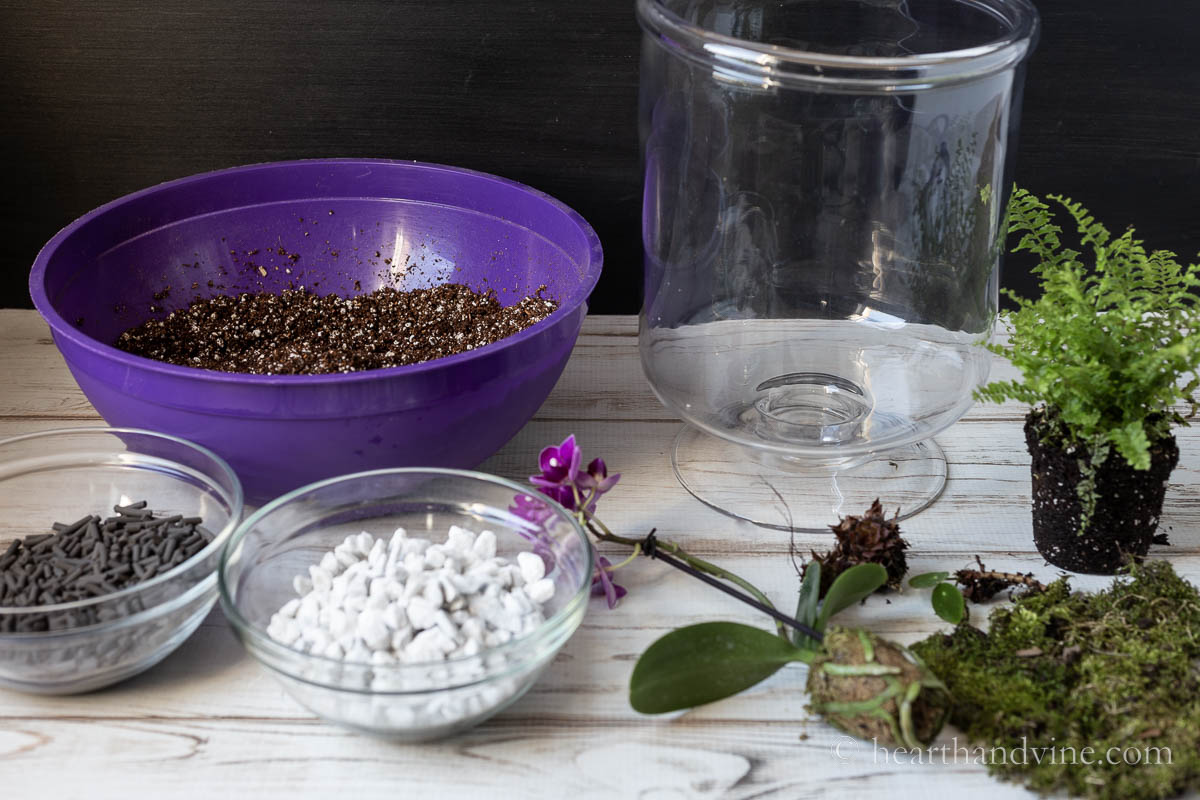 However, today I want to show you how an open terrarium is easy to create and makes a beautiful statement in the home.
Supplies
wooden skewer or chopsticks
paintbrush
small watering bottle
1 large glass container open at the top
gravel, pebbles, or small rocks
activated charcoal pellets
soilless mix potting soil
plants
moss from the yard or preserved decorative moss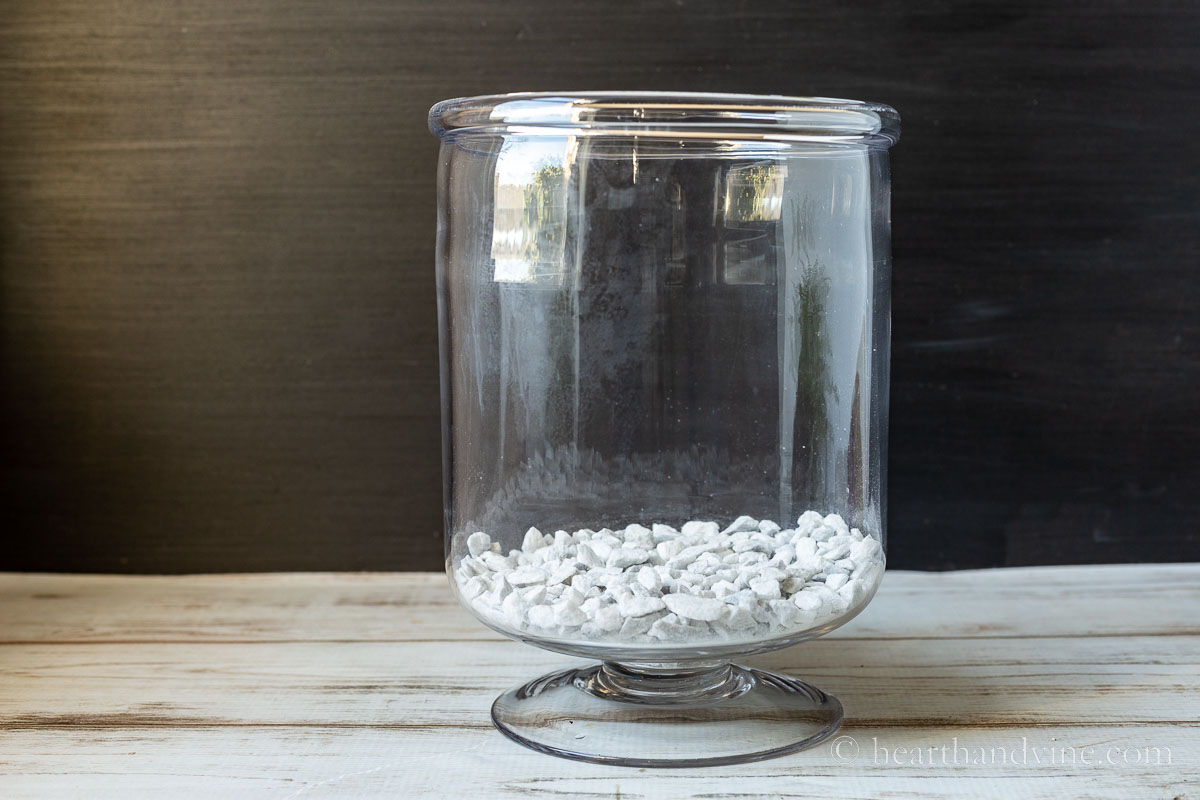 How to Make an Open Terrarium
You can find open glass vessels like the one shown above at many stores. This one came from Target. However, you may already have something at home or could probably find a large jar at a thrift store.
Just like closed terrariums you want to start with a layer of rocks or gravel. Since there is no drainage hole in a terrarium, this layer of rock will help with drainage and prevent root rot.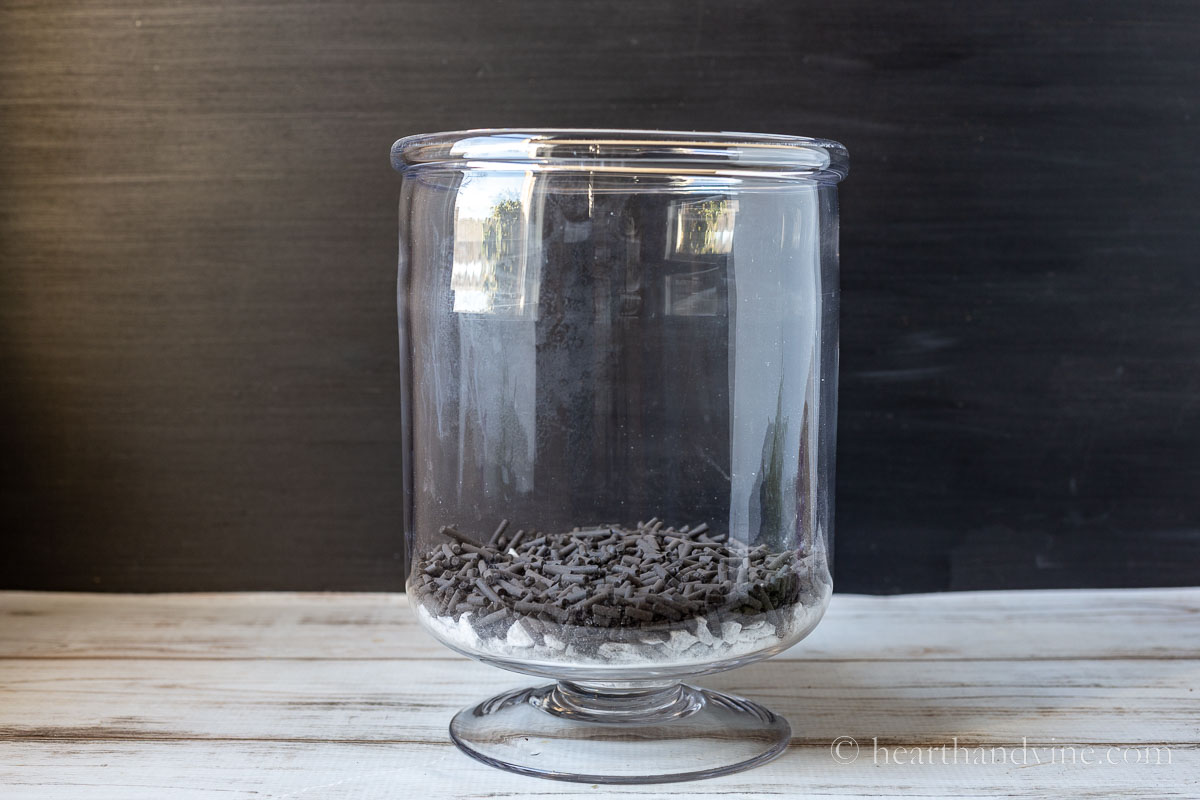 Next, add a layer of charcoal pellets. You can find these in pet stores for aquariums and sometimes at the garden center. This layer helps remove toxins and odors that might build up in the terrarium.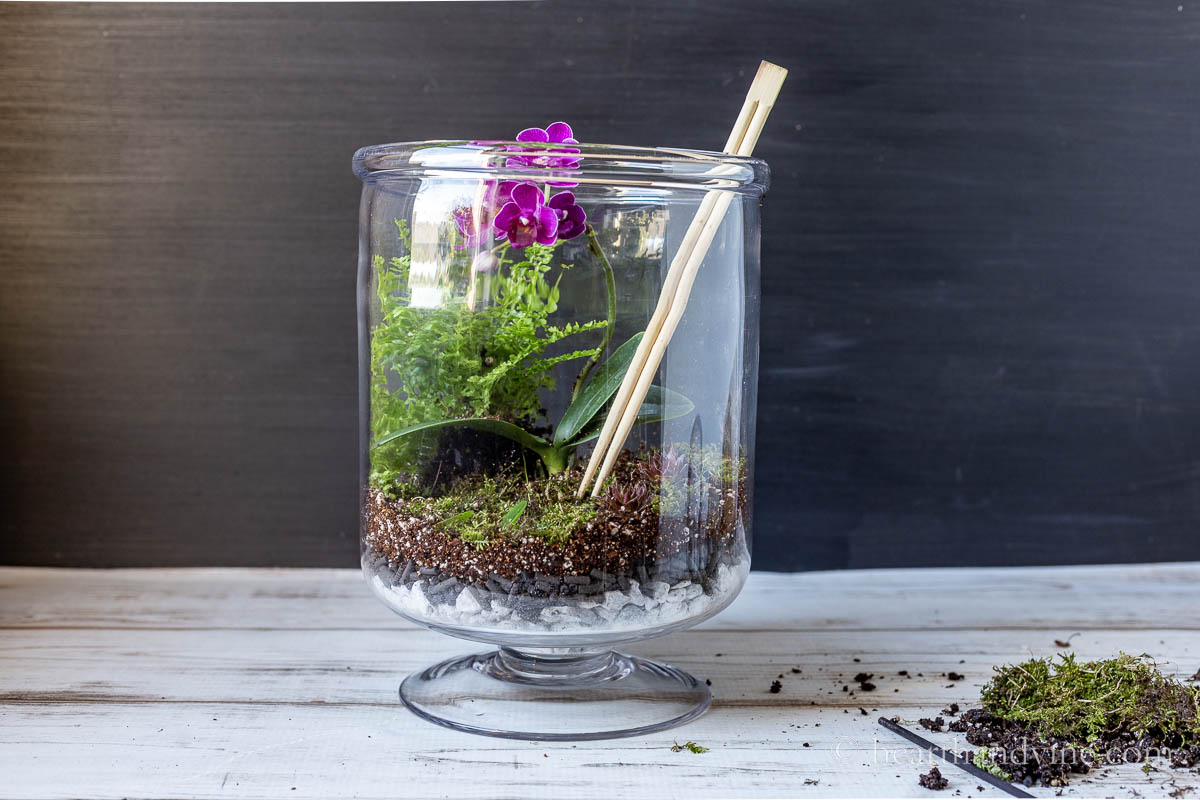 Then add some soil. Any good fast draining potting soil or planting medium would be good. You can even make homemade potting soil that would work great for this project.
Tip: Make sure to water the soil in a bowl first before planting. This will get your terrarium off to a good start and will cut down on the mess of fly-away dusty soil.
Plant your plants as you like. Use a wood skewer, chopsticks, long tweezers, or a long pencil to help move the plants and soil around. These tools really help with tall terrariums and those with narrow openings.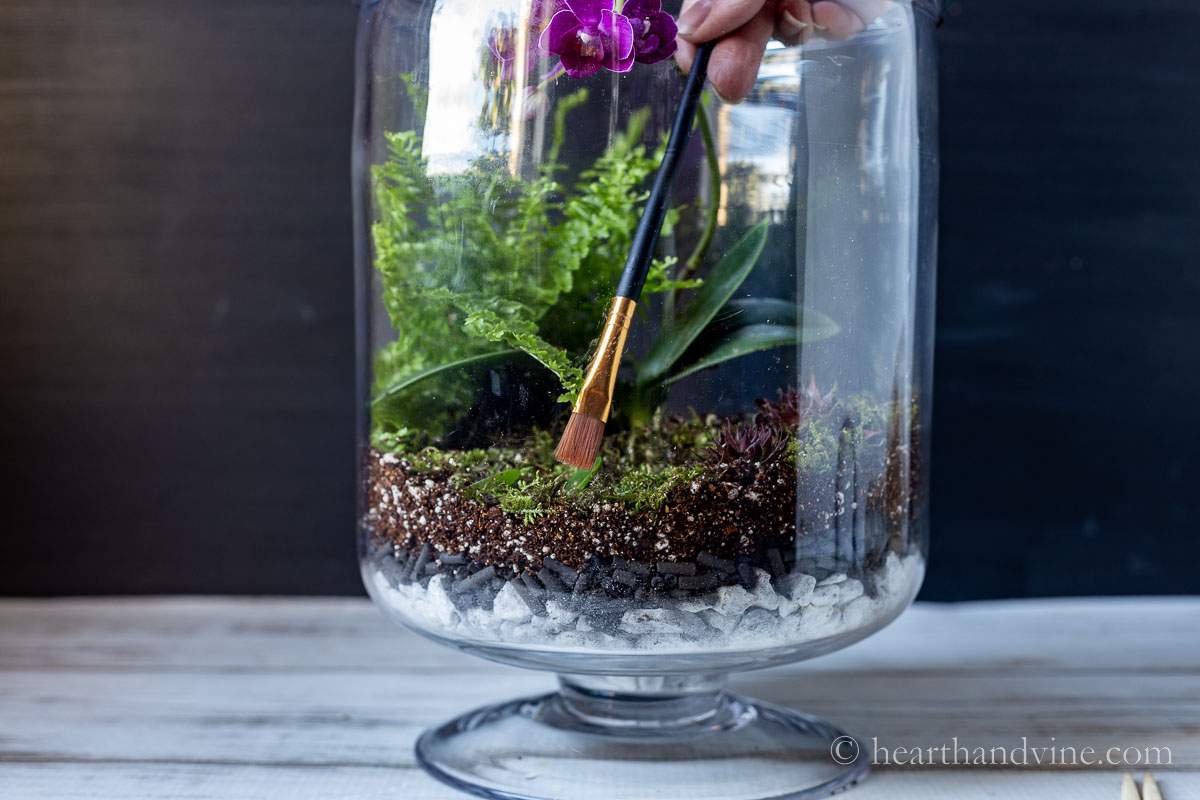 You can also use a dry paintbrush to clean up the sides.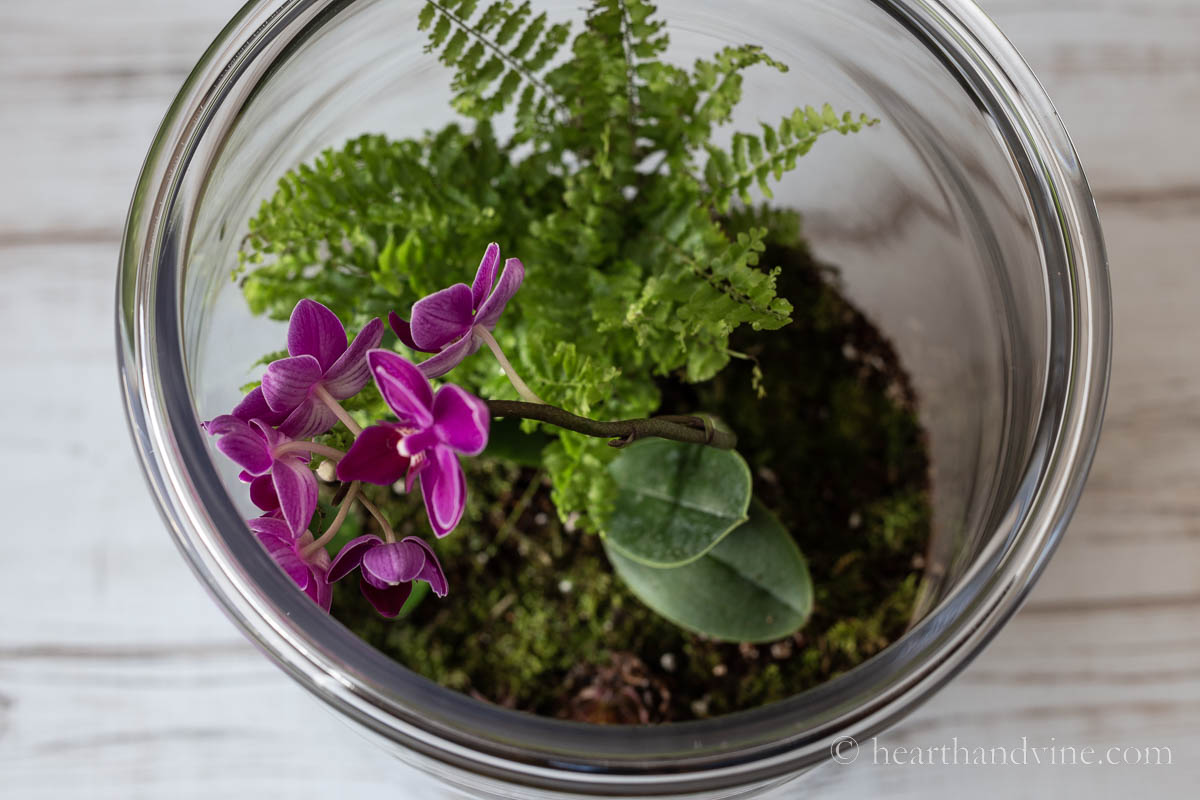 Open Terraium Suggested Plants
Plants that make good candidates for this project are those that enjoy moisture and a humid environment but don't need to be constantly watered.
mini orchid (phalaenopsis)
small ferns (lemon button fern shown here)
pilea plant
baby tears
moss from your yard
other miniature houseplants with interesting foliage
Using Succulents in an Open Terrarium
Many people are using succulents or cacti in open terrariums. I'm a little wary of this idea as succulents like a dry environment. This would be ok in a short walled dish garden with a fully open top. However, this terrarium has tall sides and will hold humidity.
Still, I decided to try adding a couple of baby sempervivums in the terrarium from an outdoor planter. Sempervivum aka "hens and chicks" are very hardy and should be okay with some humidity as long as the soil doesn't get too wet.
What Else Can You Put in the Terrarium?
Cute small figurines such as mushrooms or fairies for decoration.
Decorative preserved moss
Decorative rocks or crystals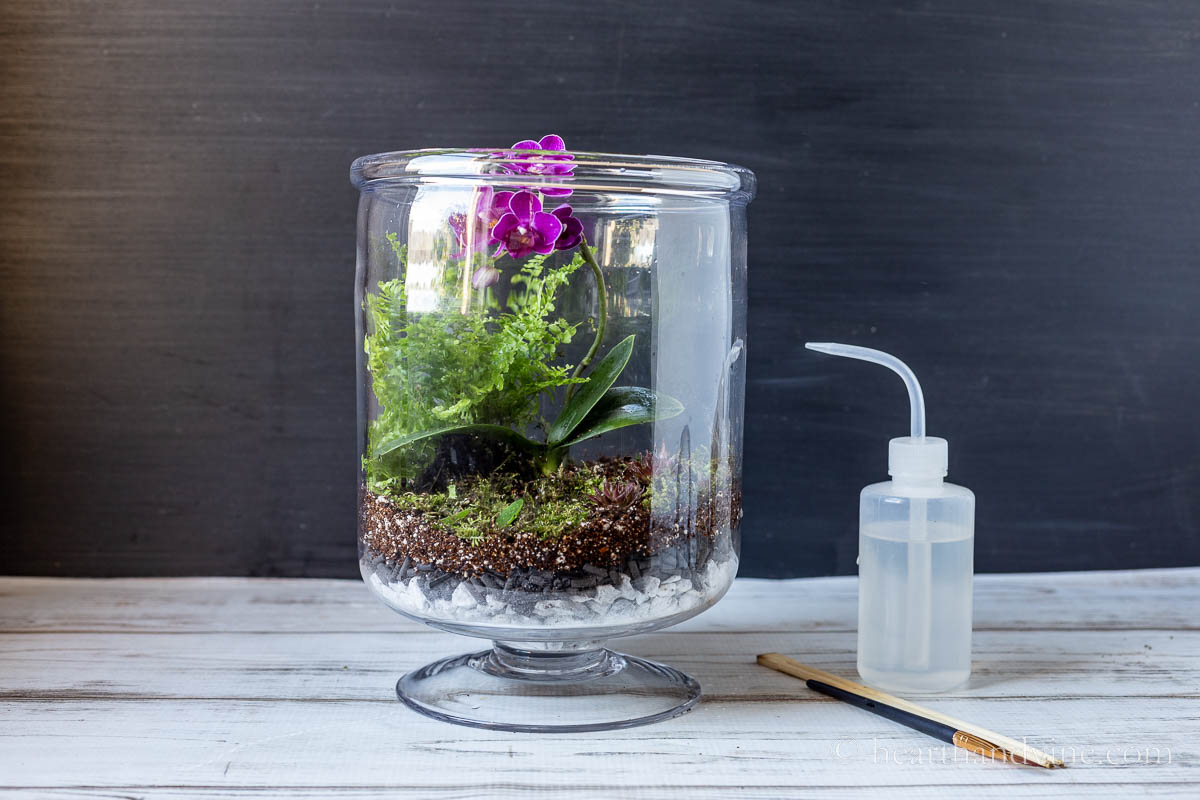 How to Care for Your Open Terrarium
Watering Needs
You only need to water this terrarium about once a month. Just keep an eye on it. If you see condensation wait to water. If the moss or any of the plants look dry use a watering bottle to direct some water to the area.
Lighting Needs:
The amount of light this open terrarium will depend on the plants more than anything. However, a good rule of thumb is to make sure it's in a spot where there is bright indirect light for a good portion of the day.
Maintenance
Trim any damaged or unsightly leaves at any time.
Keep an eye out for any pests or diseases.
The main issue that will come up is growth. Eventually, some or all of the plants will outgrow the terrarium. You can replace them, or try pruning or dividing some, and repotting them into the terrarium.
A little tiny garden inside glass is so pretty. I'm loving the way this little beauty looks in our living room.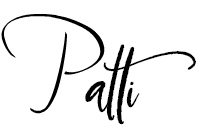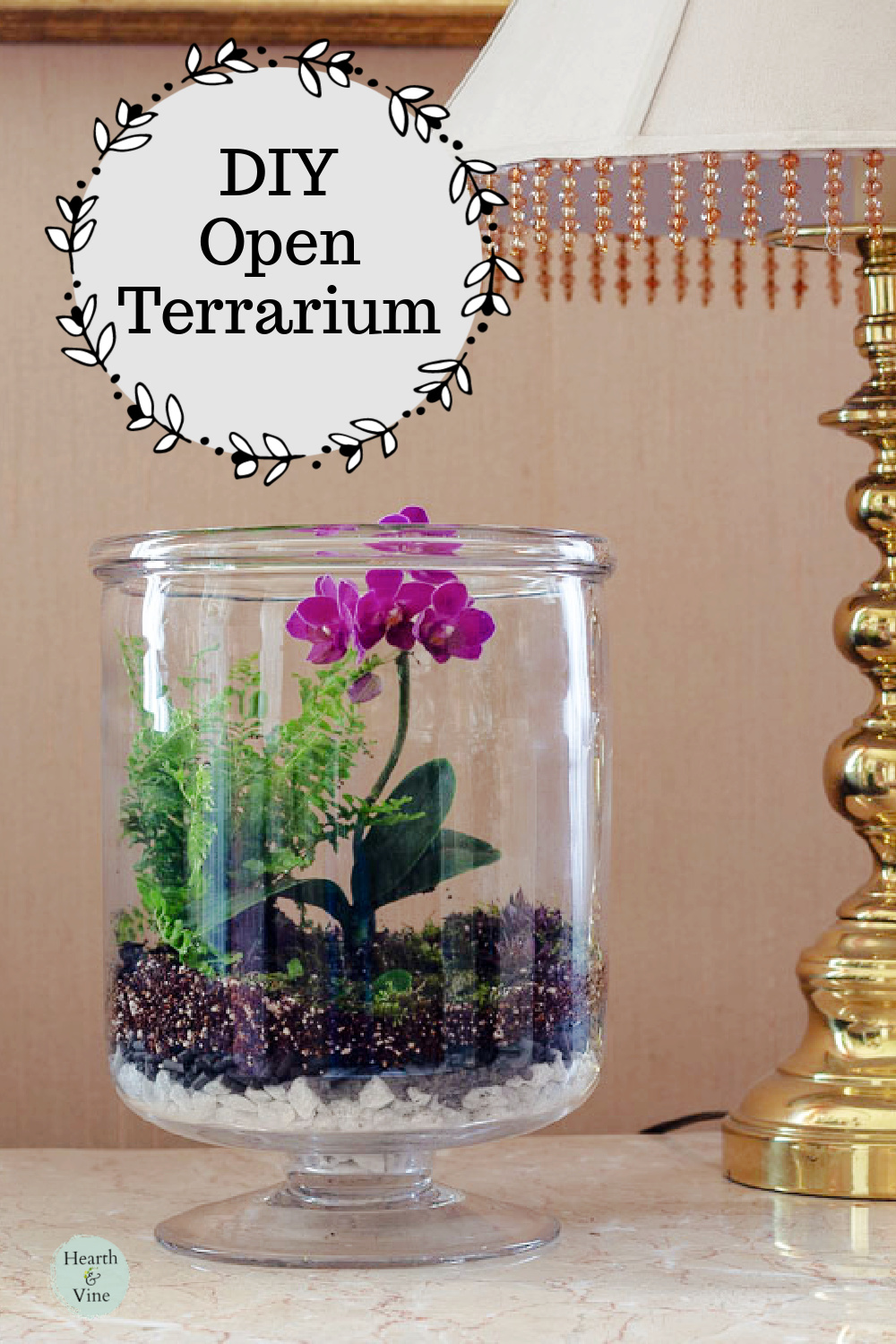 Print
Home to Make an Open Terrarium
Here's an easy way to bring a little plant beauty indoor with an open terrarium complete with a fern, moss, a mini orchid, and a few other great plants to enjoy at home.
Equipment
wooden skewer or chopsticks

Paintbrush

small watering bottle
Materials
1

large glass vessel open at the top

gravel or small rocks

activated charcoal pellets

soilless mix potting soil

plants

moss from your yard or preserved moss
Instructions
Pour .5 - 1 inch layer of decorative rocks or gravel at the bottom of the glass vase.

Add a layer of charcoal pellets on top.

Water the soil first. Then add 1.5 to 2 inches on top of the charcoal.

Plant your terrarium plants in the soil using a wooden skewer or chopsticks to help move items around.

Add some moss around the plants.

Water in the plants and moss.

Use a paintbrush to clean up the sides of the terrarium.
Notes
Make sure to water the soil in a bowl first before planting. This will get your terrarium off to a good start and will cut down on the mess of fly away dusty soil.
Depending on the plants you've used in this terrarium you will only need to water the terrarium once a month maybe less. Keep an eye on them to see if anything looks dry and use a watering bottle to pinpoint the water in the area you want to water.
Moss though it grows great outside may dry out too much in this terrarium. If you have some growing outside and want to give it a try do so. However, you could also purchase some preserved moss for decoration to add to the terrarium.