This dyed rope basket is a great beginner sewing project. One that you can easily create in an afternoon, and is perfect for your Easter decor.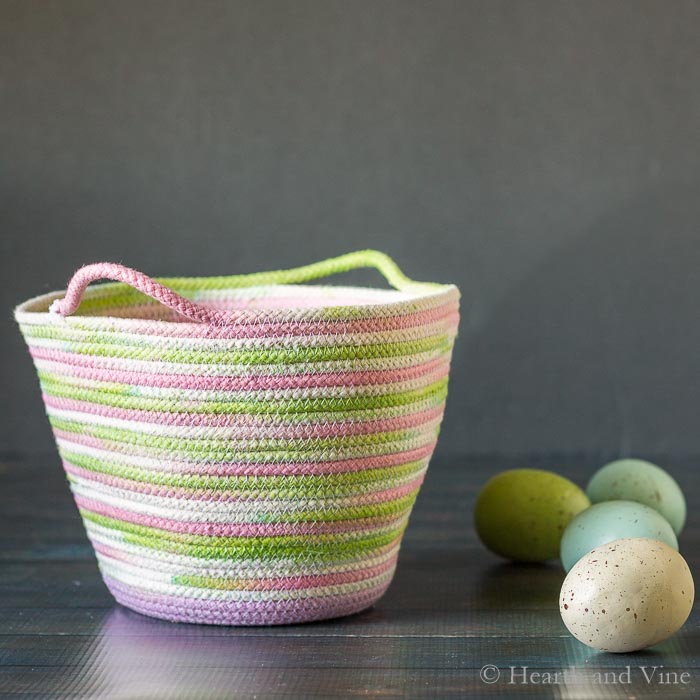 If you have a sewing machine or access to one, then you can make this beautiful dyed rope basket. I made this one with Easter in mind, but you can dye it any color you wish.
This post contains some affiliate links (that means if you make a purchase after clicking a link, there's no additional cost to you, but I will earn a very small commission.) i.e. as an Amazon Associate, I earn from qualifying purchases. Click here to read my full disclosure policy.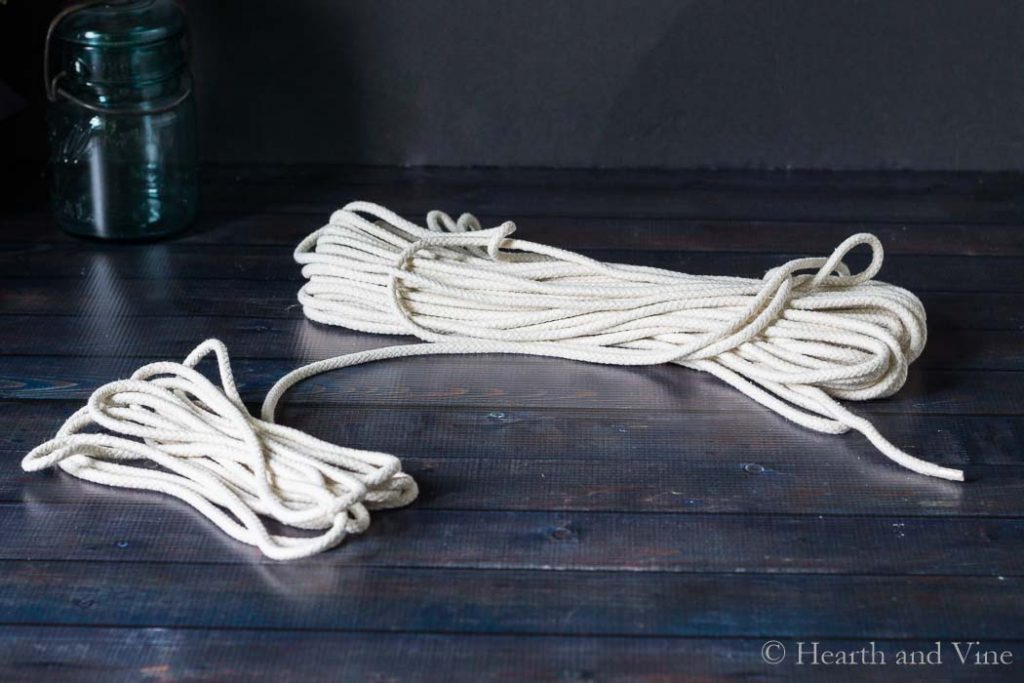 Dyed Rope Basket for Easter
It all starts with a simple cotton clothesline rope
. The basket above was dyed with three different colors. To recreate this look, separate some of the beginning of the rope for the first color. This will be the bottom of the basket.
Prepare three bowls using grocery store food coloring
and white vinegar
.
Just like dying Easter eggs. Combine 2 teaspoons of white vinegar to 1 cup of boiling water and about 40 drops of dye.
Tip: cut a few small pieces of rope to test out your colors first.
Remove the rope and allow it to dry.
Begin creating the basket by making a coil at one end of the rope.
Use a large pin to hold it in place.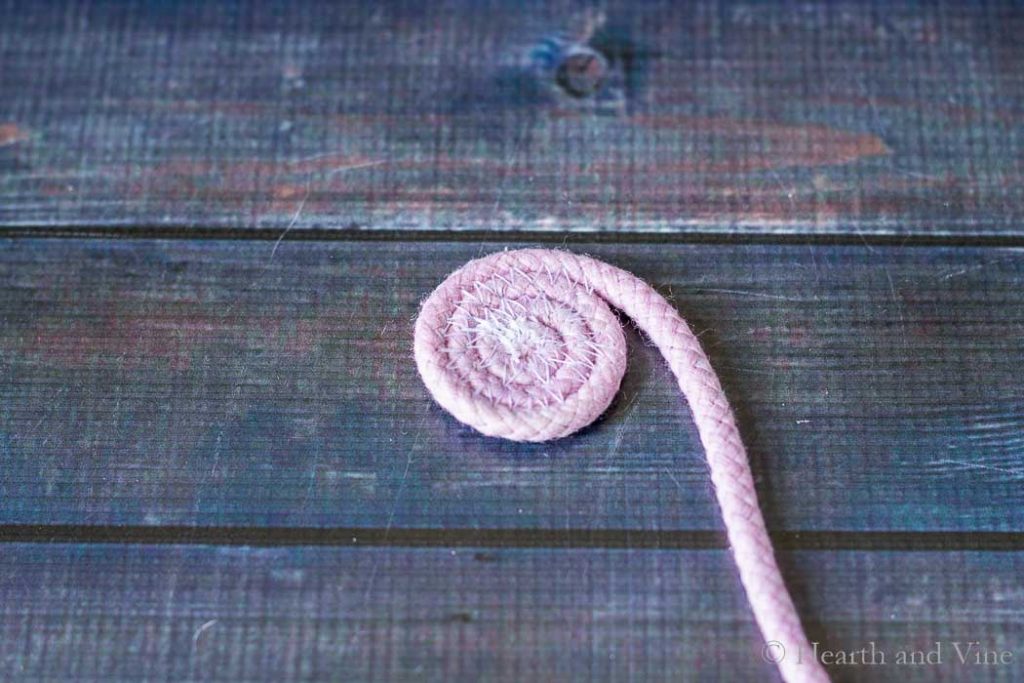 Use a zigzag stitch to hold the coil together.
Tip: Use a piece of scrap fabric to get the width and length of the zigzag stitch you need. It needs to be wide enough to cover some of the two pieces of rope, and you don't want it too long. Also if you make the stitches very close together, it will take a long time to sew and it's not necessary.
Keep your coil flat, and sew as much as you want, to create the bottom of the basket.
For the sides just turn the coil 90 degrees and continue sewing, just as you did before.
Tip: This one uses white thread, but you could use different colored threads to give the basket an even more colorful look.
When you get to the height you want, stop to make handles. Do this by simply leaving sections of rope untouched for a couple of inches, and then start sewing again at the end of the handle, making sure to back-stitch or double stitch to secure the ends.
Finish the basket at the end of the second handle.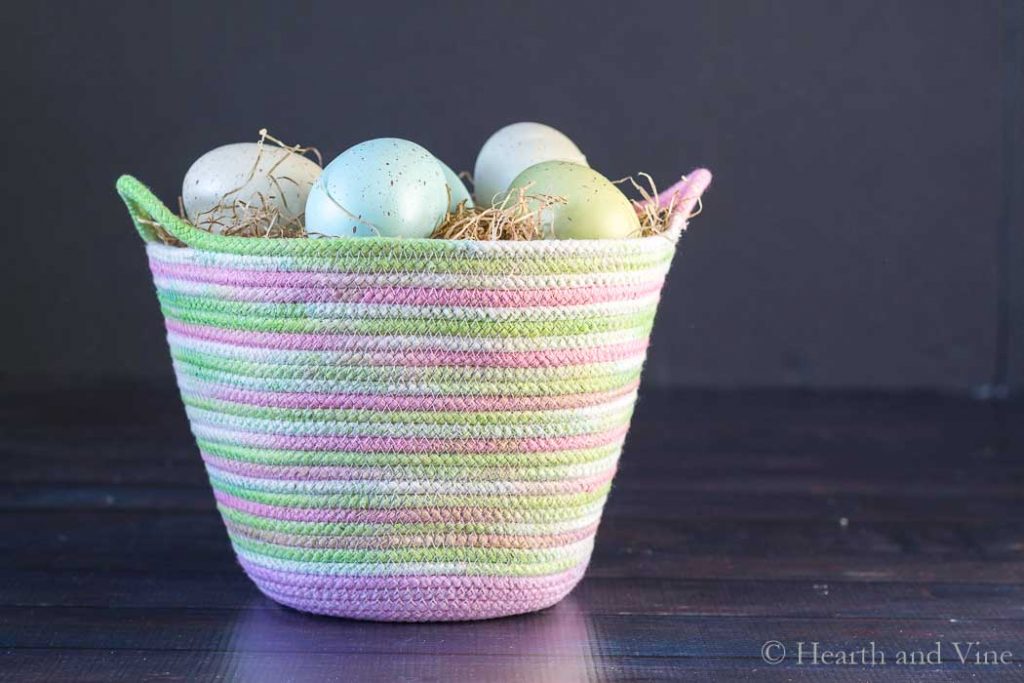 This dyed rope basket measures approximately 5 inches tall by 7 inches wide. I only used a little more than half of the skein of rope. To use more of the rope I would have needed to make a larger bottom, which would have made the entire basket larger. I could have made it slightly taller, but I'm pretty happy with how it turned out. Maybe I'll make another one to give as a gift.
Fill it with candy, craft or naturally dyed eggs or little gifts.
I could see a pretty Easter lily in this basket. Wouldn't that be a special Easter gift?