Learn about flower frogs, their history and how you can use them in your home. They are so fun to collect and really work well when creating centerpieces.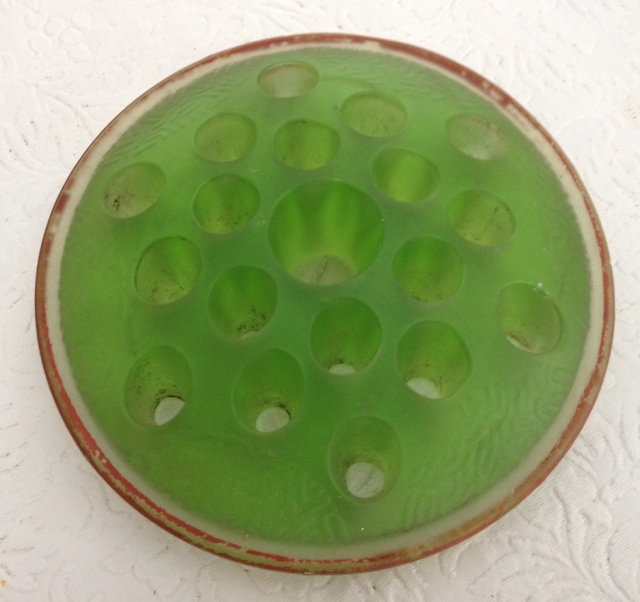 While recently visiting my friend Lisa's house, I was reminded of her beautiful collection of flower frogs. You see, Lisa has the most beautiful home, filled with all kinds of antiques, many which are gardening related antique collectibles. One of her collections, floral frogs, has often interested me, so I asked her if I could borrow some and write about them on my blog. Being the ever gracious person that she is, the answer was quickly "yes," followed by a show-and-tell of some of her favorites and a box for me to take home and play with.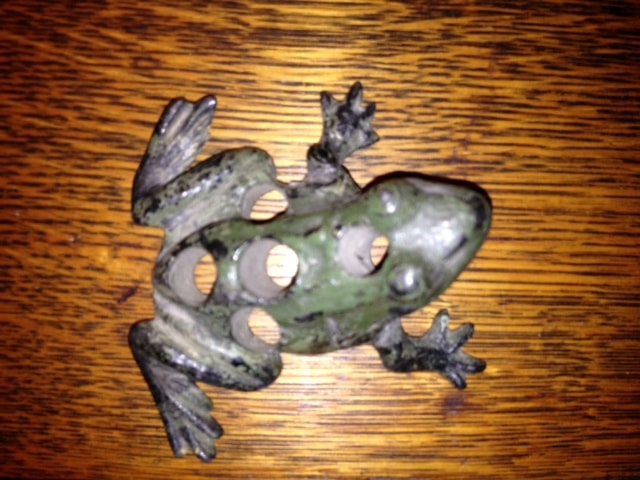 Never heard of flower frogs? Well maybe you've seen them but did not know what they were. Flower frogs date back to 14th century Japan as a means of assisting florists with flower arranging. They come in a variety of forms, including: glass, ceramic and metal. Most are used inside of vases to hold the flowers in place. Some are not used in vases but come with their own containers to hold the water and, even more interestingly, some are beautiful ceramic figurines with holes to hold flowers as an art form.
Antique Flower Frogs Gallery
It seems that no one knows the origin of the term "frog," though most agree it must have become a slang term for the fact that they sit in water, like a frog. Flower frogs became widely popular in the US during the 1920s and 30's. In the mid 1950s, however, a water-absorbent foam, called "Oasis," was invented, driving the flower frogs to near extinction. Still, many people, like Lisa, enjoy collecting them and displaying them for their own beauty or re-purposing them for other uses.
Other Uses for Flower Frogs
Metal pincushion frogs
Soap dish
Card holder (business cards, place cards, Christmas cards, mail, notes, small photos)

Glass frogs with holes
Hold pens and pencils for your desk
Hold makeup brushes
Store embroidery scissor collections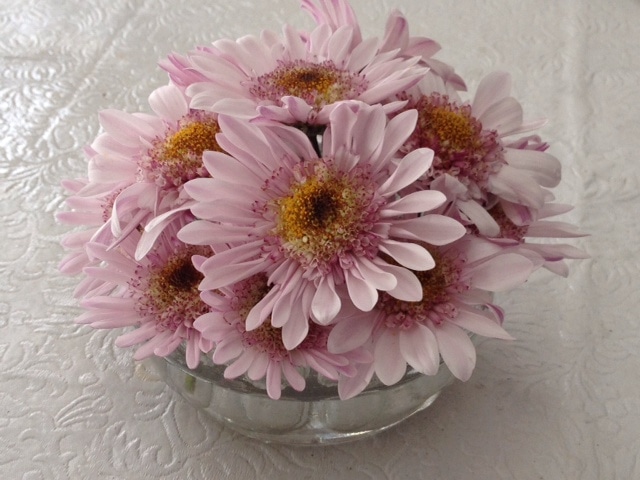 Here's an all-in-one glass frog holding a tight set of daisies. Somewhat like the Pave arrangements that are very popular now. Imagine how cute they would look if you had several of them running down the middle of a long dining table.
Another idea is using small bowls or here, where I used an antique teacup equipped with a small flower frog to hold the flowers in place. It would be great again, as a runner or even a centerpiece for a small table at shower or other ladies gathering. Do you own any flower frogs? Do you have any unusual uses for them, or do you like to display them in your home?