It's the second week of the $100 room makeover challenge. This week focused on laundry room cleaning and painting. What a difference a little paint and general cleaning can make.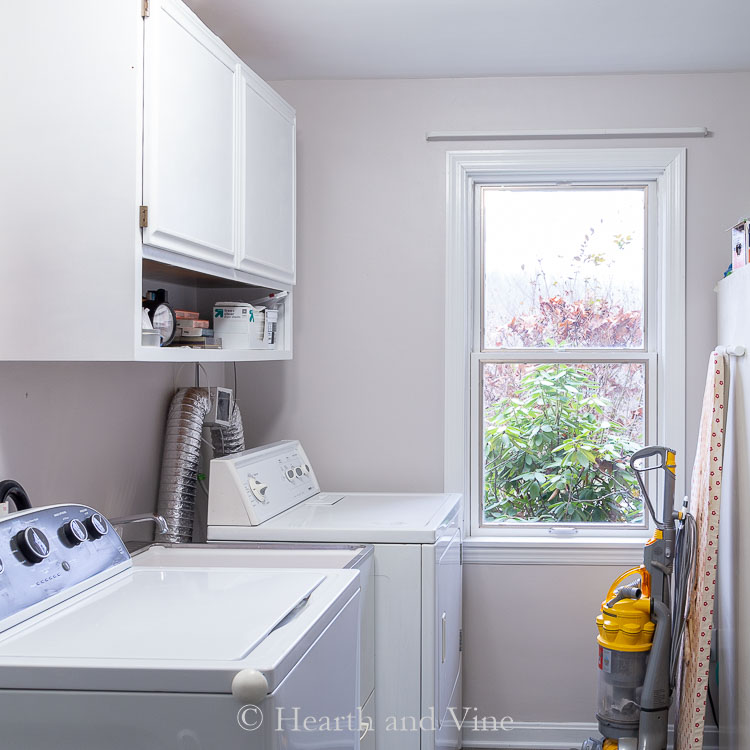 It's week two of this budget laundry makeover. So far we have really cleared out the clutter and painted.
If you want to skip ahead or see the ugly before pics and learn a little more about the challenge click below.
Laundry Room Cleaning and Painting
Painting the Laundry
The walls were painted with Sherwin Williams Popular Gray. This is the same color we have in the adjoining kitchen and most of the rooms on our first floor.
Last year we started to update the paint in our home including painting all of the original wood trim. I know some think that painting wood trim is a terrible idea but we really felt that painting it white would brighten our home and make this '80s home look more modern.
As you can see from the pics above the trim was very dark. Even after using a strong primer the trim needed a few coats to look good. This is the same Sherwin Williams Pure White paint throughout the house.
We used the same white paint to update this old cabinet that was originally in the kitchen. These are really good quality Kraftmaid cabinets. However, the old oak finish and super ugly (IMO) shoehorn pulls had to go.
We also had the same cabinets in our family room as part of a bar area. I updated the bar cabinet by painting it a nice dark blue with some black glaze.
Cleaning the Laundry Room
This room had accumulated so much stuff! We went through it all and donated a couple of bags to Goodwill and threw out anything that wasn't salvageable.
It's embarrassing but I had to show you how a little elbow grease cleaned up the tub between the washer and dryer.
I used gloves for this project. I started with some of my homemade lemon vinegar and baking soda and a brush and just kept scouring the tub. The back of the plastic brush I was using had an edge that I could use to scrape out the paint spills.
In some spots, I used a brillo pad and I also tried a Mr. Clean magic eraser. I'm always surprised at what that magic eraser can clean. In this case, it did a better job cleaning the refrigerator, washer, and dryer than the tub.
The laundry chute cabinet also got a coat of paint and we replaced the old hinges.
Next week, I'm going to tackle organizing the room and the awkward use of this cute but ineffective farm table. That's right I'm looking to replace this table.
LRM Budget Recap
Painting the walls, trim, and cabinets ---- $0 (leftover paint on hand)
Cleaning supplies -- $0
Laundry shoot cabinet hardware -- $16.94
Total spent so far -----> $16.94
balance left to spend ---> $83.06!
Stop back next week to see what happens next, and don't forget to check below to see what everyone else has been up to on their makeover journey.