It's time to make it pretty with a few easy laundry room decorating ideas. This is the focus of week 4 of the $100 Room Challenge.
This is the last week before the big reveal.
I feel like my laundry is already looking so much better. Honestly, I don't know why I haven't tackled this room before. Many thanks to Erin of Lemons Lavender and Laundry who hosts this $100 Room Challenge. If it wasn't for her I probably would never get around to sprucing up this room.
If this is your first time visiting, Welcome! I hope you stick around and see all the fun and creative goings-on here at Hearth and Vine.
This post contains some affiliate links (that means if you make a purchase after clicking a link, there's no additional cost to you, but I will earn a very small commission. ) i.e. as an Amazon Associate, I earn from qualifying purchases. Click here to read my full disclosure policy.
One of the things I found in the mess of stored items in this laundry room was this pretty vintage linen floral tablecloth. It has a few stains and the one end is badly burned but this end was looking pretty good.
DIY Window Treatment
So, I cut it up and made a cute little valance for the window.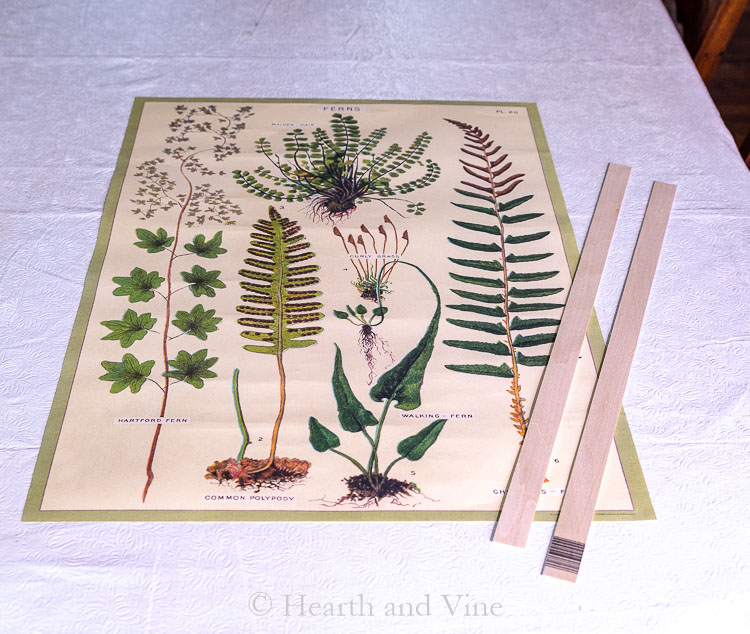 DIY Scroll Wall Hanging
Next, I purchased this pretty botanical fern poster online and picked up two thin pieces of balsa wood at the hardware store. It doesn't look like it here because of the angle but the sticks are longer than the width of the poster. I thought it would be fun to make a scroll wall hanging to hide the cabinet of the laundry chute.
I cut the wood to fit the poster and used the leftover pieces to test some stain. The gray stain
won out and looks great in the room.
After staining the balsa wood, I glued it to the top and bottom of the poster and then wrapped some wax twine to each side of the top to create a hanger.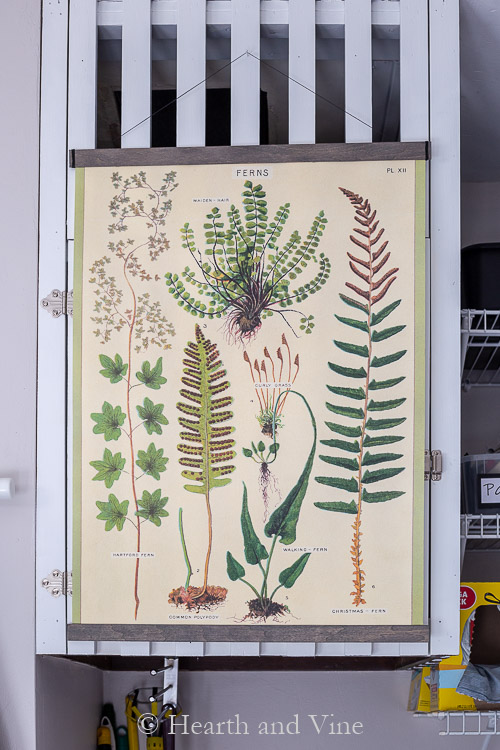 It's a great way to add some color and beauty to the room while hiding the pots and buckets now stored in the laundry chute cabinet.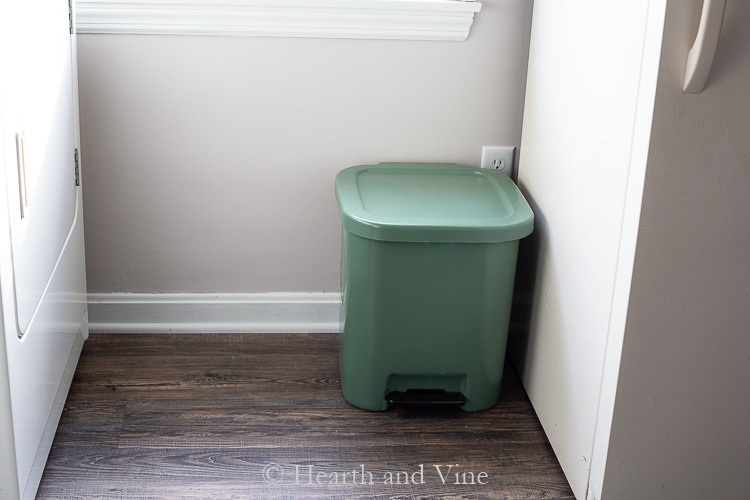 Old Can - New Look with Spraypaint
The ugly mustard trash can we had in this room was in great shape. So, I made it pretty by spraying it with leftover Moss Green Satin
spray paint. It looks so much better and now it's next to the dryer so I can toss in dryer lint, used dryer sheets and other garbage that has made it's way to the laundry.
New Ironing Board Cover to Match the Room
As promised, a new ironing board cover
was purchased. Also, gray with a little white. This one has a durable silicone coating so hopefully it will last a long time.
Adding Artwork
Next to the window, I hung a beautiful peony print. This was a gift from one of my best friends and I hadn't found the perfect place to hang it. I love it here and will think of her every time I see it.
Adding Beauty and Color to the Floor
Finally, the last of my laundry room decorating ideas is adding a pretty floral rug
for the entry where everyone can wipe their feet. I also moved the DIY wooden boot tray I made a while ago from the front of the house to here. It made more sense because we always come into the house from the garage.
That's it. I'm going to save the total tally until next week for the final reveal. Stop by to see how I did with the challenge and how this laundry looks in all its glory.
In the meantime, enjoy viewing all the other participants' progress in the links below.