Be inspired by these space planning and laundry room organizing ideas without spending money. It's week 3 of the $100 Room challenge.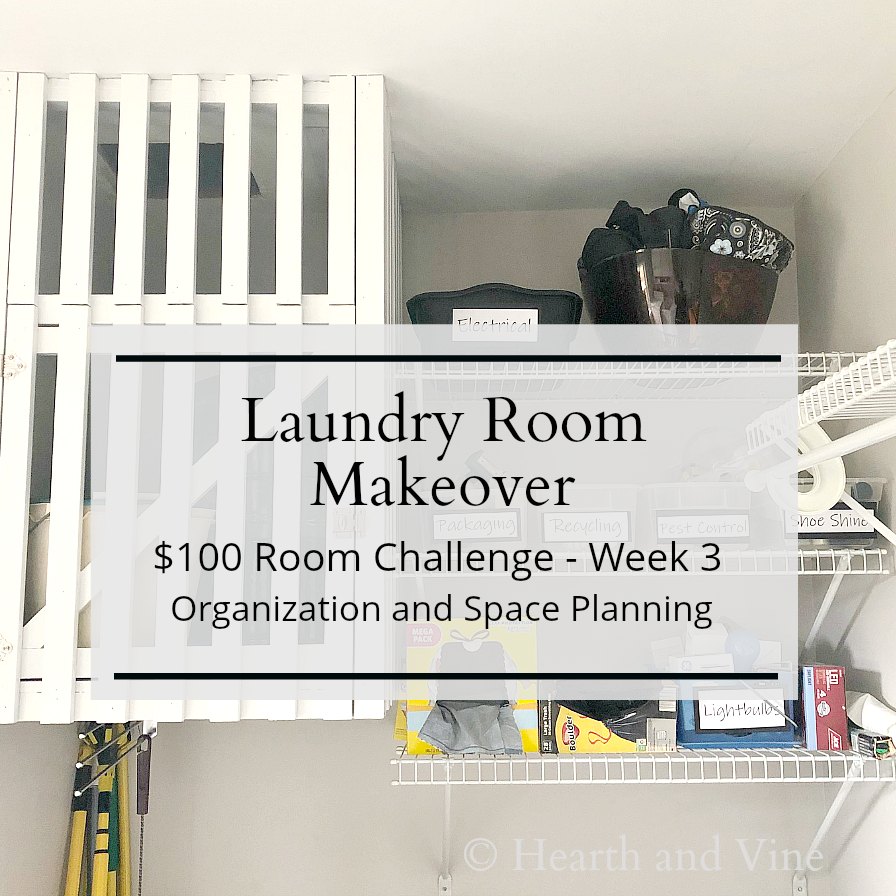 Welcome back to the $100 Room Challenge hosted by Erin of Lemons, Lavender, and Laundry.
In case you are new here today this challenge is all about making over one room, during one month for $100 or less.
Here's the Laundry Room Makeover Recap
Want to Skip Ahead?
For those of you who have been following along, I know many were loving our old aqua farm table in this room. However, it was awkward and took up a lot of space, so I began looking for a replacement. (Don't worry we've just moved it to the basement for now. I'm sure we'll find another great use for it in the future.)
This post contains some affiliate links (that means if you make a purchase after clicking a link, there's no additional cost to you, but I will earn a very small commission. ) i.e. as an Amazon Associate, I earn from qualifying purchases. Click here to read my full disclosure policy.
Laundry Room Organizing Ideas
This week is all about organizing ideas and making more efficient use of our space.
Originally I thought I'd spend some of my $100 budget on a small table but when I was dropping off items we no longer use (like that crazy chicken rotisserie) at the Goodwill I spied this old computer desk.
That's right, $4.99! I ended up paying $6 due to taxes and the round-up program that supports job training for people with disabilities.
This old computer desk needed some superficial help but it ended up being a great size for the nook area in the laundry room.
I used a couple of coats of some leftover gray porch paint to make it blend it with the room and it looks great!
Now I have space for my vacuum cleaner in addition to the brooms, mops and other awkward tall things in the room.
Better Storage Options
We used to have several large pots under the farm table. These are used for steaming crabs and making shrimp boils etc.. We don't use them that often so I moved them and some buckets into the cabinet on the left where the laundry chute is.
The other end of the chute is located in the closet of my daughter's old bedroom. Since she doesn't live at home now, the chute doesn't get used, so why not use the space for storage.
I also organized the shelves and labeled the boxes so we'll actually know what's in them.
More labeling was done on the cabinet above the washer and dryer.
I also bought a wall hook for the ironing board
. I know, the ironing board cover is hideous. However, I am going to fix that eyesore next week. Stay tuned for "Make it Pretty" next week.
Organized Recycling
My other purchase this week was the addition of these two nice gray bins from IKEA. These are new and I would have linked to them but I couldn't find them on their website. They are called Hallbar bins and cost $14.99 each. I almost bought the FLUR but they are slightly smaller and I liked the gray color of the Hallbar bins.
They are just what we need for storing all of our recyclable plastic bags and paper bags. This was a must on my list because these two things were always cluttering up the room.
They fit perfectly under the Goodwill desk and there is room on the back shelf for storage and room in between for our stash of soda cans.
At the halfway mark and I really think I could be done at this point. However, I do have a few extra tricks up my sleeve so please come back next week for a few beautification ideas I have planned.
LRM Budget Recap
Painting the walls, trim, and cabinets ---- $0 (leftover paint on hand)
Cleaning supplies -- $0
Laundry chute cabinet hardware -- $16.94
Plastic bins and paper labels -- $0
Goodwill table -- $6.00
Ironing board hanger --$11.65
IKEA bins -- $31.78
Total spent so far -----> $66.37
balance left to spend ---> $33.63
Only one more week before the final reveal. I think it's going to be my favorite week yet, as I get to add some extra beauty to the room.
So I hope I'll see you all next week for "Make It Pretty," and don't forget to check out the progress of the other $100 room makeover participants listed below.