Learn how to make this fun and easy simple kindle holder so you can read your paperwhite on your lap or in bed.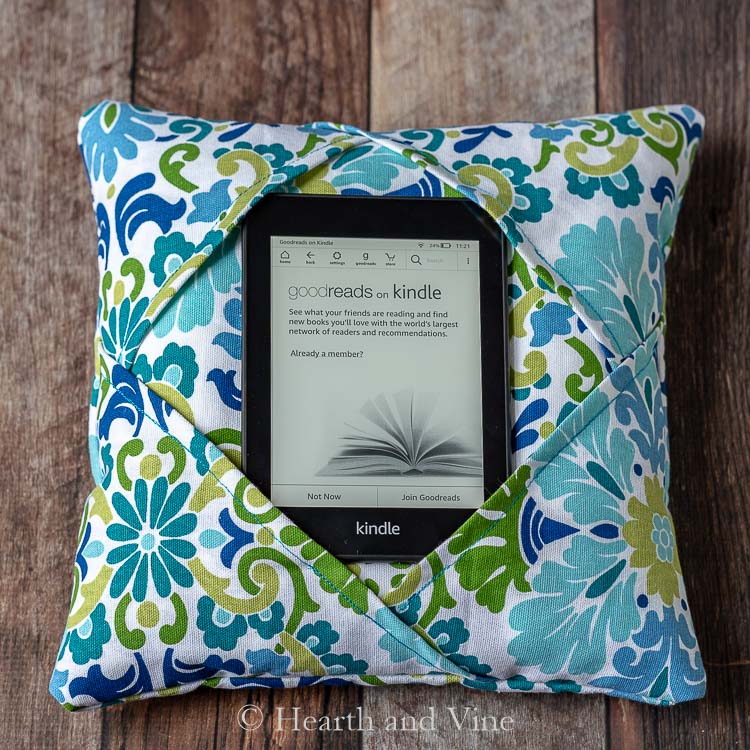 I'm a big reader. There's nothing I like better than to read a good book at night or on the weekend.
Paperbacks and hardback books were all we had for years and then came the readers. The first one I received as a gift was B&N's Nook. More recently I switched to the lighter and convenient Kindle Paperwhite.
This post contains some affiliate links (that means if you make a purchase after clicking a link, there's no additional cost to you, but I will earn a very small commission. ) i.e. as an Amazon Associate, I earn from qualifying purchases. Click here to read my full disclosure policy.
A few years ago for Christmas my brother-in-law bought me this handy-dandy Gogo Pillow
that fits an Ipad and my Nook.
I loved it for my Nook but unfortunately, my paperwhite reader did not fit on this pillow holder.
So I thought, why not make one?
How to Make a Kindle Holder
Here's how I made a lap pillow for my Kindle Paperwhite Reader.
Supplies
Fabric - You can see from the pic above that you need 2 13-inch squares and 2 10-inch squares. If you sew, you probably have this in your stash. I used a sturdy mid-weight fabric because it's easy to work with, but you don't have to. In fact, you could use different fabrics for the top and the back.
Filler - I also used Mini micro beads because they seemed similar to the filler in the Gogo pillow. You could probably try something else.
Start by cutting the two smaller squares in half on the diagonal.
Then fold and press over the long edge.
Sew the fold about 1/4 from the edge.
Next, place the four triangles on top of one of the larger squares.
Matches the edges as shown. Pin in place.
Then set your paperwhite in place and mark alongside the corners of the reader with more pins.
Sew the triangles onto the larger square along the same stitched lines as before leaving the area between the two pins marking the kindle corners open.
Then with the right sides together place the 2nd large square fabric piece on top of the triangles.
Stitch around the entire edge leaving a 3 inch opening for turning.
Trim the excess fabric, and cut the corners.
Turn right side out and press if needed.
Here's the filling I used. This bag was super convenient and I wasn't sure how much I would need. I can now tell you that I only used about half the beads of this bag so you can order a smaller one but it may not have the handy spout. (not that you really need it)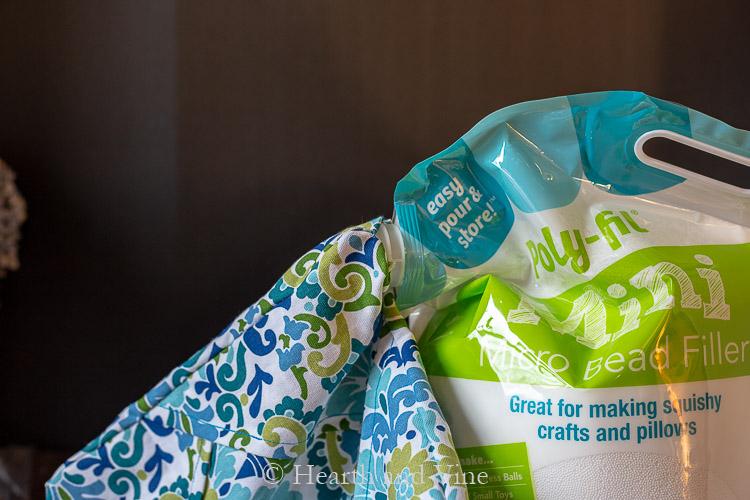 The spout fit right in my opening. That was nice because the beads are quite messy but you could use a funnel. You can even make a funnel out of a sheet of paper.
Note: You don't want to fill the entire pillow with the microbeads. Just enough to give it body but also enough give for it to sit nicely on your lap. Try pinning it shut first and testing it to see if you want more or less filling.
Then hand sew up the opening.
Other Kindle Holder Pillow Ideas
You could probably use an empty pillow cover
if you don't have access to a sewing machine. Here you could add the triangles on top and hand sew or use fabric glue or stitch witchery
to hold it in place.
Alternatively, you can try adding a strong ribbon to an existing pillow. Again, hand sewing or gluing it in place somewhat like a bulletin board.
It works well and I'm so glad I now have the right size kindle holder for reading in bed.
Here's a pic of me reading in the family room with my new pretty kindle paperwhite pillow.
I'm sure there are other ways to go about this project. I've suggested a couple of ideas above, however, this one worked just fine for me.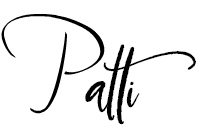 ---
P.S. Other sewing projects you may also enjoy are:
Bedside Pocket Caddy
Hanging Cell Phone Charger