Be inspired by some easy and affordable ideas for decorating your fall front porch this season. Many with items you probably already have in your home.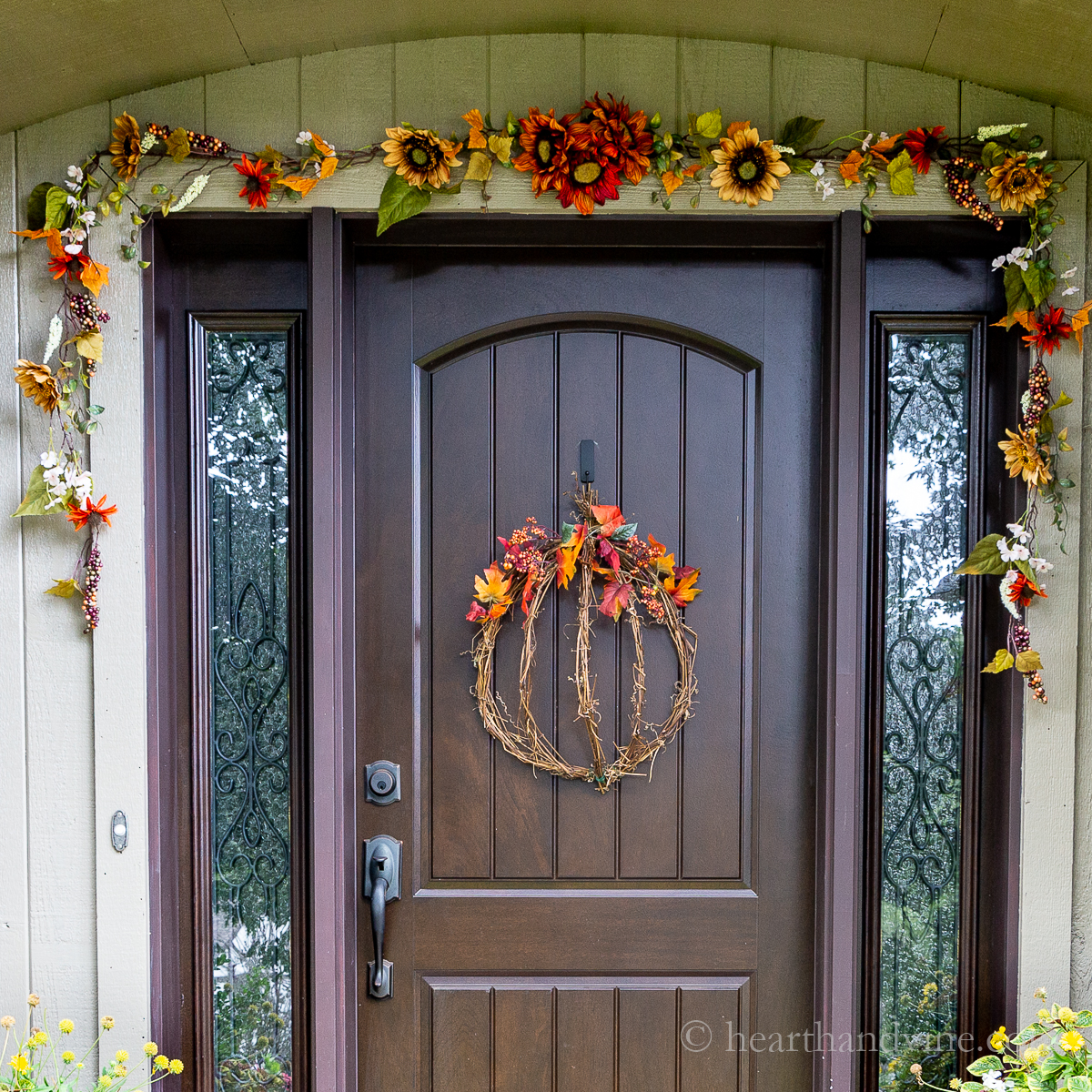 Today we are celebrating fall with a Blog Hop. Fifteen bloggers sharing their decor ideas from fall porches to entryways and a few full home tours. If you are coming over from My Wee Abode, Welcome! Julie is the master of creating beauty in small spaces. And don't miss out on Jennifer of Noting Grace's fabulous fall entry, next in this blog hop.
A big thanks to Leen at Sand Dollar Lane for putting this tour together! See all the details at the bottom of this post.
But first, I invite you to enjoy my fall front porch decorating ideas.
Fall Front Porch Decorating Ideas
Most of today's fall decor comes from my stash from autumns past, from the garden, and a couple of newly purchased items. I hope it inspires you to look around at the resources you have to create something beautiful for your front porch this fall.
1. Make a Fall Wreath
Every front door needs something pretty for fall. Typically a wreath. This year I made this easy DIY Grapevine Pumpkin Wreath. It all comes together with wild grapevines and a dollar store fall leaf garland. You can buy a wreath form but if you have access to grapevines they are pretty easy to make and have a great rustic appeal.
2. Add a Garland
I found these pretty garlands at Joann's Craft and Fabric Store. I connected them in the middle and added a couple of fall-colored sunflowers I already had in my stash.
2. Hang a Basket
Recycle old baskets and fill them with pretty artificial fall flowers, berries, and other floral stems.
3. Make a Fresh Herb & Flower Wreath
I love cutting herbs, flowers, seed pods and pretty foliage to make a fresh herb and flower wreath. Just a little floral wire and a wire wreath form are all you need. This wreath will dry naturally and look good for many weeks. It's a little early for fall color in my garden but if you can wait until some of the garden turns pretty hues of orange and gold this wreath might look even better.
4. Reuse Your Summer Planters
This year's planters are filled with green and yellow flowers and foliage and they look good with my fall decor. However, you can also update them with just a few new flowers such as a small fall mum or purple fountain grass to bring them into fall. Other options are: Add artificial floral stems in with the existing plant material or add in some real or faux gourds and pumpkins tucked in amongst the flowers.
Lastly, I set some lanterns and a cluster of pumpkins on both sides of the planters. You can go nuts with a number of pumpkins and gourds in different shapes and colors. I'm using faux pumpkins here however when the real pumpkins are in the markets I'll probably add even more.
Overall, a simple and welcoming look for fall without breaking the bank. Just how I like it.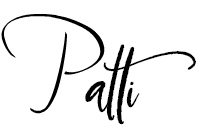 Sand Dollar Lane // My Wee Abode // Hearth and Vine // Noting Grace
My Family Thyme // The Roots of Home // What Meegan Makes
Zucchini Sisters // Postcards from the Ridge // 2 Bees in a Pod // Thistle Key Lane
Harbour Breeze Home // Songbird // Sweet Pea
More Fall Front Door Decor Ideas