Learn how to design a beautiful new garden bed that requires full sun plants, including how to choose and plant them for the best results.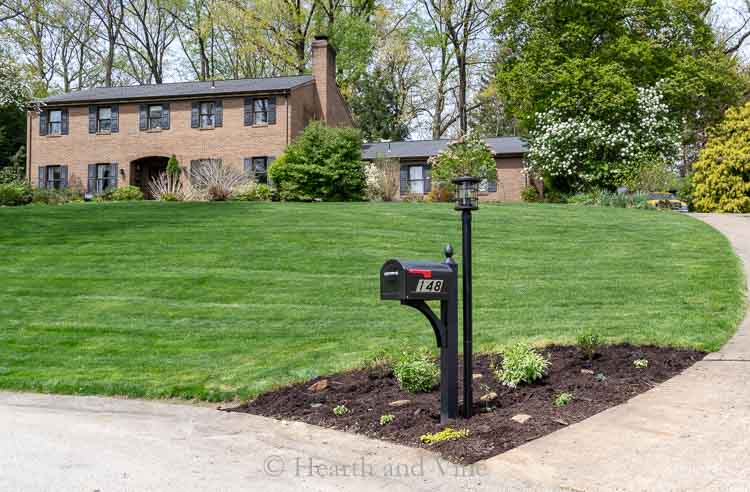 Last fall a neighbor accidentally backed into our brick mailbox with their moving truck. It was original to the house and had seen better days. After checking with a professional we were told it was going to need to be rebuilt. However, we decided instead to tear it down and replace it with a standard mailbox and street lamp.
The new mailbox and lamp post look great but the area needed a little landscaping so we thought it would be nice to create a nice garden around the mailbox and lamp this spring.
This post about full sun plants is sponsored by Proven Winners Direct. All opinions are my own.
Issues to Consider When Creating a New Garden
How much sunlight does the area get?
How will it get watered?
Does this area have trouble with pests like deer or rabbits?
Is this something you will plant flowers in every year or would you rather have shrubs and perennial plants that come back year after year?
For my mailbox area, I know that it gets sun all day long. This means I need plants that are labeled for full sun. In fact, those designated as heat tolerant or drought tolerant would be a bonus. I do have a sprinkler nearby but I know that I may need to hand water the plants at least the first season to get them established. Also, deer are a real problem for us, even next to the road so deer resistant plants are a must. Finally, I'd like to have perennials and/or shrubs so I don't have to replant the entire garden bed every year.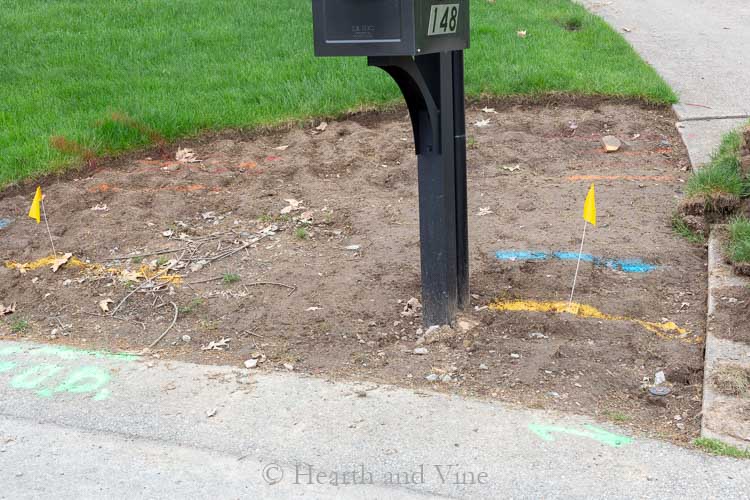 Steps to Create a Full Sun Garden
Prepare the Garden Bed
Remove the sod and anything growing in the designated area.
Call 811-One Call to have your utilities marked.
Add some compost to the soil.
Determine a rough number of plants, considering elevation if necessary.

Shop for Plants
You are probably familiar with Proven Winners® plants. They are well known for high-quality plants and are readily available at many nurseries.
However, did you know you can have them delivered to you? With Proven Winners Direct you can order plants online directly through Home Depot and Amazon, and they will be shipped right to your door.
I was very impressed with the way they were shipped to my home, especially in early spring when the weather is volatile. They came carefully packed in specially designed boxes with holes and each plant was covered with a warm landscape fabric type material.
Tips for Choosing Plants
Proven Winners Direct has so many wonderful plants that have been trialed and tested for three years before they are chosen for the Proven Winners® line and sold to the consumer. This means you can feel good about choosing their plants to create your garden.
However, there are a couple of considerations you should think of when choosing your plants. You can find all of this information on each plant detail page making it easy to determine which plants will work best.
Hardiness Zone
Determine your plant hardiness zone. In the US the area where you live corresponds to a zone number that will tell you which plants will make it through the winter. My property is located in zone 6a.
Keep in mind your original requirements from above:
For my garden I needed:
Full Sun plants
Zone 6 hardiness
Deer resistant plants
A mix of shrubs and perennials
Drought and heat tolerant a plus
Luckily the plants on the Home Depot site for Proven Winners Direct gives you all the information you need to see if a particular plant is a good fit for your garden.

Design Considerations:
Gardening on a Slope
If you are gardening on a slope like me you will want to choose plants that will cascade down from top to bottom. For example, I chose a fairly tall shrub for the top center area of the garden flanked by two slightly smaller shrubs on each side. Below them are smaller shrubs and perennials and a couple of annuals. Even though I said I did not want to plant new plants every year, during the first season while the plants are small, filling in with some annuals is a good idea.
Multi-Season Interest
The holy grail of any garden is to display some interest through all of the seasons. This can be difficult to do but not impossible. Of course many will flower through the spring and summer but finding some that may bloom in fall or those with pretty fall color is a must.
Plants Chosen for this Full Sun Garden
All of my choices grow well in Full-Sun and are deer resistant plants. I've grown all of them except for the Deutzia shrub at one time or another. They are easy to grow and thrive well in my zone 6 property.

Planting and Maintenance
When you receive your plants consider letting them acclimate to the area for a day or two before planting. If possible plant on a cloudy day before the rain, causing less transplant shock.
Dig a hole twice as large but no deeper than the pot it was shipped in.
Add some compost mixed in with the original garden soil around the plant as you fill in the hole.
Give the area a good thorough watering and gently tamp down around the sides.
Mulch the entire bed leaving an inch or two from the edge of the plants uncovered.
Watch for frost warning if planting early. Cover with a tarp overnight.
Be sure to water the plants every three days if there is no rain, or more if the weather is really hot, for the first season.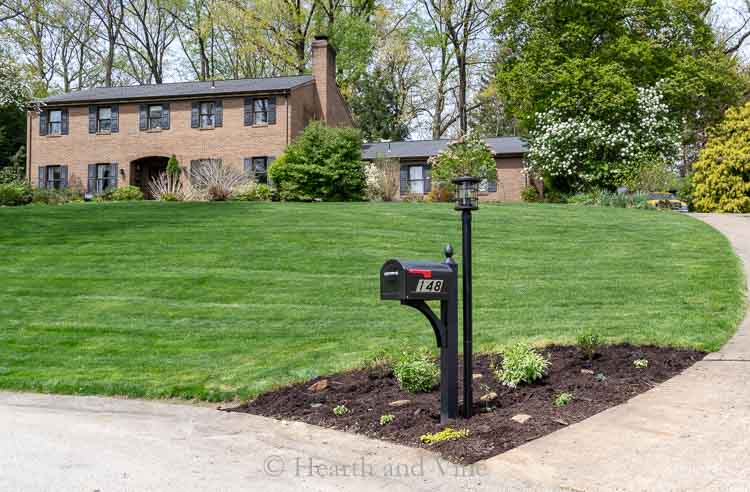 Creating a garden in full sun can be an easy and rewarding project you will enjoy for years.
I can already tell that this garden has added some major curb appeal to our property. I can't wait to see what it looks like by the end of the summer.
Update - End of August 2019
Here are some pictures of the garden 3 months later: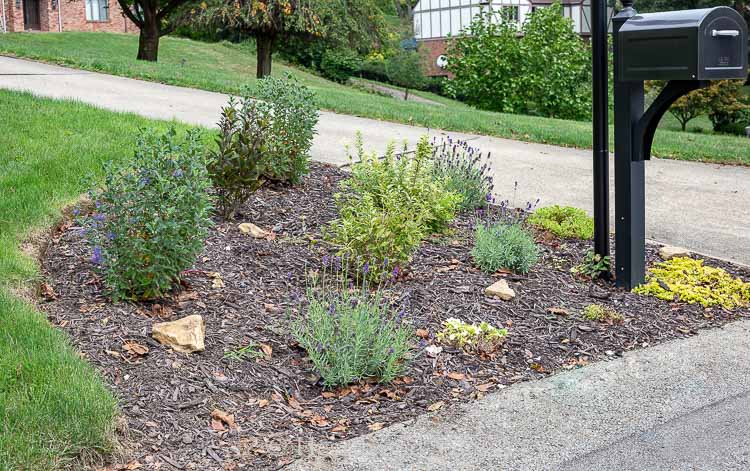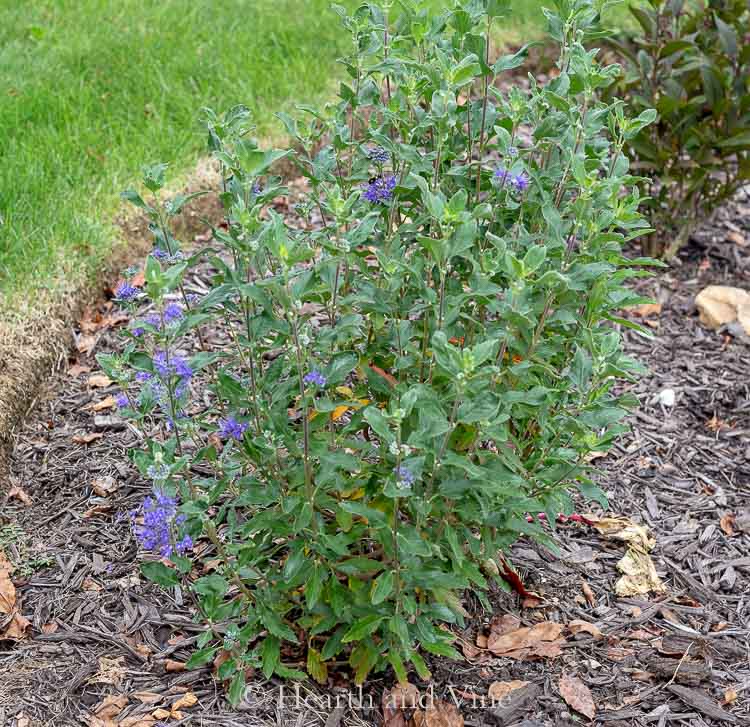 I can't wait to see how great it looks next season.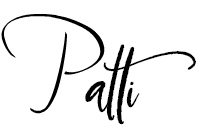 ---
P.S. More helpful posts about starting new garden beds include Tips to Planning a Garden and 7 Rules of Thumb for New Plants. You can find these and many more gardening tips on the Gardening Page.
Click Here to Save to Pinterest!