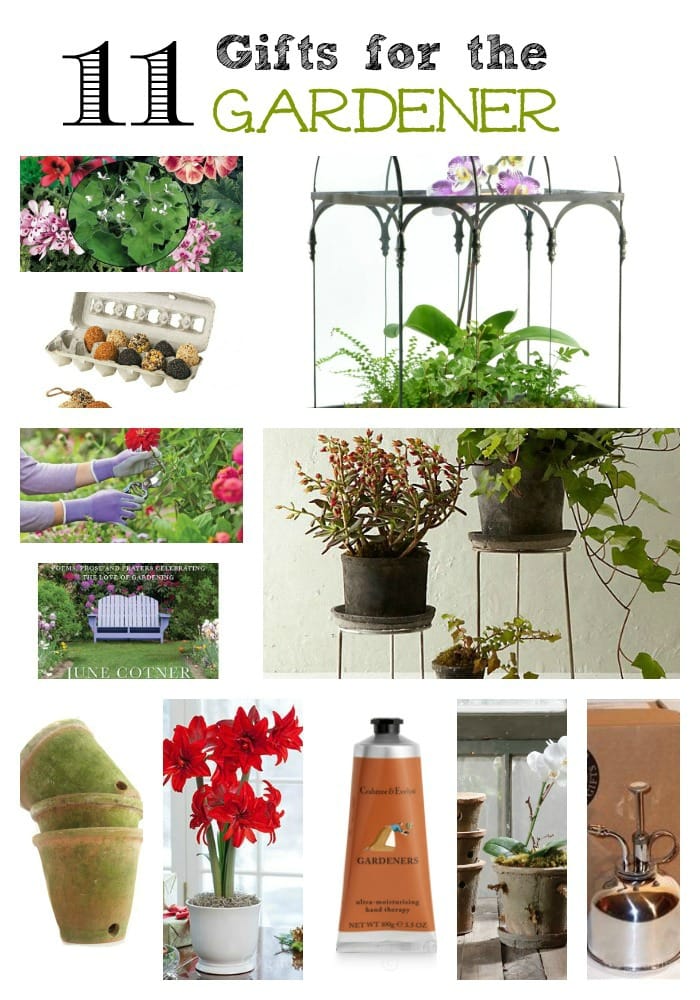 I picked out 10 gifts which I think anyone who gardens or simply loves plants would enjoy. I know I would. Simply click on the image to read more about the item.
Plants
Of course every gardener loves plants. I picked out a plant that works well indoors and out from Logee's Greenhouse. Scented geraniums are easy to grow indoors and some lucky readers in the south can keep them outside all year-long.
Second,  also a plant, and one that is very popular at the holidays. This beautiful Amaryllis bulb from White Flower Farm has a double bloom. Just one of many nice choices.
Plant Stands
The more I bring plants indoor,s and the more container gardening I do in general, has me searching for nice plant stands. I really like these from Terrain. They also come in a shorter version.
Gardener's Hands
These are my very favorite gloves and they are extremely affordable. I used to hate to wear gloves while  gardening but now I almost never go without them. You can find them many places including these from Gardener's Supply Co.
Even when you wear gloves Crabtree & Evelyn's Hand Therapy is must for the gardener. This cream is super rich and really helps relieve any rough or dryness from working with your hands. It has a nice light neutral scent suitable for women or men.
Nature Inspired
Most gardeners love birds and these little birdseed eggs, also from Gardener's Supply, are adorable and affordable.
Plant Mister
I really love the look of this small nickel plant mister from Gardener's Trading Post. It even comes with a cute gift box.
Audio Book
I often listen to podcasts and audio books while driving and in the garden. Especially on a day with many chores. This book at Amazon is new to me but looks great and seems like it would be very inspiring to listen to.
Terrariums
Also from Amazon is this glass terrarium container. I have a post on how to make your own terrarium and mine is performing extremely well with no effort. Still, I love the beauty of this one if you are looking for something a little more indulgent,check these out.
Pots
Every gardener appreciates a new pot. I like the shape and look of these aged Victorian pots. You can create this pretty patina by using yogurt and moss, but if you are in the market for some that are ready to use you can find them at GRDN.
This last one is also a pot. I could not resist these cute orchid pots from Seven Colonial. Orchids are great indoor plants and these pots were made specifically for them.
Happy Shopping!
Linking up with: