Sometimes it's fun to make your own signature spice blends. This year I made a BBQ rub and a Ranch spice mix to give to my friends, family, co-workers and those who have touched my life throughout the year.
BBQ and Ranch Spice Mix
I used to buy pre-made rubs for by BBQ dishes and the ever popular packaged ranch mix but recently I have experimented with making my own. The barbecue is pretty much a no brainer. Most the combinations I tried were pretty good. The ranch was more difficult. The tough part was getting the right consistency. This recipe will make a great tasting ranch dressing but it's rather runny. I thought about adding xanthan gum as a thickener but I wanted to keep it simple. So if you like your ranch extra thick you may need to try adding a thickening agent or maybe just more mayo.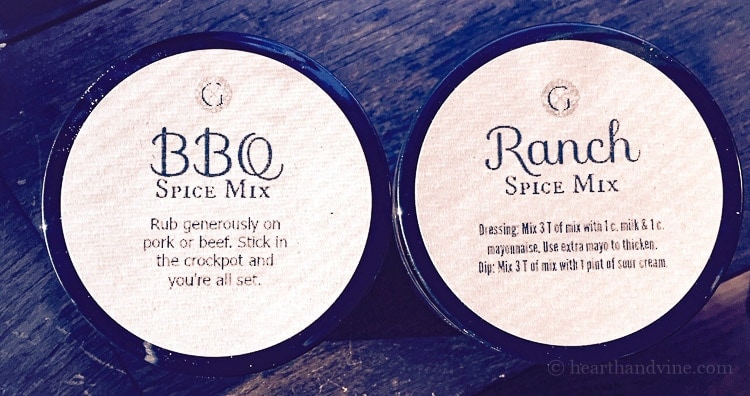 I've included a couple of free printable labels in case you were interested in making your own. No need to reinvent the wheel. These labels were created Microsoft Word format for use with Avery 22808 labels. (I removed my logo) Click on the label you want to download.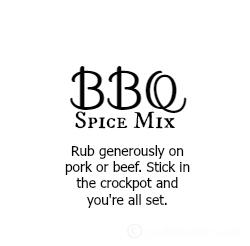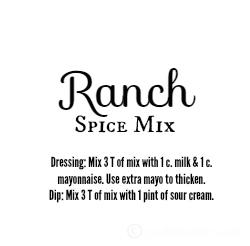 I also created a fun tag (2-in. x 2.5 in.) also in Word format, that you can use for all your gifts:
---
The Recipes:
BBQ Mix
Homemade Barbecue Spice Mix
Ingredients
1/4

cup

brown sugar

1/4

cup

chili powder

1/4

cup

hot paprika

1

tablespoon

garlic powder

1

tablespoon

onion powder

1

tablespoon

cayenne powder

2

tablespoons

salt

2

tablespoons

oregano

1

teaspoon

black pepper
Instructions
Combine all ingredient and mix well. Keep in a sealed jar or bag for freshness.
Recipe Notes
You can use it for any seasoning. Typically used as a rub on ribs, pork shoulder, pork butt, chuck roasts cooked in a slow cooker.
Ranch Mix
Homemade Ranch Spice Mix
Ingredients
1

C

. cultured buttermilk powder

3

T

dried parsley flakes

1

T

garlic powder

1

T

onion powder

1

t

dried dill

1

t

sugar

½

t

salt

½

t

black pepper

½

t

dried thyme

½

t

paprika
Instructions
Combine all ingredients. Mix well. Place in a jar or baggie to keep fresh.

To make the dressing combine 3 T of the mix with 1 cup of milk and 1 cup of mayonnaise. This dressing is on the thin side so you may want to add extra mayonnaise or less milk.

To make dip combine 3 T of the mix to 1 pint of sour cream. A little lemon zest is great to add too.