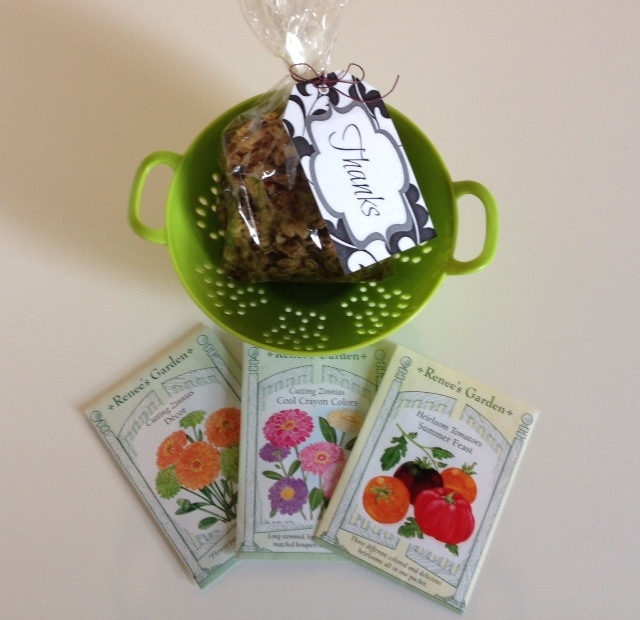 Every year, two of my dearest childhood friends and I go away together for the weekend. We shop and eat, and talk, and laugh, and talk, and laugh some more, and generally have a great time. We started out taking turns, finding someplace close to home, that we could drive to and explore. However, during the last few years, we have settled on my friend's sister's place in the country, which is lovely and perfect for hanging out and recharging.
It is so generous of this couple to open their lovely home to us. So every year, I make an effort to bring them a nice hostess gift as a "thank you" for their hospitality.
This year, I bought some seed packets from Renee's Seeds that I plan on planting. I duplicated some of my order to give to my friend's sister, Debbie, and her husband, Tom. Debbie is an artist and former floral designer, so as you might imagine, she has beautiful flowers on the property. Although, the property is huge, and she mentioned to me last summer about wanting to have more wildflowers in the nearby field. I came across some beautiful zinnias that I had to have for myself, and I hope she likes them just as much. I figure that they are easy to grow, should be okay for when she's not there, and will make for great little bouquets throughout the season. Tom is the veggie gardener, and he enjoys good food. Last year, I noticed that he had several nice tomato plants and so decided to get him a packet of heirlooms to add to the mix. They are often a mystery, and I'm hoping that they will be a nice, extra surprise to his usual crop. Also, I found a cute, tiny colander in the grocery store, which I wanted for myself, but I thought it would be great for holding the veggies as they are picked. This way they can hose them off and let them drain before entering the house. Finally, I made some homemade granola that can be used as a quick breakfast, a snack, or a yummy topping for ice cream. It will keep for quite a while, so it seemed like a good idea for a weekend place. Do you have any ideas for a good hostess gift?
Oh, and by the way, I found the tags from Urban Bliss here.
Linking to: Creativity Unleashed